A golfer's arsenal is incomplete without many things, but one cannot do without a golf ball. Initially started its journey as baseball mitts filled with feathers.
And now, these tiny golf equipment have evolved into a wondrous piece of technology. A modern golf ball is all science and research to give a unique experience. 
Though it is also safe to say that golf balls can be confusing, with different types of golf balls in the market, it is hard to put your hands on the right choice.
Simply check the golf balls online, and you will be greeted with many types. If you are also confused about hieroglyphics on these balls, learn here what they mean.
1 Piece Golf Balls
These golf balls aren't used much today, but you need to learn about them too. They are commonly used for isolated golf events. As living up to the name, 1 piece golf balls are made with one kind of material. Safe to say, they are used for crazy golf games. 
The material used is wrought from a hunk of Surlyn. Surlyn is an ionomer resin known for its toughness. The heavy tinny feel is part of the reason why these balls are almost obsolete. Another downside of having these balls is that they offer very low spin. 
Pros
Durable
Ideal for Crazy Golf
Cons
2 Piece Golf Balls
2 piece golf balls are made with some modifications to the one-piece golf balls. Unlike one-piece, these balls are made with two materials. The inner is harder mono-material, whereas the covering is a soft material. The Surlyn Shell encloses the hard rubber stout center. 
These golf balls are ideal for beginners who are yet to learn and enjoy golf. Two-piece balls, like one-piece balls, are designed for distance and durability. However, they usually have a softer feel that makes them ideal for use on the golf course. These balls also offer lower swing speed. 
Pros
Lower Spin Speeds ideal for beginners
Launch higher on slight impact
Prone to damage because of hardcover
They are cheap
Cons
Less Spin 
Not Ideal for Green golf courses 
3 Piece Golf Balls 
The layer that rests between the core and the cover in 3 piece golf balls provides added performance for the player. These balls also feature a softer cover, which helps the ball spin more when it hits the ground.
These balls are ideal for better players; from pros to mid-handicappers, three-piece balls are available to suit your needs.
3 Piece golf balls are also known to offer better stability between speed and distance. This is a particular feature that allows for a more serious game. These golf balls are also easily damaged due to the outer softer cover. High spin upon lighter touch is a noticeable feature. 
Pros
Promotes greater distance with a lighter touch
Softer thus spin more
Durable 
Cons
Not all 3 piece golf balls offer the same speed
A higher spin rate might be a trouble 
4 Piece Golf Balls
A 4 piece golf ball has multi-layered construction. The core is made up of two different materials, providing more precision than three-piece balls. The distinction between three-piece and four-piece balls is debatable whether the extra layer makes a meaningful impact. 
On the other hand, four-piece balls have a feature known as 'spin separation,' in which the extra layers are triggered only when the player reaches a high enough swing speed. The thin outer layer is made of urethane. Urethane is a 4 piece golf ball that is responsible for a short game spin. 
As the outer layer provides ample spin, inner layers are responsible for giving more control to the golfer. 
Pros
Achieves greater distances
Absorbs shock impact due to multiple layers
Better speed
Cons
Expensive
Only work well for high spin speeds
Ideal for professional golfers only
5 Piece Golf Balls 
The science behind the 5 piece golf ball is similar to that of the four-part ball. Extra layers allow for increased spin separation and staggered compression to maximize performance.
The current edition of a 5 Piece golf ball includes a compression core that is 28% less. This results in less spin and more distance with the driver. 
On short strokes, the ball's exceptionally soft urethane covering keeps it spinny and responsive. Individual golfers must assess whether the difference between the four-piece and five-piece offers and more typical three-piece offerings is truly significant.
Related Post: How to Choose the Right Golf Balls for You?
Pros
Better strike due to improved spin separation
Ideal for controlled strokes
Cons 
Only suitable for professional golfers
It might be tough to get a hold of
---
2 Piece Golf Balls List
Bridgestone e5
Callaway Hex Soft
Callaway HEX Diablo
Callaway HEX Warbird
MIZUNO RB 566
Nike Golf PD Long Power Distance
Pinnacle Golf Rush and Soft
Srixon Q-STAR
TaylorMade Distance Plus
TaylorMade Project (s)
Cut Golf Ionomer Red
Volvik Vimax Soft
Wilson Staff DUO Soft +
Wilson Staff DUO Optix
3 Piece Golf Balls List
Bridgestone TOUR B XS
Bridgestone TOUR B X
Bridgestone Tour B RX
Bridgestone e12 Speed
Bridgestone e12 Soft
Callaway Superhot 55
Kirkland​ ​Signature​ Plus​
Snell MTB-X
Srixon Q-Star Tour
TaylorMade Project (a)
TaylorMade Soft Response
Titleist AVX
Volvik Crystal
Wilson Staff DUO Professional
4 Piece Golf Balls List
Callaway HEX Chrome+
Callaway Chrome Soft X
Cut Blue Golf Balls
Mizuno RB Tour
Mizuno RB Tour X
Vice Pro Plus
Volvik PGA Tour Ball
Callaway Chrome Soft
Titleist Pro V1x
5 Piece Golf Balls List
TaylorMade TP5
TaylorMade TP5x
---
Wilson Staff Duo Soft – Best 2 Piece Golf Balls
 DUO+ is the world's softest and longest premium 2-piece ball, and if you're having trouble with your game, this could be the answer. It might be from the 'best golf ball on the market'.
But for many golfers, the better ball is the cheap 2-piece, low compression ball rather than the pricey one.
A ball like the DUO would be detrimental to a tour pro or even a single-digit handicapped amateur player, but it has the reverse effect on most average players. There is no better ball for senior golfers or mid-high handicappers with a slow to a medium speed golf swing. 
And at such a low price, it is a strong contender for the greatest all-around value-for-money golf ball on the market.
Reasons to Buy
Big Distances
Ideal for slow swingers
Great Value 
Multiple Colors 
You can even save more with this affordable 2 piece golf ball right now on Amazon. 
Oncore Avant 55 – 2 Piece Golf Balls
The Avant 55 (2-piece low compression ball) provides excellent performance at a reasonable price. The Avant 55 was introduced in 2017, and when Gary Player became an Oncore ambassador two years later, he played the Avant 55 in the Masters, putting the ball on the map.
The ELIXR features a premium cast urethane cover for a soft, pure feel off the clubface and exceptional control around the greens, as well as a revolutionary polybutadiene core for maximum velocity and distance.
Reasons to Buy
Ideal performance
Great feel
Top Quality at an Affordable Price
Get the best deal on Oncore Avant 55 from Amazon now.
---
Titleist Pro V1 – Best 3 Piece Golf Ball
The all-new design of the Titleist golf ball offers a higher greenside spin. It also provides a softer feel to the user and consistent flight because of different layers. This 3 piece golf ball is a cheaper option on the market. It is designed with greater distance and precision in mind.
A new, smoother cast urethane elastomer cover promises more greenside spin and control in the short game. The Pro V1 has a penetrating trajectory and a gentler feel than the Pro V2. It is also available in white and bright optic yellow color. 
Reasons to Buy
Increased Longevity
Better dimple count
Formulated core for better performance
Find today's best deals on Amazon right now.
---
Callaway ERC Soft – 3 Piece Golf Ball 
This three-piece ball has a high-speed mantle and high-energy core and a new Hybrid Cover with a unique Impact Modifier. Callaway achieves this by combining high launch ball speeds with low spin, soft feel, durability, and outstanding greenside control.
This golf ball from Callaway is also identified as the longest golf ball with the softest feel. The medium compression range is a major reason for the popularity. The three-layered design is much more than a paint job. This product from Callaway is known for its high quality and high launch speed. 
Reasons to Buy
Fast speed
High Quality 
Offers Long Shot
The 3 piece Callaway is now available at a fair deal at Amazon.
---
Once Vero X1 – Best 4 Piece Golf Ball
The VERO X1 was released in 2020 and is aimed at intermediate to advanced golfers. The VERO X1 is a four-piece design with a cast urethane premium cover. This construction provides tour-level control around the greens, but the distance off the tee is the most impressive feature.
This ball has the highest permitted velocity off the clubface. Thanks to a metal-infused mantle and greater perimeter weighting, giving it genuinely amazing length with the driver. Although a pricey little option on the market, this ball lives to its price. 
A great feature you get with this product is the option to customize the ball with a few dollars extra. 
Reasons to Buy 
Consistent flight
Soft feel 
Durable
Callaway Chrome Soft X – 4 Piece Golf Ball 
Callaway's four-piece Chrome Soft, featuring a Graphene Dual Soft Fast Core, is designed for players searching for extra distance. This golf ball is a remarkable marvel because it is both lightweight and strong.
Thanks to Graphene, this Callaway's Chrome Soft golf ball boasts the thinnest possible outer core and a bigger inner core. All of this contributes to the ball's increased speed while maintaining a soft feel for use around and on the greens.
The Chrome Soft has also increased long shots' carry distance into greens because of its aerodynamically engineered Hex dimples.
Reasons to Buy
Made from super-tough graphene
Ideal for longer distance shots
---
What Is Better 2/3/4 Piece Golf Balls?
Not many golfers were aware of the different types of golf balls and their functionalities. Picking up a golf ball with a popular name seems like the right decision, but that is not always the case.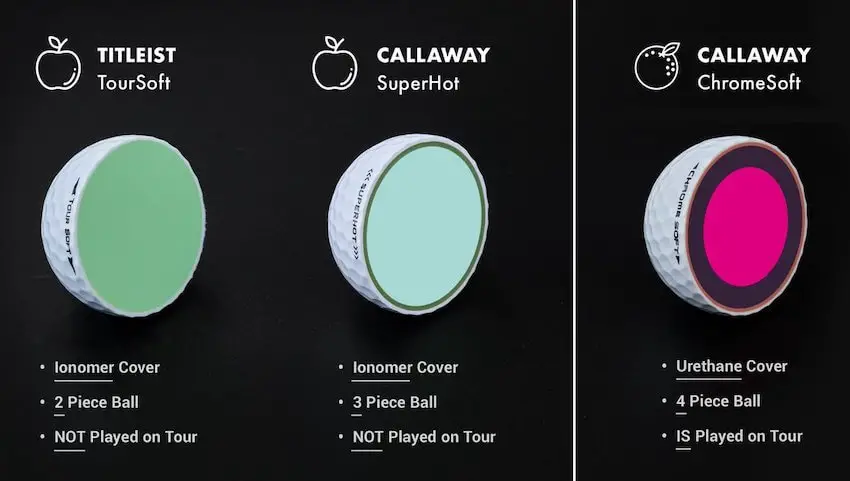 A golf ball can be made in various ways, which have evolved as technology has advanced. Two-piece and three-piece golf balls are two of the most popular golf ball configurations, but what are the distinctions between them?
Here are 2 pieces vs. 3 piece golf ball differences you need to know. 
2 Piece vs 3 Piece Golf Ball
It is common to see everyday golfers using a 2 piece of a golf ball. Two-piece golf balls are the less expensive of the two. They are ideal for individuals who want to smash the ball far.
These golf balls have more compression and collapse more easily when smacked forcefully, resulting in more distance.
Three-piece golf balls, on the other hand, have a liquid rubber layer on the outside. This layer is sandwiched between the ball's core and its outer layer. Because the cover of a three-piece golf ball is often softer than that of a two-piece golf ball, it will not travel as far when struck.
The three-layer and complex design of a three-layer golf ball is the reason it is more expensive, but this golf ball is also less durable than the two-piece golf ball.
3 Piece vs 4 Piece Golf Ball
Even though the layer covering the three-piece and four-piece golf ball is made of the same material, there is still a difference. Sometimes both the ball can offer the same functionality and quality. The three-piece golf ball will cost you less too. 
Both the balls have urethane cover as their outer layer. This urethane cover gives a soft feel and a great action around the greener field. Other than urethane, golf balls also have ionomer covers. For a low off-spin, a 3 piece golf ball is the ideal choice. 
Moreover, a four-piece golf ball gives higher compression. This makes it difficult for the low swing golfer to perform better with a three-piece golf ball. Another difference between a 3 piece golf ball and 4 piece golf ball is the spin. 
A three-piece golf ball offers lower spin as opposed to a four-piece golf ball. Hence, the three-piece golf ball is preferred by higher handicap golfers. At the same time, the four-piece is preferred by lower handicap golfers.
This is because the lower handicapper requires the performance and spin that the four-piece can provide around the greens.
Conclusion
Golf balls are made in different construction to serve different functions and performances. While the price is dependent on the construction, low cost isn't the only reason to opt for the lower layered ball. 
As the construction of the ball becomes more complex, it also inclines towards the game's professionalism. People who tend to play more professional golf games have better performance with multi-layered golf balls. 
The golf balls get more geared towards low handicappers with high swing speeds who value things like feel, spin, and control of the balls around the greens as we add more than three pieces to them. 
The truth is that each sort of golf ball has something to offer today's golfers, who may have varying requirements for their clubs and their ball selection for maximum performance.
---
Related Posts
Last update on 2022-04-03 at 13:20 / Affiliate links / Images from Amazon Product Advertising API