Playing for longer distances can be a joy with the perfect weather and fresh greens around. A perfect long-distance golf ball makes the time even more worth it.
The satisfaction of hitting an ace is incomparable, and an excellent long-distance golf ball with reduced spin should be able to let you feel just that.
The Callaway ERC Soft ball was presented as a model that redefines the long-distance golf ball. The Callaway ERC soft includes a modern hybrid cover and a dual soft fast core. Best of all, their ingenious tripel track technology separates it from the rest.
Let's find out what else the ball has to offer with our Callaway ERC soft review and dig into its specifics.
---
Callaway ERC Soft Golf Balls Review In 2021
There are plenty of options in the market for a soft ball for long distances. The variety makes it almost overwhelming to decide on one, especially if you're a beginner getting started.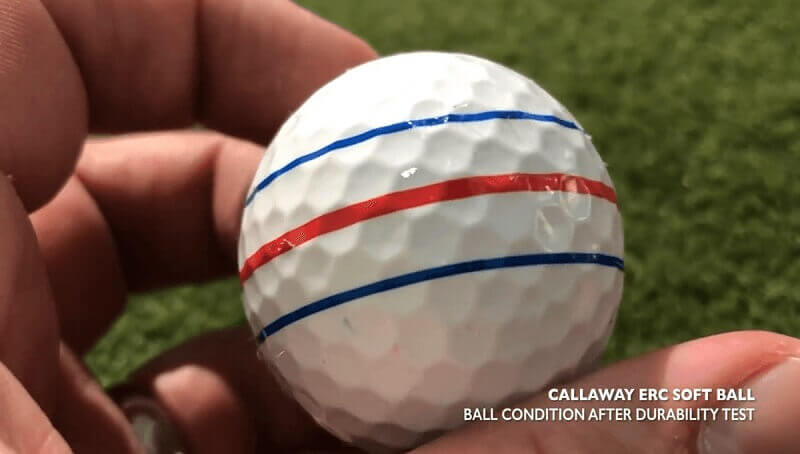 This Callaway ERC Soft golf ball review is sure to help you with that. This Callaway ERC Soft Triple Track review has detailed information on the features, specialty, and specifications. You can also find out the pros and cons of the golf ball to help you determine if this is the right match for you.
The reason that we picked the Callaway ERC soft ball is that it distinguishes itself from the rest with its top-notch features. The features include a softcover and dua softcore. The triple track lines for alignment for better putting accuracy make it an ideal choice for beginners and experienced golfers alike.
Its versatility makes it such a great choice as a long-distance soft golf ball. It is one of the best soft golf balls out there, featuring creative technology and premium features.
The compression energy is maximized because of its large inner core, and the driver spin is minimized. The combination of this allows the ball to launch high and for a longer distance. The speed is also increased, all the while having a low spin-off driver.
Further, Callaway ERC soft specs feature a high-energy core, which is said to boost speed incredibly. Not only does it have increased speed, but it also has a considerably low spin off the driver.
Callaways presents the ERC soft ball as their longest golf ball yet, with a soft and premium feel. The ball's hybrid cover is made up of multi-material that gives it its soft feel and control.
While many golfers buy tools to make their own track lines for better alignment, you can skip this step with ERC soft balls.
The track lines are important for better putting accuracy, and seasoned golfers understand that well. It comes with the track lines ready-made for beginners so that accuracy can be improved from the get-go.
Features
Innovative triple track technology for upgraded putting accuracy
Hybrid cover for a soft feel
Hex aerodynamic dimple pattern on the surface
Graphene infused dual soft fast core
Ball design allows for straight, high flights
More Details About Callaway ERC
With such a creative design, Callaway ERC soft ball goes toe to toe with some of the premium ones. The ball is specifically designed for straight, high and far shots. The ball is designed for long-distance.
The triple track lines make it easy for it to be used on a tee box as well. The ball will show great results for players who play with moderate to low clubhead speeds. The triple-track line does a great job of more accurate alignment, which improves putting accuracy.
While the ball is certainly made with keeping straight and far shot in mind, it is not made for its workability. For players who desire workability, the Callaway ERC soft ball might fall short. For ERC soft ball, the greenside spin control is good but lacks the control of the premium balls.
We test Callaway ERC Soft golf ball with golf 7 iron and driver here is the test result:
| | | | | | | |
| --- | --- | --- | --- | --- | --- | --- |
| Shot ID | Speed (mph) | Launch Angle | Backspin (rpm) | Side Angle | Carry (Yds) | Range (Yds) |
| Avg (7i) | 110.9 | 18.9° | 4891 | 1.7° | 158 | 158 |
| Avg (D) | 143.1 | 12.1° | 2316 | 0.5 | 238 | 238 |
Pros
Goes longer distance
Maximized compression energy due to the large inner core
Improved putting accuracy with the triple track lines
Cons
Has lower spin control than the premium ones
The Callaway ERC Soft golf ball features many similar specifications to premium balls. It does not disappoint with this long-distance and soft feel. The track lines make it easy for even beginners to get increased accuracy for putting.
Although it may not be the first pick of seasoned golf professionals due to its reduced spin control, it is an ideal choice for long distances. As it is the longest distance ball from Callaway yet, it will not let you down for far shots and high flights.
To Buy Or Not To Buy
If you are looking for a ball designed for long speed, you can not go wrong with a Callaway ERC soft ball. Moreover, the track lines save you the hassle of putting those lines there yourself.
The Callaway's ERC soft ball is also highly rated and reviewed. It may not be the best for spin control, but it satisfies many with its speed and soft feel.
The thick cover also allows for more energy. If you're looking for that, then this will be a great ball to golf for your plays.
Check Callaway ERC Soft Price On Amazon
---
Callaway ERC Soft Golf Balls: Buyer's Guide
Before making any purchase, it is important to understand what you should be looking for in your product. In the case of golf balls, what you need to consider will depend on the kind of play you want.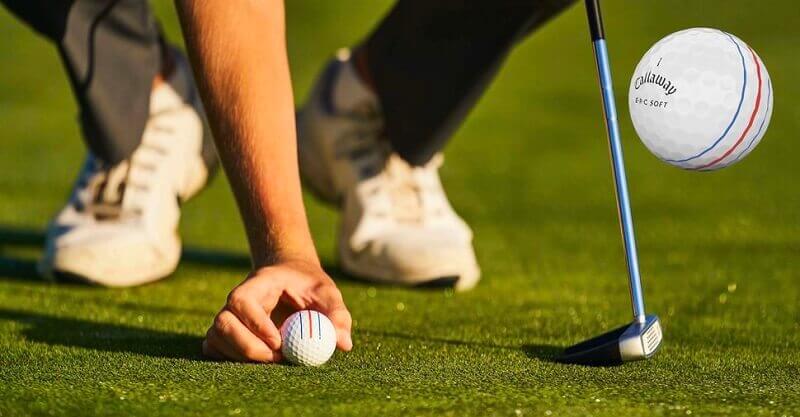 There are different golf balls available with features specifically designed for different kinds of plays. The ball's speed, how much distance it covers, its spin control, and the feel are important to consider for longer distance plays.
With the Callaway ERC Soft Review, you now know the specifications and features of the ball. With the buyer's guide included, you will be able to understand better the designs of the ball and what you should be looking for in a golf ball.
Distance Covered
The core of the ball often becomes the deciding factor for how much distance the ball would cover. If you want a ball that will go a distance and cover more ground, then look for a ball with a larger inner core. Don't forget to learn about Cut Blue Golf Balls Review.
Golf balls with large inner cores and thinner outer covers are designed to cover longer distances. The cover of the ball is what determines its size. The main mechanics of the ball's inner core determines its speed and energy. These factors help determine how much of a distance the ball is bound to cover.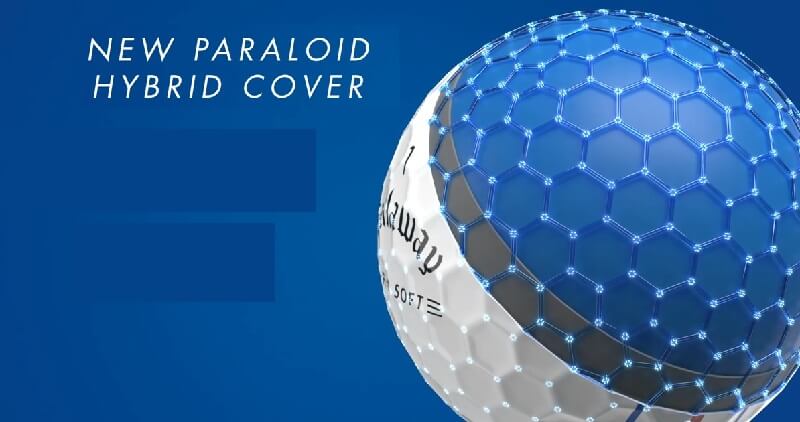 A straighter and higher flight will also make it easier for the ball to cover a long distance. So, ball flight and inner and outer designs are important factors to check out when looking for a longer-distance ball.
Feel of The Ball
There are differences in preferences over softer balls and tougher ones. The purposes of both kinds of the ball differ due to their plays. Softer balls, like the Callaway ERC soft balls with lower compressions, are ideal for long-distance plays.
Often you will find premium balls to have a thinner outer cover and have a different feel to them. Some softer balls may not have the premium finish but have a good soft feel to them.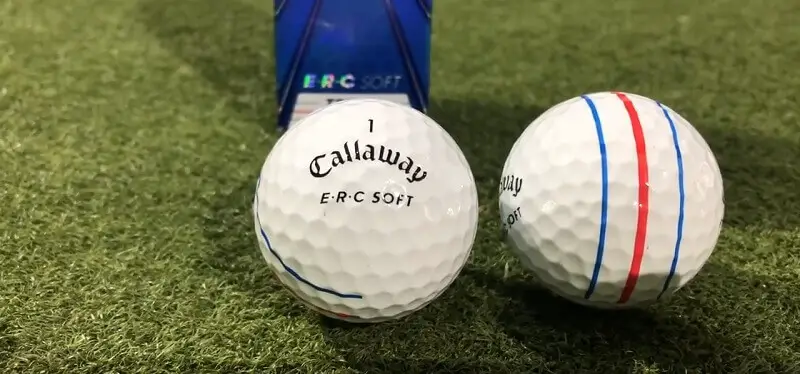 The preference for a soft ball that almost feels like a sponge and for one that is not soft depends entirely on the player. However, golf balls that are more solid and have a tougher feel are preferred by some. The preference maybe because of the sense of control you can have when using a ball that is not very soft.
However, soft balls like Callaway ERC have a great feel to them and perform well on the green.
Compression
For higher compression ratings, the balls are not as soft. These balls then have a tiger surface as compared to the soft ones. The higher compression rating allows the players to have more spin control and for players who wing faster.
The compression is measured between 0 to 100. The higher the compression, the more control you can have. But ideally, most golf balls feature compressions between 50-60.
Higher compressions are more suitable for players with faster swings, while lower compression ratings can be enjoyed by beginners and moderately experienced to even seasoned ones.
Spin Control
Better golf balls cut down on the excessive side spins considerably, giving you a feel of being more in control. If the ball spins too much, you may end up getting frustrated by the play.
There are three kinds of spins available for golf balls: low spin, mid-spin, and high spin. Good spin on golf balls lets you hit straight and precisely without diverting too much from their intended path.
Dimple Pattern
The surface of the golf balls often has dimpled patterns on them. The purpose of these patterns is to help with the cutting of wind speed and drag.
The dimpled patterns also maximize the lift, and balls for higher swing speed have more dimples. A smoother fall will not travel far and get affected by the drag and the wind. The balls that are made for moderate to low swing speeds feature a fewer number of dimples.
Affordability
A big factor to consider before purchasing golf balls is your budget. Sure, you can spend more on premium balls that have high-tech technology to give you amazing plays. But such balls are mostly designed to give seasoned and pro players a smoother experience.
If you are a beginner and want to simply have fun when playing golf, there are many more affordable opinions available. That does not mean you compromise with the quality. Even though they may not be expensive, many golf balls come integrated with innovative technology and provide a good experience.
---
---
Callaway ERC Soft Golf Balls Review: FAQs
There are always questions that we can tend to have when deciding on a golf ball. With this Callaway ERC Soft Review, you will also get answers to your questions about the performance and features of the ball.
You can also clear your doubts that you may have regarding the product and decide for yourself how rightly it matches your requirements.
✅ What Does Callaway ERC Stand For?
The ERC in the name of the Callaway ERC soft ball stands for Ely Reeves Callaway. It is the acronym that is dedicated to the founder of the Callaway golf company. The acronym was included as an acknowledgment of the efforts and visions of Ely Reeves Callaway.
✅ What Is the Compression of the Callaway ERC Soft?
The Callaway ERC Soft golf ball has near 60 compressions. The compression rating is an indication of the tighter or softer the ball is bound. Since the ERC soft balls are on the soft side, they have a lower compression rating.
✅ What Is the Difference Between Callaway ERC and Chrome Soft?
There are several differences between the Callaway chrome soft and the Callaway ERC Soft golf ball. The first being that Callaway chrome soft was designed to be a premium tour-level ball. Callaway's ERC, on the other hand, is designed for long-distance.
The chrome soft has a compression rating of 75, while the ERC soft ball has closer to 60 compressions. The chrome soft cover is made of soft Tour Urethane, while the ERC features a hybrid of the multi-material outer cover. The Callaway ERC soft ball also has its triple track line technology that sets it apart from the balls like Callaway chrome soft.
---
---
Conclusion
While Callaway ERC Soft Golf Balls stands out with the new technology and softcover, it is not exactly on the cheaper side. The ball has excellent distance coverage and has good compression for a soft ball.
It also has a dual soft fast inner core that gives and a design suitable for higher shots. This is why it is our recommendation.
However, if you are looking for a more affordable option, the Callaway Supersoft Golf Balls are a great one. They're an ideal pick for you if you are on a budget but don't want to compromise with quality and performance.
Otherwise, the Callaway ERC triple track golf ball is perfect for your long-distance plays.
---
Callaway ERC Soft Golf Balls – Product Details
| | |
| --- | --- |
| Cover | Hybrid |
| Flight | Straight |
| Feel | Soft |
| Forgiveness | Best |
| Construction | 3-Piece |
| Compression | 60 |
| Performance | Tour / Distance |
| Brand | Callaway |
| Buy Now | Check Today Price |
---
Related Posts
Last update on 2022-04-03 at 13:20 / Affiliate links / Images from Amazon Product Advertising API