It can be thrilling to make long-distance shots with accurate guesswork and instinctual shots. Unfortunately, it is not often that players get to make them.
If you are among the players that don't prefer to go into the game blind and prefer not to do much game work, then a rangefinder is your best friend.
Sure, you may be able to improve and, with time, make better shots, but you might have wondered why rangefinders are so popular with golf players. That is because they make you play so much better, smoother, and more fun.
If you are looking for the best golf rangefinders under 200 bucks, then this review and buying guide will lead you to the best picks.
Related Post: Best Budget Golf Rangefinders Under $100
---
7 Best Golf Rangefinders Under $200 In 2021
There are options aplenty when it comes to golf rangefinders. There are several types, features, functions, and most importantly, the budget to look for when choosing one. The best golf rangefinders under $200 will give you all the useful features while also being affordable.
Not only that, if you wish to look for the best golf rangefinder under $150, then that's possible, too. Let's check out the best picks and their reviews.
There are a lot of quality-grade golf rangefinders under $200. But choosing the best out of the lot can be a bit tricky. It is truly an investment to buy a good quality golf rangefinder. Below you will find a detailed description of the popular products in the given category.
1. TecTecTec VPRO500 Laser Golf Rangefinder
The VPRO500 Golf Rangefinder by TecTecTec is one of the state-of-the-art optical devices used by golfers. It comes with advanced laser technology that helps you achieve accuracy in your game with the confidence of a PRO.
The highlight of this golf rangefinder is the advanced Pin-Seeker technology. This technology, along with the laser, helps in measuring things on the golf ground with accuracy.
You can measure the overlapping subjects, the distance between golf flags, wooden areas, or even any haphazard area on the field. It provides 6X magnification, making it easier to distance things. 
The manufacturer guarantees an accuracy of +/- 1 in every measurement you make. It measures up to 540 yards distance without any error. It also has a slope adjustment that can be done using the readout in the viewfinder.
More Details About VPRO500
Even though the highlight of this product is the accuracy it offers, there are a lot of quality features that you can explore. It is a lightweight, resistant model that can be held carried around with ease.
It can help the golfers detect more than one target for any type of shots that you plan to take. It reads overlap and obstacles with accuracy and provides you with the information for the best possible shot very quickly.
The multiple reading and multiple target options allow you to estimate the distance between a wide range of targets with ease and accuracy.
If what you are looking for is an accurate and durable device that will amp up your game, check out this product on amazon.
Pros
Accuracy up to one yard with Pinsensor technology
Lightweight and water-resistant
Multiple targets reading for better estimation
Cons
Fading of the LCD display in low battery state
This product is a great match for the long, never-ending games where you require field measurements frequently. The lightweight and water-resistant nature make it a convenient carry-on even on rainy days. The accuracy is indeed not questionable.
---
2. Callaway 300 PRO Slope Laser Golf Rangefinder
The 300 Pro Golf Rangefinder by Callaway is a chic-looking device that delivers accuracy with style. It is an intelligently designed model that offers a lot of variations and features that make the experience quite satisfying.
Apart from its intelligent and chic design, another characteristic feature of this model is the birdie feature. It chirps the moment it locks onto a pin. This helps in improving the accuracy of the reading as you can simply select from the few options that the rangefinder lines up.
More Details About Callaway 300
The Callaway has a single press power button that you fire up once your target is pinned. It also has a slope adjustment that works to perfection. The rangefinder will adjust the yardage on its own and provides you a level that compensates for the slope.
It, however, lacks precision as compared to the other models that are available at this price. This is a device for all golf enthusiasts who are looking for a pocket-friendly rangefinder. Check out this product for great pricing on Amazon.
Pros
Precise readings and clear optics
Slope adjustment with ease of use
Cheaper
Cons
Inaccuracy in grabbing pins in the first run
This product is a great choice for golfers looking for a model that isn't just great in performance but also looks good. It is great value for money and a perfect investment for a great game.
---
3. Precision PRO NX7 Slope Golf Rangefinder
If you are looking for a golf rangefinder that uses the best laser technology for excellent accuracy, this is the product for you. The Precision Pro NX7 Golf Rangefinder is just the model to get value for every dollar you invest in it.
The striking feature of this rangefinder is the added slope technology. It provides accuracy in determining the yardage to the hole after considering the possible slope.
This technology helps in improving the game in fields that have higher elevation changes, and you are just beginning as a golfer.
More Details About Pro NX7
This model is all about making the entire golfing experience better for beginners and advanced players. The laser technology helps in achieving results faster than other devices. It comes with a 6X magnification that improves the vision of the field.
Related Post: Best Cheap Golf Rangefinders Under $300
It also helps in measuring multiple distances at once. It considers haphazard fields, elevation, and overlapping obstacles for better distancing and ranging while playing. Apart from that, this device has a very comfortable size that fits in your hand and makes an easy carry-on.
Check out this product for the great price it comes in. The features and the pricing will be difficult to ignore.
Pros
Shock-resistant model
Water-resistant and lightweight
2-year warranty
Cons
Locking on pins is some difficult
This model is a great budget pick for the ones who are looking for a cheap golf rangefinder. It is sleek, stylish, accurate, and fast in action. It is a great investment to improve your gaming skills.
---
4. Blue Tees Golf Series 2 Pro Slope Rangefinder
Blue Tees Slope Rangefinder for golf is a great product that is a great combination of technology and great optics. This device is a perfect purchase for those who wish for the highest levels of accuracy with every use.
The feature that sets this model apart from the others in the market is its clear optics and high accuracy. This model is known for its great level of precision in target pinning and measuring distances.
It also has a long-range lock that helps in pinpoint targets as far as 800 yards with +/- 1 accuracy. Don't forget to learn about Blue Tees Golf Rangefinder Review.
More Details About Blue Tees
This model comes with continuous ARC (angle range compensation) technology. It takes into account any inclination or decline automatically and gives you a precise distance from the target. It also has a 6X magnification with top-grade optics to complement it.
With this rangefinder, you can improve your game significantly with every use. This product comes with a flag lock technology that produces short vibrating pulses. This is a sign of confirmation that your target has been locked.
It comes with a two years warranty and a 60 days money-back guarantee by the manufacturer. Check out Amazon for great pricing on this product and take home a device that will make your golfing experience better. 
Pros
Clear optics
800 yards coverage with accuracy
Flag lock technology for precise target locking
Cons
Difficult to pinpoint the target flag in one go
The Blue Tees golf rangefinder is a product that measures slope and flag distance with great accuracy. Its pulse vibration technology and flag lock technology is state-of-the-art that enables you to improve your game every time you are in the field.
---
5. GB Laser 1S 880 Yard Rangefinder with Slope
The Golf Buddy Laser 1S Rangefinder is a high-tech, multi-functional golf rangefinder with exceptionally good features. It is one of the best golf rangefinders under 200 that will not disappoint you at all.
The main highlighting feature of this product is its long-range measurement of distance. For a product in this price range, it can measure up to a remarkable range of 880 yards. The accuracy goes up to +/- 1 yard, helping in improving your game considerably.
More Details About Laser 1S
The Golf Buddy has all the great features that you require for the betterment of your game. It comes with a slope on/off feature that lets you measure the distance accurately with autodetection of incline/decline in the range.
It also has a fast lock feature with vibrations that tells you when the target is locked. The product eases the distance measurement process by using the scan and pin finder mode.
It is fast in its response and gives you accuracy in results with better and clear visibility. Check out Amazon for more details and get this easy to carry, accurate, and precise golf rangefinder at a pocket-friendly price.
Pros
Fast action accurate response
880 yards coverage with +/- 1 accuracy
Standard, scan, and pinpoint technology with vibration
Cons
Non-rechargeable batteries
The Golf Buddy is a simple golf rangefinder that will get the job done without any hassles. It is a perfect pick for anyone who is starting with golf as a beginner or who is already an expert. Its easy-to-use features and widescreen features enhance the golfing experience.
---
6. TecTecTec VPRO500S Slope Laser Rangefinder
The laser golf ranger finder by TecTecTec is another great option to consider for the best golf rangefinders under 200 dollars. It is loaded with amazing features that are easy to use and help in the improvement of your game.
The characteristic feature of the VPRO500S is the slope mode. It is a patent-pending Pinslope technology.
It carries out the calculation for the angle of elevation, with slope compensation. It adjusts the distance to the target automatically, so you can be confident with every shot you make.
Details About TecTecTec VPRO500S
This product has a good range of 540 yards with a +/- 1-yard accuracy. It is pretty instant in catching flags, making it quite fast-action. It also comes with a 6X magnification that provides for better optics with clarity.
It is lightweight and water-resistant, making it a great carry-on package for any golf trip. It comes with a protective case included in the packaging. Its easy maintenance and great customer service by the manufacturer make it an appropriate choice for many.
Get amazing deals and more information about the manufacturer on Amazon. Check out this product on Amazon before you miss out on a great product at a great price.
Pros
Lightweight, water-resistant, easy to maintain
540 yards coverage with +/- 1 accuracy
Pinslope mode for precise reading on elevations
Cons
Durability can be a problem for a few
The TecTecTec golf rangefinder is a fairly new product in the game that offers a lot of unique and quality features. It is a great budget purchase for people looking for a simple yet technologically advanced rangefinder for the betterment of their game.
---
7. Nikon Coolshot 20i GII Laser Slope Rangefinder
The Coolshot golf rangefinder is an amazing lightweight and chic product by Nikon. It has a compact and intelligent design that is easy to carry around during your came. A pretty basic yet impressive choice in the Nikon range, this golf ranger is a must-have for people aiming for a job well done.
The primary focus feature of this product is its unique and compact design. It is very easy to hold this device for a proper vision of the field. It uses a Velcro loop that attaches to your palm for a convenient and easy grip. Its lightweight and small size make it a negligible carry-on in your golf kit.
More Details About Coolshot 20i
This product has a superior quality accuracy with an increased range. It gives a remarkable ranging of 800 yards with +/-1 accuracy. Being a Nikon product, it is equipped with the company's state-of-the-art optical technology that provides a better and clear vision to the user.
It has a 6X laser magnification for visual clarity and long eye relief that lets you focus even with sunglasses on.
It also has advanced pin identification and a multi-target mapping feature that allows you to spot the nearest target with multiple measurements. Check out on Amazon and get a great deal for your next golf trip.
Pros
Accuracy in yardage measurement
goo yards coverage with +/- 1 accuracy
Continuous scan measurement for 8 seconds.
Cons
The Nikon Coolshot is a perfect device for those looking for a device that delivers perfect yardage with accuracy. Even though it lacks a few obvious features, it is still one of the best in the price range for easy and quick estimation of measurements.
---
Best Golf Rangefinder Under $200: Buyer's Guide
Now that you know your options and what their features, pros, and cons entail, you might be wondering how to go about choosing them. You will need to look at several factors before you decide on the product you will purchase.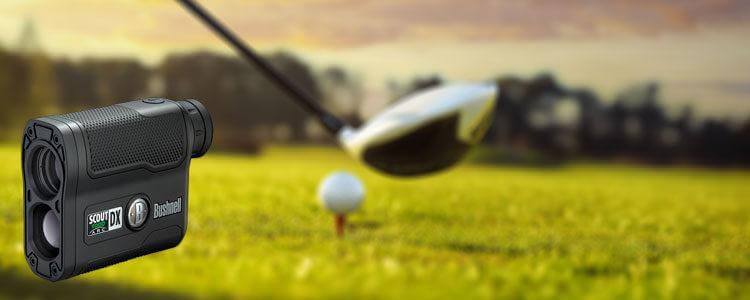 You need to look at the accuracy of the rangefinder, its quality, battery life, performance, and more before purchasing it. So, after going through the best golf rangefinders under the $200 review, this buying guide will help you look for the features you need to keep in mind.
This is necessary when buying a product to match your needs. Here are some of the factors you need to consider before your purchase.
Type
There are different types of golf rangefinders available in the market. Primarily there are three kinds; laser rangefinder, optic rangefinder, and a GPS rangefinder. All three have varying features and uses and come in a range of prices.
The laser golf rangefinder is the most used and popular rangefinder for golf players. It uses a red laser beam to calculate the distance between the target and your position. The yards can easily be measured using a laser rangefinder, and it gives accurate readings.
Modern laser rangefinders come equipped with even more smart technology and a better display. However, a basic one is enough to get the job done and calculate distance correctly.
Durability
The durability of the product is as important as its features. It is an important tool that is frequently used outside and sometimes in harsh conditions should be long-lasting. Without a long last use, the product's appeal would go down considerably as not one would want to invest in a product that will not last long.
The durability of golf rangefinders largely depends on the batteries, too.
Although batteries can be replaced and changed easily, they normally tend to last anywhere between 6 months to a year. But their battery usage and how long those last also differ from model to model.
A rangefinder that can withstand the rugged environment of the outsides and the green field is optimal. A golf rangefinder that is waterproof or water-resistant will also last longer than ones that are not. It is incredibly easy to find water-resistant and waterproof rangefinders, and it is better to invest in them.
Since they will not get damaged due to contact with water or wet surfaces, they will have more durability than those that are not water-resistant.
Range of Distance
Of course, the range of distance the rangefinder can cover is the most important factor to consider. This is the main purpose of the rangefinder, so depending on how much distance you want it to cover, the choice you make will differ.
If you are into plays with long-distance shots and enjoy the long drives, then a rangefinder equipped to measure long distances is well suited. If you are not particular about the long-distance and want to play for fun, a basic laser rangefinder will also do a perfectly good job.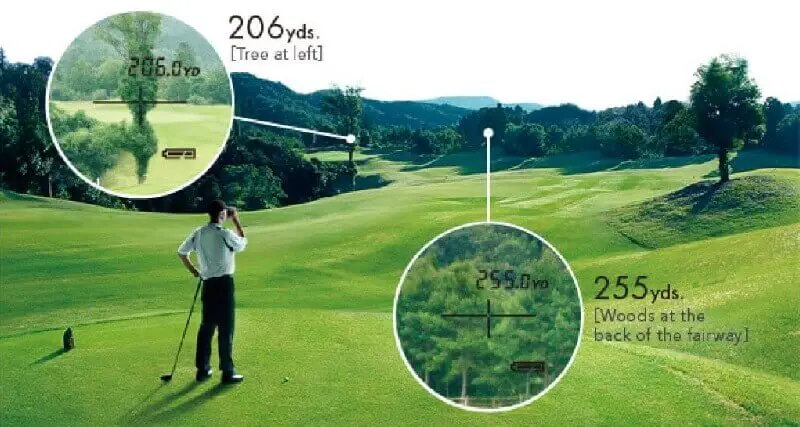 It is important to locate the flag easily with the rangefinder. Without that, the play will be affected, and the golfer may need to swing for more shots to reach the pin.
The quality of the display when magnifying into the distance also matters. When you are target practicing, you will have a particular range in mind.
Easily locating the flag from your intended distance will make it possible to have better shots. The magnification levels are different for different models. Looking for one with more magnifying power can be considered when wanting to play for long-distance balls.
Vision and Display
The rangefinder display has a very important role in conveying to the player the stats and numbers. A clearer vision through the lens will make it easy to spit the flag and see the yard numbers.
If the display is not of high quality and blurry, it will be difficult to understand the distance and play according to that. You may even end up choosing the wrong club. And if you lack a clearer vision of the flag, you may even end up missing your shots or missing the target.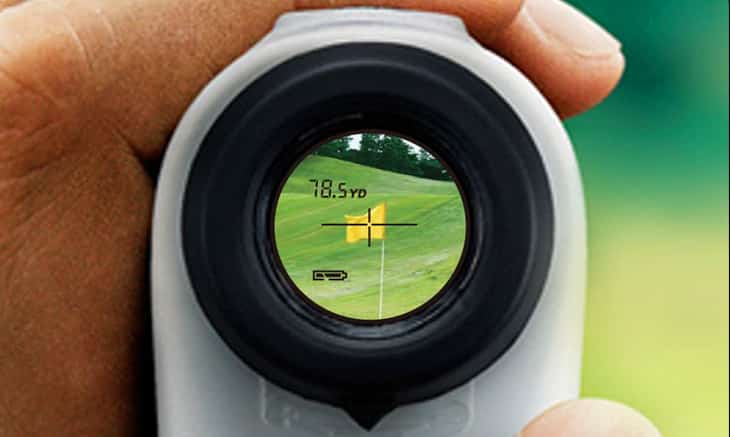 The quality of the lenses and the diopter's adjustability all play into giving you a better vision of the target. A good lens that can enlarge to help you see better the goal you're targeting. Some rangefinders also come with the option to adjust the zoom level so that you can zoom in and out at your preference.
A good display gives you all the required information needed to decide on the swing speed and distance. So looking into the details of the visual quality and magnification levels is crucial.
Accuracy
Without accurate readings of the yard measurements, the gameplay can be heavily affected. You may end up missing the hole completely, and more swings may be needed to fill the target. That is why accuracy in distance measurement is an important feature that cannot be ignored.
Lack of accuracy will make the golf rangefinder redundant and useless to the player. So check the accuracy of the distance before investing in a golf rangefinder model. This will ensure better shots and performance and satisfaction plays. Angle compensation is also a factor also affects accuracy, but this kind of precious is not often important for golfing.
The accuracy of the measurement often differs from the range of models available. Of course, the price also is a factor that plays into this.
Often premium grade and modern technology-equipped laser rangefinders are more accurate than basic ones. But there are always exceptions, and one doesn't necessarily need to compromise with accuracy and quality for affordability.
Slope Mode Technology
With the uneven landscape, readings often have to consider the slope angles. The slope technology makes it easier for the players to get an accurate reading that even calculates the green's uneven slopes.
The angles at which the flag is located can easily be gathered with the slope modes offered in the rangefinders. Otherwise, the players will find it difficult to reach the pin and measure the distance to the flag accurately.
Some rangefinders have the option to remove the slope technology, while others come equipped with the mode. There are always several modes available for the rangefinders to switch between the ones they need. This feature is also not allowed in competitions and tournaments.
Battery
The battery life of the rangefinder determines how long it will work. After that, you will need to change the battery and replace it. However, now, with better inventions, you may not have to change the batteries at all.
Instead, they come with equipment to recharge the device and the batteries once they run out. So in most cases, you can enjoy long-term battery usage and rangefinder functionality.
The quality of the material of the battery also differs from model to model. So it is important to look at the battery range if you want a long-lasting rangefinder. The battery life and its performance can be checked out from the specifications and reviews.
Affordability
The budget you have for the price of the golf rangefinder affects the decisions of the purchase more than any other factor. It might be hard to find a very cheap golf rangefinder, and the technology is not inexpensive.
But there are always options available that give you the option of having a good and quality golf rangefinder that does not compromise with performance and functionality. Often the ones that are lower priced come with lesser features and modes.
The premiums and the expensive ones can have more extra features and additional functions tacked on them. But the advanced nature of the rangefinder depends on the usages and needs.
For beginners and amateurs golf plasters, a simple and basic golf range finder would be enough. Seasons and pro players may need advanced golf rangefinders when practicing, but the preference differs from player to player.
Before purchasing, it is necessary to decide on your budget so that you can pick an optimal rangefinder that will best suit your play and needs.
Ease of Use
Although most golf range finders are simplistic and easy to use, it gets even easier with practice. Some golf rangefinders have equipment that may not be very user-friendly to newbies, so there is bound to be a struggle. But if you prefer to have easier usability, then go for a simple feel and functionality that doesn't require complex mechanisms.
An easy-to-use rangefinder is also more effective than a rangefinder that is not. A compactedly sized and accurately measuring rangefinder will be more helpful than a fancy one.
So, it is important to consider choosing the best rangefinder for yourself depending on how easy to use it is. This will help you focus better on the play than worrying about the readings on the rangefinder.
Best Golf Rangefinders Under $200: FAQs
It is always best to buy anything only after understanding all the facets and specifications of the products. It is important to have a good grasp of the product you are looking for. In this case, the best golf rangefinder under 200 dollars should include.
Once you understand that, there might still be questions that you have and information you might be curious about. Let's explore some of the questions and clear the doubts away.
Conclusion
Rangefinders are certainly amongst the most popular choices of golfers. Therefore, it is crucial to know which one would be the ideal pick! With the factors that we have discussed above, you will be able to analyze and make a wise choice.
Additionally, the best golf rangefinder under $200 that we have selected after detailed research is the right choice. You can simply go ahead and pick one from the list.
If you ask us, our pick would be Precision PRO NX7. It is lightweight, quite accurate, and water-resistant too!
---
Editor's Choice
Last update on 2022-04-03 at 13:20 / Affiliate links / Images from Amazon Product Advertising API