Passionate golfers, new and old, are well aware that Titleist is one of the leading brands for all things golf Irons, drivers, clubs, the company deals with it all.
However, the products contributing the most to its fame are its golf balls. So today, we'll be focussing our attention on giving you a Titleist Tour Soft Review.
With quite so many golf balls to choose from, knowing the specifics can make your decision more straightforward. The Titleist Tour Ball is immediately attractive because it has the word 'soft' in its name. That means it falls in the category of low compression balls, a preference for many.
However, is this the ideal ball for you? Read on to find out!
---
Titleist Tour Soft Golf Ball Review In 2021
The Titleist Tour Soft entered the market to replace two 2016 Titleist Performance balls: NXT Tour and NXT Tour S. The Tour Soft combines the NXT Tour's high performance with the NXT Tour S' low compression.
So it has a two-piece construction similar to the NXT Tour S with added firmness from the NXT Tour. Besides, like the NXT Tour, it aims to provide premium balls in a lower price bracket.
The Tour Soft golf ball is all about combining speed with a better feel. Titleist embeds the ball with its largest core yet to make it as fast as possible. In turn, this creates more room for the inclusion of soft materials in this core. That significantly improves the feel of the ball.
The Tour Soft also has an ultra-thin cover, which adds to the feel and improves its responsive control. Let's see more about the features of this premium golf ball.
Features
Undeniably, the Titleist Tour Soft golf ball takes inspiration from other balls and is quite similar to Titleist Pro V1. However, that is not to say that this ball does not have its stand-out features.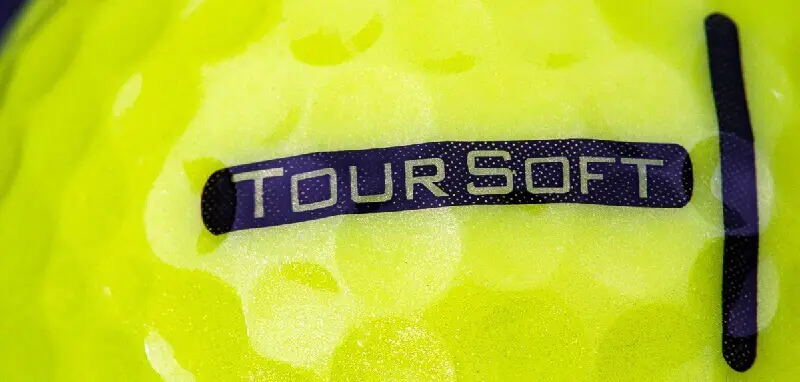 In this section of the Titleist Tour Soft review, we will consider what makes the Tour Soft unique.
Largest Core Design
The core is to a golf ball what an engine is to a car. Along those lines, the bigger this core is, the more speed you can put into it. With the Tour Soft golf ball, Titleist introduces its largest-ever ball core.
Naturally, this large size makes the ball faster in terms of its predecessors.
A larger core also means more interior space for soft materials. The impact of this being, it gives the ball a softer feel. Usually, balls aiming to provide softness sound hollow.
However, in the case of the Tour Soft, the sound is relatively less pronounced. So, this is a factor to consider for golfers who like a specific type of softness when putting.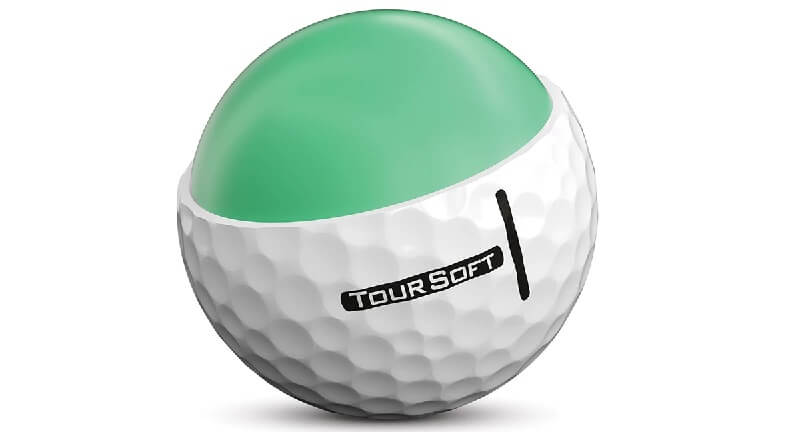 Another advantage of a larger core is more space for the club to interact with when the golfer hits it. So, in essence, it helps maximize the carry of the ball. When you consider the large-size golf courses of today, this factor becomes quite beneficial.
Ultra-Thin 4CE Grafted Cover
Another striking feature of the Titleist Tour Soft is that the ball has a super-thin cover. So thin that the company had to develop a brand-new process and technology for its construction. This TCU Process Technology ensures that the covering around the core is entirely uniform.

The advantage to having this ultra-thin cover is twofold. For one, it contributes to the overall feel of the ball. The other is it offers excellent touch control around the green, even with wedges. While the Titleist Tour Soft may grab a little less, it does provide a more consistent spin.
Unlike other low compression balls, the Tour Soft does not compromise control. Not to mention, it raises the standard for short game spins among non-urethane balls.
Cuboctahedron Dimple Design
To add to its value, the Titleist Tour Soft makes use of an entirely new aerodynamics package. The ball has a unique spherically-tiled 342 cuboctahedron dimple design to provide an improved trajectory. So, with the Tour Soft, you essentially get a more penetrating flight.
Not to mention, it makes for a more consistent ball flight. The hang time of the Tour Soft is pretty impressive, even during windy conditions. The Tour Soft's trajectory makes hitting desired distances much more effortless than usual.
More Details About Tour Soft
The Tour Soft is just as good as a high-end golf ball when it comes to the long game. With its larger core and penetrating flight, the ball more than provides the necessary range.
Besides, it has one of the most consistent spins with irons and drivers alike. These factors are usually hard to come by in golf balls of this price.
The manufacturer's determination to develop brand-new technology for its cover and aerodynamic packaging has a significant impact.
For this reason, the ball works significantly well during short games, although it is still not at urethane levels. This factor is significant because this is where non-urethane golf balls typically fail.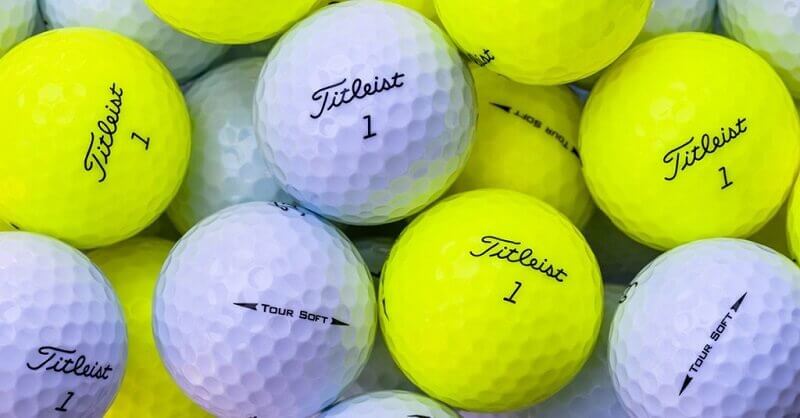 The Tour Soft comes in two colors, out of which one is high-visibility yellow. High-visibility balls are known to give players that little boost of confidence. Not to mention, they stand out too, so they're a good option for those who like to play in style.
The Titleist Tour Soft golf ball is a solid choice for golfers who prioritize durability and value. However, those whose primary focus is top-notch short-game performance may not be as happy.
Pros
The larger core increases the distance the ball travels.
The new aerodynamic design offers advanced flight.
Its T-shape side stamp aids in alignment.
Cons
The high spin may bother those with faster swings.
The Titleist Tour Soft golf ball is by far one of the best at its price point. Of course, it does have a few kinks, like a non-urethane cover or high spin that may not suit everyone. Nevertheless, it makes up for these minor flaws with its positives and is one of the most beginner-friendly options.
Should You Buy It?
In simple terms, the Titleist Tour Soft has three things to offer you: speed, feel, and control. Consider taking a few minutes out of your time to check out the ball yourself.
Then you can better gauge whether this is the right ball for your putting needs. Not to mention, you can check out the opinions of other golfers just like you!
Check Titleist Tour Soft Price On Amazon
---
Titleist Tour Soft Golf Ball: Buyer's Guide
Long-time golfers will agree that often players tend to have a sense of ball loyalty. That said, the game itself is one of accuracy and consistency. So before settling on a golf ball or sticking to it, here are some key factors to consider. Also, be sure to read more about the Tour Soft vs Pro V1.
Technology
Golf ball technology includes intricate details, which make one ball different from the other. For this reason, it is crucial to go through these factors to find the right ball per your playstyle.
Cover: Golf ball covers are available in several materials, each of which has its characteristics. Urethane, arguably the most popular material, is known for delivering the highest spin on wedge shots.
That said, the material fails when it comes to durability. If this is an essential feature to you, a surlyn cover may be more to your liking.
Compression: The segregation of golf balls might be in the form of high compression and low compression. While high compression balls do provide a better distance, they perform best with advanced players. On the other hand, low compression balls suit every level of player and have an overall better feel.
Construction
The reaction of the golf ball upon contact with the club depends on its construction. Besides, this construction makes a golf ball suitable or unsuitable for a certain level of player. Our Titleist Tour Soft ball review covers the most common types: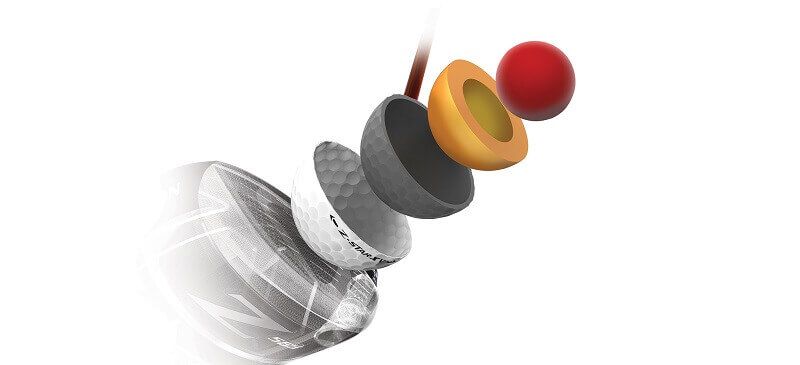 One-piece: This basic ball tends to be durable and inexpensive. Best suited to beginners, driving ranges, and crazy-golf courses, it does not give the most distance. So you will rarely see it used in actual play.
Two-piece: The popular choice among everyday golfers, this golf ball combines durability with high roll distance. The ball is near indestructible, but the firmer feel can make it a little harder to control.
Three-piece: These golf balls are usually softer, offering more spin. So it becomes more effortless for golfers to control the ball's flight. The multiple layers also allow for the creation of more spin-separation. That means a customized performance.
Four-piece: In this ball, every layer has a specific purpose. From providing distance to producing mid-iron spin to improving the feel, the layers take care of everything. So, in essence, they work in harmony to create a long-hitting, soft-feeling ball.
Five-piece: The latest development in the golf ball department, this one also has multiple layers to enhance performance. Besides, it also provides a great deal of spin separation. Of course, the more optimized performance comes at a much heftier price.
Spin
When purchasing a golf ball, one factor you don't want to overlook is spin. This trait can affect your game in a lot of ways. Let's see just how in this portion of the Titleist Tour Soft Golf Ball review.
Low Spin: The golf balls decrease the sidespin on a shot, allowing for a straighter trajectory. While they do not travel too far, the reduced spin increases the landing roll. So such balls are a reliable option for golfers habitual to slicing. Or to those who find it challenging to cover the distance on the ground.
Mid Spin: These balls try to combine the best of both worlds with distance and feel. However, these features will vary from brand to brand. Mid-spin balls tend to be comfortable for a wide range of golfers.
High Spin:  The construction of these balls intends to increase their air spin. The reason being, it keeps the ball in the air for a longer time. The ball does not run as long on the fairway but is advantageous on the greens. Here, the ball will have an improved feel that will, in turn, enhance control.
FAQs
Do you still have some concerns about the Titleist Tour Soft? Well, that's hardly surprising. After all, several golfers will say that a good ball can make or break a game.
To put your mind at ease, we've put together this FAQ section. Here we'll be tackling some of the most common queries regarding the Titleist Tour Soft.
✅ Is Titleist Tour Soft a Good Ball?
Yes, overall, the Titleist Tour Soft is a good golf ball. The ball offers an extended distance that is greater than its predecessors. It provides a soft feel, advanced flight, and more responsive control.
Along with that, the T-shaped side stamp allows better alignment both on the greens and off the tee. The ball does have a few flaws, but its pros more than make up for it.
✅ What Is the Advantage of Soft Golf Balls?
Soft golf balls offer advantages in typically three areas: distance, spin, and feel. Low compression balls are known for providing reaching further when in play. Along with that, the balls often have a higher spin rate, which helps them fly higher.
It also provides golfers greater control over the green. Finally, these balls offer a softer feel. Of course, that is a matter of personal preference, but you will find several Tour pros prefer softer casings.
✅ What Compression Is the Titleist Tour Soft Golf Ball?
The Titleist Tour Soft golf ball is a 65 compression rating. This rating is low enough to suit newbies as well as senior golfers. Simultaneously, it is not so soft that golfers used to a Pro V1 or such will be uncomfortable with it.
---
---
Conclusion
From a larger core to a thinner cover to better flight, the Titleist Tour Soft covers nearly all its bases.
Not to mention, the ball's low compression makes it equally usable by all levels of players. Whether you want a soft feel, a bit more distance, or more control, this ball gives it to you.
If you want a high-performance ball with a soft feel that won't break the bank, look no further. That said, if you feel the Titleist Tour Soft is beyond your budget, a close second would be the Bridgestone e12 Golf Balls.
---
Titleist Tour Soft Golf Balls – Product Details
| | |
| --- | --- |
| Cover | Thin 4CE Grafted |
| Dimples | 342 |
| Construction | 2-Piece |
| Flight | Mid |
| Feel | Very Soft |
| Long Game Spin | Low |
| Short Game Spin | Mid |
| Color | White, Yellow |
| Manufacturer | Titleist |
| Best For | Softest Feel, High Performing |
| | Check Today Price |
---
Related Posts
Last update on 2022-04-03 at 13:20 / Affiliate links / Images from Amazon Product Advertising API