Equipment like golf balls can incur a high cost if you are a regular player. They keep losing owing to the obvious nature of the game.
This Cut Blue Golf Ball Review gives you a complete idea of how to maneuver this problem. Here you can find details on quality golf balls that are also affordable.
However, golf is not a sport for those who readily compromise with the quality of equipment. Golfers are expected to be particular about everything. Starting from the t-shirt they wear to the club and the ball they use – it all needs to be perfect.
This is where Cut Blue Golf Balls come in.
---
Cut Blue Golf Balls Review In 2021
Golfers often complain about having to purchase expensive golf balls.  They only end up losing them to the bushes or to the lakes.
Cut Golf claims to have cut out "unnecessary expenses and mark-ups" on the price of golf balls. But they still deliver premium, tour-quality products specifically designed to deliver top-notch performance.
Technology
Dual Core for Speed and Control
Ionomer: Distance and Accuracy with Feel
Ionomer: Distance and Accuracy with Feel
Let's take a look into Cut Blue Golf Ball Review to understand why this product is the talk of the town in the golfing community.
Cut Blue Golf Balls – Great Value for money
Before we dive into the Cut Blue Golf Ball review, let's understand the basic specifications of the product. The Cut Blue comes with an outer urethane layer and four layers of tour-level balls.
You might be wondering how a drugstore golf brand can compete with premium golf balls. It is possible with smart production and selling strategies.
The Cut Blue Golf ball has a 3-piece urethane technology. It has a lower spin rate compared to premium brands. It delivers a penetrating trajectory with a soft feel.
No products found.
Cut Blue was designed to provide optimal distance with irons and woods. The product has an enhanced greenside or wedges control. You will get a lower ball flight with the Cut Blue golf ball.
The Cut Blue golf ball now features a dimple pattern that minimizes drag and ensures a seamless roll. You will get a consistent ball flight irrespective of your playing conditions.
We have selected this product owing to its premium design, affordable price, high game performance, and smart selling tactics.
The Cut Golf brand cuts on all middlemen and expensive advertisement strategies. You need to purchase the product online. It is not available in your regular brick-and-mortar stores.
Technology
The Cut Blue Golf Ball has a 314 Dimple pattern with a compression rate of 90. The fine outer surface of the urethane layer provides a soft feel and improved greenside capabilities. The Cut Blue golf ball is delicately designed to offer a powerful ball flight with a lower launch.
Design
The product has much resemblance to its expensive counterparts. However, it lacks somewhere in the aesthetics. The Cut Blue has an improved white paint opacity than your regular tour balls.
The dull white color of the Cut Blue is often preferred over brighter balls as the latter can limit the vision of the players.
The only downside of the Cut Blue design is the addition of the brand names and logos. All the Cut Golf ball editions have logos, which makes it hard to distinguish them.
Exceptional Performance
Cut Golf uses the best technology to provide an unparalleled game performance. The ball is capable of covering a maximum distance with your irons and driver.
Cut Blue Golf Ball will not compromise on your control and greenside spin. It will provide a powerful performance throughout the course.
Tour Quality
The Cut Blue offers tour-quality golf balls at reasonable prices. It has a 4-piece urethane cover to provide the best in class tour ball experience. The core and mantle of the ball are designed for optimal spin and speed.
What It Does
Cut Blue Golf ball offers an impressive performance compared to its low price. The brand's claim about delivering a powerful performance seems to be the truth.
Newbies in the golf field can attain a good launch with the Cut Blue in their hands. Cut Blue Golf ball provides an optimal tour ball level performance for all players.
The Cut Blue allows the golfers considerable control over their shots and better navigation during the ball flight. The product also offers an exceptional flying orbit.
The ball doesn't travel too low or too high. It delivers an optimum ball flight, which is a great feature compared to the price you are paying.
What It Does Not
However, these balls provide a reduced performance during the colder months. Hitting with wedges during the cold weather can cause the balls to get damaged a bit.
These balls are also more suited to the short game. However, these balls need to be handled delicately to prevent cuts or damages.
The Cut Blue balls will not last long like your premium golf balls. You will notice cuts while playing with wedges and irons. The only issue with the Cut Blue is its durability. These balls will quickly show signs of wear and tear, which seem to be a limitation to some people.
However, the ball has a decent spin and performance even at this low price.
If you are looking for a golf ball that adds a powerful distance, then the Cut Blue isn't the one for you. However, if you want a golf ball that is firm and offers a lot of spins, then opt for Cut Blue. The ball is capable of delivering incredible sound even on your wet course or soft surfaces.
To help our users get a better grip on the product, our Cut Blue Golf Ball review also includes the main pros and cons.
Pros
The optimized technology and premium design provide the best shot for all golfers.
The Cut Blue golf ball delivers an exceptional ball flight to help you achieve a powerful shot.
The premium quality, high-end design, and top-notch technology of the Cut Blue ensure incredible control over your ball.
Cons
It is available only in the bright white color.
The product doesn't come with good durability.
The only aim of our Cut Blue Golf Ball review was to help golfers who are on a budget. These golf balls are ideal for all golfers with varying skills in the game. The Cut Blue golf ball is the most praised product of the Cut Golf ball brand. You can grab one of these on Amazon.
It offers a similar game performance as the premium ones. However, the product is unimaginably low priced with decent spins. The Cut Blue golf ball is loved by many due to its great control features and outstanding ball flights.
We have provided the best possible insight with the Cut Blue Golf Balls Review. I hope this will help you understand the product in detail. However, you should check out the product and make the decision yourself. After all, you will be the one using the golf balls at the course.
Go through the product specifications, features, and reviews. Then make your call whether to buy the product or not.
Check Cut Blue Price On Amazon
---
Cut Golf Balls: Buyer's Guide
It does not matter how skilled a golfer is. The precision and accuracy of their shot will depend on the ball they are playing with. Several factors chip in when it comes to how far a ball will carry. It also determines the consistency of each shot.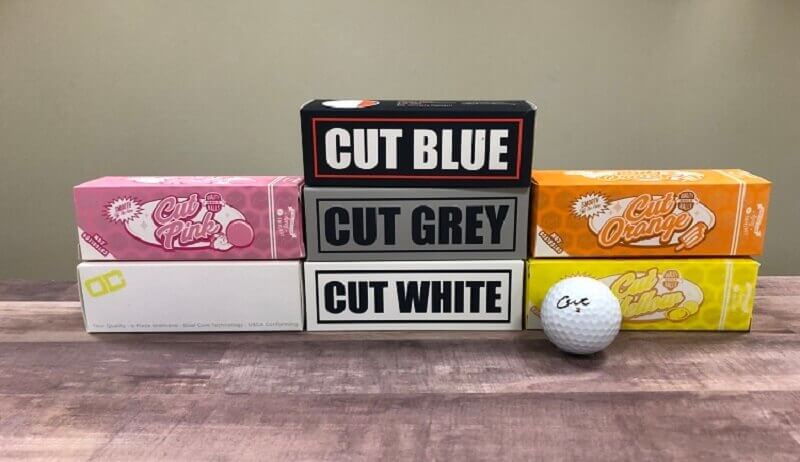 Golf equipment has advanced tremendously in recent years. Golf balls are no exception. The changing technologies might have made it difficult for some to choose the right golf ball.
Some prefer to be brand-loyal when it comes to golf balls. However, we should still consider the several aspects that have an impact on the perfection of each shot.
This part of the Cut Blue Golf Ball Review is about the factors you should consider before buying this product or any other brand of golf balls.
Construction
The construction of a golf ball determines how it will react to club contact. One-piece construction balls are the most basic and rarely used for playing. Two and three-piece constructions are more precise in build. They have higher functionality.
Cut Blue Golf Balls come with 4-piece construction. Each layer has a specific purpose.
The inner soft rubber core helps the ball travel far and wide. The second layer is for energy transference from the strike to the core. The third layer is for additional air carry and mid-iron spin. The outer cover is for protection and feel.
Cover
Golf balls usually have two types of cover Urethane and Surlyn.
Surlyn is the more common cover made of ionomer resin. It provides durability and scratch resistance and is known to be energy-efficient.
Urethane has a softer feel and is often used on multi-piece construction balls. Urethane helps create more spin and control. Therefore, it allows professional golfers to sharpen their skills.
Cut Blue Golf Balls come with a thin Urethane softcover with 314 dimples and 90 compressions. Thus, it provides excellent performance all across the course.
Spin Control
In golf, the more you control the spin, the better player you become. Certain golf balls are created with high spin control to allow a straighter hit. These are mostly used by amateur golfers to improve their game.
The core of Cut Blue Golf Balls is designed for optimum spin control. They are known for covering long-distance across the course. However, the balls do not compromise with greenside spin or control.
Tour Performance
Tour performance golf balls are the highest quality ones used by top golfers. They are craftily designed to deliver optimal spin, feel, and distance with each shot.
Tour performance golf balls come with multiple layers. Each adds to the supremacy of the game of the golfer. Cut Blue Golf Balls are premium standard tour performance balls. They claim to deliver the best one can expect.
---
Cut Blue Golf Balls: FAQs
Cut Golf manufactures a wide range of golf balls. Cut DC, Cut Grey, and Cut White are among the most-bought ones.
Cut Blue is probably one of their bestselling products, thanks to its classic look and good quality. Here are answers to some of the most commonly asked questions about the product.
✅ Is Cut Blue 3-Piece or 4-Piece?
Cut Blue Golf Balls are 4-piece, tour performance level golf balls, ideal for professional golfers and veterans. The outer cover is soft and thin and made of Urethane, allowing more distance cover.
✅ Are Cut Golf Balls Any Good?
Cut Balls are direct-to-consumer golf balls manufacturers that promise premium quality golf balls at lower prices. When it comes to distance or spin control, they are as good as any top brand in the market.
However, they have pocket-friendly rates and cut out the middleman. That makes them a better option for any consumer.
✅ Where Are Cut Golf Balls Manufactured?
Cut Golf is a US-based company. Their products are manufactured in the USA itself. The company is based out of Costa Mesa in Southern California. It was founded in 2016 with the goal to manufactured low-priced golf balls.
✅ Who Owns Cut Golf?
Sam Uisprapassorn started Cut Golf. As a golfer himself, he got tired of losing expensive golf balls. He decided to start a company that would deliver top-quality, affordable golf balls directly to customers.
---
---
Conclusion
There is a fair possibility that you have not yet heard about the Cut Golf brand. Compared to premium brands like TaylorMade, Titleist, and others, Cut Golf is a newcomer. You can grab one of these on Amazon. However, the brand aims to provide premium game performance at a fraction of the price.
Cut Golf balls have been trending over the past few years due to their high-quality products and affordable prices. Cut Blue Golf ball ranks among the top recommendations for this category of golf balls.
---
Cut Blue Golf Ball Specs
| | |
| --- | --- |
| Item | Cut Blue |
| Cover | Urethane |
| Dimple | 314 |
| Construction | 4-Piece |
| Compression | 90 |
| Feel | Softer |
| Spin | Lower |
| Wedges | Roll |
| Color | White |
| League | USGA |
| Brand | Cut Golf |
| Best For | Low spin, more distance |
| Buy Now | Check Today Price |
---
Related Posts
Last update on 2022-04-03 at 13:20 / Affiliate links / Images from Amazon Product Advertising API