Many golf players can use rangefinders during their practice on the golf course. However, a rangefinder is of little use if you cannot measure how far you're going to hit your club.
Rangefinders help golfers to collect accurate data of yardage. Golf is incomplete without this technology.
Blue Tees Golf Series 2 Pro Laser Rangefinder with...
Blue Tees Golf Series 2 Laser Rangefinder for Golf...
Blue Tees Golf Series 1 Sport Slope Laser...
Blue Tees Golf Series 2 Pro Laser Rangefinder with...
Blue Tees Golf Series 2 Laser Rangefinder for Golf...
Blue Tees Golf Series 1 Sport Slope Laser...
In this post, you'll learn about the Blue Tees Series 2 Pro Rangefinder Review, which is online golf equipment manufacturing company. The good news is, this is a team of golf enthusiasts themselves, curating premium products in-house and selling them directly to you at pretty reasonable rates.
Going through this blue tees golf rangefinder review, you can make your choice about which rangefinder would best suit your golfing needs.
---
Difference Between Blue Tees Series 2 And Series 1
There are obvious differences between the Series 1 and Series 2 rangefinders by Blue Tees. Their Series 2 rangefinders are slightly longer and more durable than the Series 1 rangefinders. Also, the Series 1 rangefinders do not have the vibration feature found in Series 2.
Top 3 Blue Tees Golf Rangefinder Review In 2021
Blue Tees has come up with a series of rangefinders, all upgraded and equipped with excellent features. Being golf enthusiasts themselves, the founders at Blue Tees have the notion of providing premium quality golf equipment at reasonable prices, cutting away the middleman's costs, that is, the manufacturer.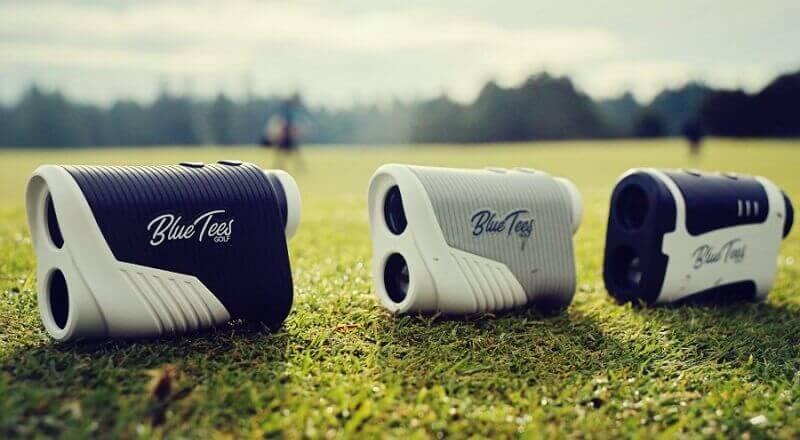 This section of the post will present the Blue Tees Golf Series 2 Pro Slope rangefinder review while putting up a contrast of Series 1 vs. Series 2 of their rangefinders. Let's dive in!
1. Blue Tees Golf Series 2 Pro Slope Rangefinder
Premium quality rangefinders out there are undoubtedly expensive, and getting one of them is breaking your bank.
However, the Blue Tees golf enthusiasts say you need not pay a premium price to get your premium quality rangefinders. The Blue Tees Golf Series 2 Pro slope is the perfect example of that. You can have a better understanding by learning about their uses and features mentioned below.
Easy Usability 
The Blue Tees Golf Series 2 Pro Slope comes in first-class packaging along with its lens cleaning cloth and a carry case. Other accessories for the equipment include an attachable strap, a D-ring clip, an instruction booklet, and two batteries with a wrapped one inside the battery compartment.
The Series 2 Pro unit has a Power/Acquire button and a Mode button. Pressing the Power button once allows you to acquire your target, and you can go for your shot. The unit turns off automatically after 10 seconds of inactivity. You'll also find an eyepiece to control the focus on its display.
3 User Modes
The Series 2 Pro has three modes of usability to ease your task of gauging the yardage of the golf course. Read below to know more about the purpose of all three modes.
Mode 1: This is the Continuous Scan Mode. In this mode, you can press the Acquire button to view the distances as you scan across your target line. 
Mode 2: This is the Golf Mode. Using this mode, press and hold the Power button to activate the scan feature and lock onto the target. Once you acquire the target, you'll be alerted by the vibration of the unit, viewing the yardage on top of the view field and the slope below it.
Mode 3: This is the Speed Mode. This mode is mainly used for hunting purposes. However, golfers can also use it to track the speed of the ball.
Yard Range
You'll be amazed at the accuracy levels of the Series 2 Pro rangefinder. It enables tour-level distance of yardage for your game extending up to 800 yards. The accuracy level is between +/- 1 yard.
Water Resistant and HD Display
Following the rule of no excuses, the Blue Tees guys have worked well in providing a body to this rangefinder that can resist rain and dew. Thus, you can use the Series 2 Pro in every season that you play.
Another good thing about the unit is it enables you with a high-definition display that has an adjustable EZ Optic Focus. This helps you view the course clearly and easily.
Pros
Inexpensive
Premium quality products
Easy-to-use with accuracy
Cons
In a nutshell, the Series 2 Pro has brought you all the premium quality features at a reasonable price without the middleman's expenses and directly to you. Although it is available only online, you'll still have a 100% guarantee for 60 days which is enough to test it on the course and make your choice.
If you want to get one to have a smooth golfing experience, you can hit their website or get it on Amazon today.
Check Blue Tees S2 Pro Price On Amazon
---
2. Blue Tees Golf Series 2 Laser Rangefinder
The Blue Tees Golf Series 2 brings you a combination of simplicity, size, accuracy, and advanced technology for a better golfing experience on the course. Blue Tees has designed this rangefinder, keeping in mind a golfer's perspective and ease on priority. An in-depth review of its features is here to help you out.
3 User Modes
Similar to the Series 2 Pro of the Blue Tees Golf Rangefinders, the Series 2 also has three user modes.
Mode 1: The Scan Mode allows you to scan across the course along your target line.
Mode 2: The Golf Mode enables you to detect the flag point when you pinpoint the rangefinder along the course at the pin, giving you a distance with the alert of a vibration.
Mode 3: The Speed Mode typically allows you to track the speed of your ball.
Pulse Vibration
The Series 2 rangefinder enables you with a pulse vibration feature alerting you when the unit has locked on to your target. The unit does it with precision and accuracy.
Yard Range
Like the Series 2 Pro, the Series 2 rangefinder can also pinpoint targets until 800 yards with absolute precision of +/-1 yards. Tour-level distance as it is, this feature helps you add to the thrills of your game.
Water Resistant and HD Display
Following the 76th rule of golf play, Blue Tees has designed the Series 2 unit with abilities to resist rain and dew, making it usable in every weather. Now, you can go golfing anytime and track your yardage with your rangefinder.
With the high-definition display of the unit, you can almost feel like you have your course in your hand, looking through the eyepiece designed with absolute precision.
Tournament Legal
The good news is, you can use this rangefinder in your tournaments for measuring the yardage of your shots. It comes with no slope technology, which makes it legal to use in tournaments, conforming to the USGA.
Pros
Easy to use
Value for money
Fantastic accuracy
Cons
Some may find the flag-lock feature difficult to use
If what you're looking for is an even cheaper deal and a rangefinder that could be used in your tournaments, you should go ahead and get yourself a Blue Tees Golf Series 2 Rangefinder. Its non-slope feature makes it a USGA conforming Golf Laser Rangefinder legal for tournaments.
Reading through its review, if you want to check it out yourself, go ahead and order it here on Amazon.
Check Blue Tees S2 Price On Amazon
---
3. Blue Tees Golf Series 1 Slope Laser Rangefinder
The Blue Tees Golf Series 1 Sport Rangefinder has got the evolution in store for you. Preferred for its precision in HD display with 6x magnification, this rangefinder takes your golf game to the next level.
Main Features
The Series 1 has a continuous arc technology and automatically detects the incline or decline to provide the range of distance to your target. Using the Series 1 Rangefinder, you will get an accurate distance range of up to 650 yards.
The handheld scope of the rangefinder comes with a hard-shell carrying case ensuring easy portability. With the water-resistant and sturdy body of the scope, the rangefinder is usable in all weather conditions. On top of that, it has pulse vibration flag-lock technology for assurance that you have locked your target.
With a 2-year manufacturer's warranty and a bonus policy of a 60-day money-back guarantee, the Blue Tees Golf Series 1 Rangefinder is a good deal for golfers to carry to their practice ground to measure the yardage.
Pros
6x magnification of the display
Water-resistant body
Premium, shockproof design 
Cons
Relatively fewer features
Overall, if you have minimal requirements while looking for a good rangefinder, the Blue Tees Series 1 makes a great fit for you with its features.
You can check it out for yourself on Amazon if you want one for yourself.
Check Blue Tees S1 Price On Amazon
---
Blue Tees Golf Rangefinder Review: Buyer's Guide
Blue Tees has made every possible effort to equip your golfing experience with premium quality rangefinders at non-premium prices.
However, it is best to acquaint yourself with the working of rangefinders and the differences among the varieties available out there.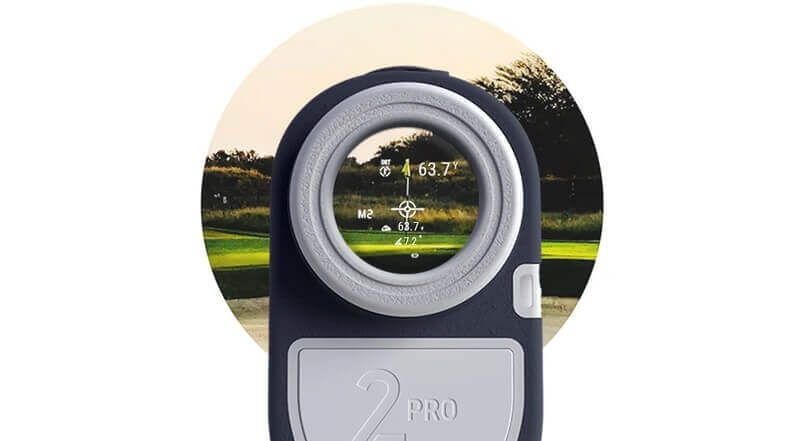 This section deals with the important considerations to make when you're looking for a good rangefinder. The points explained below should significantly help you find the best product, including on-point accuracy, size, and value.
1. Accuracy
The first and foremost priority of a good rangefinder is to offer the user accurate reading. Rangefinders that do not give you consistent yardage reading are improper. 
When you search for a stable and value-for-money rangefinder, go for a rangefinder that offers accurate results on the ground within a yard of your target. Once you purchase a rangefinder, assuring that it shows accurate and consistent readings is vital.
2. Slope
When you find the slope feature on the rangefinder, you can be sure of an additional guarantee to get the accurate yardage of a shot in terms of the elevation difference between the fairway and the hole.
The slope function is a plus point for pro golfers. They love it when they can measure the slope precision of shots within 150 yards. When the slope reading shows birdie putts, it means it has a greater probability of going in. Thus, it is a major plus point to have the exact reading when hitting the next shot.
3. Optics
Every golfer would prefer high-quality optics for the rangefinder they purchase. Good quality lenses for the rangefinders would go up to a 6x magnification feature. It is evident that higher magnification shows your target as much closer.
Make sure to get yourself a rangefinder that stretches positively beyond 1,000 yards and a good range within 450 yards to the flag. Only the rangefinders with quality lenses for accurate yardage coverage is ideal for golfers.
4. Battery
It is most convenient when you choose a rangefinder that has rechargeable batteries or batteries that are easily available at the store. Rangefinders do not consume too much power while recording the readings. Therefore, batteries generally tend to last quite long before they need to be replaced or recharged.
5. Scan Speed
The scan speed is the time the rangefinder takes to lock the target along with the yardage. Premium quality rangefinders offer a quicker grasp of the target contributed by the rapid processing speed.
You should be able to hold the button or the trigger of the rangefinder unit for a maximum of 10 seconds to scan the target zone thoroughly.
6. Waterproofing
Make sure to opt for a waterproof rangefinder. Although this feature doesn't carry the same weightage as the others mentioned here, waterproof rangefinders offer you the possibility of using them in every weather condition. 
When you purchase a rangefinder that promises to be waterproof, it would be best to test it before and after it rains to clarify that there is no residual water left in the unit.
7. Cost
There is a range of prices for the rangefinder equipment that you'll find. The good thing about the blue tees golf rangefinders is they offer premium quality products at non-premium prices. You must make sure that the price you pay is worth the features they provide.
Sophisticatedly priced rangefinders may offer disappointing results, while reasonably priced models end up making you happy with their performance. It all depends on personal preferences.
8. GPS or Laser
GPS technology was initially built for golfers to locate them relative to the location of the hole. The GPS devices easily operate with satellites displaying the distance between you and your target.
The plus point of using GPS while golfing is that it can provide distance even while you're about to hit a blind shot and unable to view the accurate target. 
Laser rangefinders are relatively more precise. They bounce off the visible target and offer a more accurate reading. A laser rangefinder also allows you to view features on the green at far away distances owing to its high-quality magnification.
Amazingly helpful at practices, a rangefinder helps record the distance of how far of yardage you can cover while hitting a shot on a regular basis. Recording and tallying these performance consistencies will help you improve and golf like a pro, letting you shine in your game.
Both GPS and Laser technology golf rangefinders have proven to be useful for golfers. You can opt to contain both in your bag if budget is not an issue. However, if you are particular about your golfing needs, a pro tip would be to go for laser rangefinders for their optimal performance range.
✅ What is SPD Mode?
SPD Mode is nothing the featured Speed Mode available in the Blue Tees Rangefinder Series 2 Pro and Series 2.
The Speed Mode for Rangefinders is usually applicable for hunting purposes. However, golfers can use this SPD or Speed Mode to track the speed of the golf ball.
✅ Can I turn off the Slope Function?
First, the Slope function availability depends on the model of Blue Tees Golf Rangefinders that you're using since not all of them come with a slope function.
The Series 2 Pro, however, has an in-built slope function, and it does not have a feature to turn it off. On the contrary, you can go for Series 2, which does not have a Slope function.
✅ Why isn't my lens clear?
If you're having trouble viewing clearly through the lenses of the rangefinder, you may have to adjust the white eyepiece. The white eyepiece is featured to rotate, enabling you to simply operate the lenses like that of a camera or a pair of binoculars.
For starters, consider turning on the eyepiece to the middle at once. This way, the yardage differences and the display of the scope should appear crystal clear. After having done these steps, you should be able to adjust the eyepiece as needed.
✅ Why won't my rangefinder turn on?
As your rangefinder comes well-packed and shipped to your location, the battery in the package comes wrapped in plastic. The plastic that it's wrapped in is not easily visible. It is important to remove that plastic before putting the battery in the rangefinder.
Another possibility is the direction of the battery. Make sure that the battery you've placed in the rangefinder is facing in the right direction for it to operate. The flat end of the battery needs to touch the battery chamber's coiled portion.
If these steps initially fail to show results with the battery, try the same set of instructions for the spare battery that comes with the package.
✅ Why won't my rangefinder lock on the flag?
The first thing you need to make sure of here is that the rangefinder is switched to Mode 2. For this, you have to look through the unit and press its Mode button till it shows M2.
Next, you need to point your rangefinder at the flag and not the stick. The flag is a larger object, and aiming at the flag cuts away any other interfering objects in your range.
Now, to lock onto your target, you need to press the rangefinder's Power button. Point it to the flag and press the button once again. At this moment, your rangefinder will vibrate, detecting the pulse, and view the distance to your target.
✅ What should I do if an E2 appears on the display?
When an E2 is shown on your display, consider replacing or recharging the battery and check if this solution remedies the issue.
✅ Should I buy a rangefinder with slope calculation?
Slope calculations give you an estimated measurement of the yards of elevation between you and the target. However, they're not legal in both recreational and tournament golf play.
Nevertheless, upon the 'gentlemen's agreement,' there was no issue using rangefinders until the USGA legalizations. Now, both beginner golfers and pro players use rangefinders with slope measurements for recreational golf.
The good news is that most rangefinders with slope measurements have the feature of turning off the slope feature when playing a tournament or when fellow golfers do not prefer slope measurements.
Measuring the slope can be much helpful while practicing or playing tournament golf plays. You just need to pinpoint your rangefinder to acquire the slope yardage for any major hills and record the same on your yardage book.
✅ Should I opt for a laser rangefinder, or is a GPS unit better?
Whether you opt for a laser or a GPS rangefinder depends entirely on your choice. However, you should know that laser rangefinders are precisely more accurate in their readings of the yardages they record.
GPS rangefinders are a plus point when you need an overhead view of a target to plan suitably for your attack. Even when you hit a blind shot or a deceptive one, GPS proves to have the advantage here.
Make sure not to get confused with the yardage levels that these two can cover. GPS units record yardages that are not much accurate. Besides, on a cloudy day, it can get worse than drifting off up to 5 yards or more. There's the probability of a lost signal as well.
GPS units or phone apps that display a GPS feature are causes of quicker draining of the battery. Therefore, when you're stuck on a slow round, your battery might have drained already even before you reach your finale.
Thus, if there isn't an issue with the budget, having both the features available would be best. However, make sure that using these two features together or alternately doesn't slow down your game.
You can see your golf reputation at stake when you choose to take about 10 minutes before every shot to figure out the yardage to your target.
✅ Why doesn't my rangefinder provide accurate readings?
Consider checking the unit of measurement before using the rangefinder. Blue Tees has facilitated its golf rangefinders with the ability to cover the measurements in both yards and meters. Holding the Mode button for 3 seconds enables you to switch between the two.
Only by activating the desired unit of measurement will you be able to acquire accurate readings for your distances.
However, if you are facing an issue even when the unit of measurement is correct, potential weather conditions might be a factor of consideration here. For instance, foggy or rainy conditions might be opposing accurate readings on your rangefinder and deflecting the way between you and your target.
✅ What are the common specifications of your rangefinders?
Blue Tees has provided its Series 2 and Series 2 Pro rangefinders with a maximum yardage range of up to 800 yards. In terms of magnification, all its rangefinders offer 6X magnification and 7 degrees of FOV.
All the Blue Tees golf rangefinders are similar in size and weight, with 112mm x 43mm x 74mm and 167g.
✅ What does it mean when a lightning bolt appears on the display?
When there's a lightning bolt on the screen of your rangefinder, it only means that its battery is about to die and it needs to be replaced or recharged. If you already used the spare battery that comes with the rangefinder kit, you can order another one for a replacement CR2-3V battery.
✅ Will the Blue Tees Series 2 Pro Slope lock onto multiple targets?
The Blue Tees Series 2 Pro Slope does not lock onto multiple targets at the same time. However, it can lock onto anyone's target at a time.
---
---
Conclusion
Blue Tees Golf has made every effort to provide the best golfing experience to fellow golfers. All their products are home-curated.
The Blue Tees S2 Pro Slope has set the levels of advanced golfing experiences with its high-tech facilities. It comes with three different modes that can be switched and used at the press of a button. It is a great deal and certainly is value for your money.
However, if you are looking for a cheaper deal, you can opt for the Blue Tees Golf Series 2 Laser that also works best for your golfing requirements on the ground.
Reading through this review should hopefully give you a good idea of which rangefinder works best for you.
Happy golfing!
---
Related Posts
Last update on 2022-04-03 at 13:20 / Affiliate links / Images from Amazon Product Advertising API