If you have ever been on the greens, you know how hard it is to guess the next shot's distance. Many people believe that they can play golf without a rangefinder.
However, if you are playing regularly and are willing to spend some money, you should have a golf rangefinder.
Callaway 300 Pro Slope Laser Golf Rangefinder...
BUSHNELL GOLF Tour V5 Patriot Pack, Black
Precision Pro NX9 Slope Golf Rangefinder with...
Callaway 300 Pro Slope Laser Golf Rangefinder...
BUSHNELL GOLF Tour V5 Patriot Pack, Black
Precision Pro NX9 Slope Golf Rangefinder with...
Your game skill will improve. You'll be able to see how far your shots are landing and measure the distance to your targets. You'll also just have an easier time measuring your power and skill.
Here are the 7 best golf rangefinders under $300 for you:
Even professionals use golf rangefinders in their play, so why shouldn't you? If you don't have the time to read through our review, just go for the Callaway 300 Pro Slope Laser (Accurate, Compact, and Affordable).
Related Post: Best Cheap Golf Rangefinders Under $100
---
7 Best Golf Rangefinders Under 300 In 2021
To save you some time, we have looked at many golf rangefinders. After thorough research, we have chosen the 7 of the best golf rangefinders under $300. Read on below to look through our reviews.
1. Callaway 300 Pro Slope Laser Rangefinder
One of the best rangefinders in the market, the Callaway 300 is one of the easiest rangefinders to use. It is also one of the cheapest rangefinders available on Amazon.
Callaway isn't an old name when it comes to golf accessories, but the 300 is a great model.
We have picked this model for our list for its simplicity and price. The 300 is a laser-guided rangefinder. This can measure distances accurately up to 1000 yards away with less than a yard margin of error. It is a sloped rangefinder.
So, it can compensate for the slope as well. It has a 6x magnification to give you a clear target. 
Pros
6x magnification, 5-1000 yardage 
Multiple scan functionality, easy-to-read LCD display
Slope compensation
Cons
The Callaway is an excellent rangefinder for those who want a simple device with all the essential features. Its price is great, and it is easy to use. It is an amazing choice for beginners especially.
---
2. BUSHNELL GOLF Tour V5 Patriot Pack
A reputed name in golf, the V5 Patriot, is Bushnell's latest rangefinder. One of the best features of this rangefinder is its magnetic mount. With it, you can easily attach this rangefinder to your golf cart's bar. 
It has a sleek design and a 6x magnification. You can lock onto distant targets with visual confirmation that you have closed on the correct target. The best part is that its display is much better than Bushnell's previous rangefinder. It also comes with a two-year warranty.
The only drawback is its lack of slope. Though, the standard V5 model does come with a slope. 
Pros
Compact and sleek design with magnetic mount
6x magnification with remarkable visual clarity and lock confirmation
Bushnell golf app that is compatible with the device
Cons
The V5 Tour is a good choice for those who don't want a slope feature in their rangefinder. It has a great design and comes with some solid features. Most of the PGA pros use Bushnell products. 
You can get a version with a slope if you are willing to spend some more money.
---
3. Blue Tees S2 Pro Slope Laser Rangefinder
The Blue Tees Golf S2 Pro is the best golf rangefinder under $250. It is a hard-shell rangefinder that is durable. 
This rangefinder has an impressive range of 800 yards. It also has a minimal margin of error with less than 1 yard of error in either direction. The Blue Tees Golf S2 rangefinder also has a slope compensation feature. 
The 6x magnification allows you to select targets with ease. With its Flag Lock system, the rangefinder emits vibrations and pulses to confirm a lock on. You can also see all your targets in clarity with the HD display. 
The Blue Tees Golf S2 is also a great rangefinder for outdoor use. It is water-resistant and has a sturdy case to protect it from breakage. This rangefinder will last you for years. 
Pros
Durable and water-resistant 
Flag-lock system and 800 yards range with 6x magnification
Great price
Cons
Hard to keep the rangefinder steady
The Blue Tees Golf S2 Pro is the best choice for golfers who want a rangefinder with all the features at a great price. Not only that, but this rangefinder is extremely durable and will last you for years to come.
You can also see the S2 rangefinder without slope for tournament play on this rangefinder. 
---
4. Precision Pro Golf NX9 Golf Laser Rangefinder
This is the best golf rangefinder under $300 when it comes to value for money. The best feature of the Precision Pro is that it comes with a lifetime replacement of batteries, all for free. You won't have to spend any extra money on the batteries for your rangefinder. 
If that's not enough, you also get another bonus. You can trade-in your old one for a 30% discount whenever you upgrade to a new Precision Pro rangefinder.
In terms of features, the NX9 has a 6x magnification. You can easily switch on the slope compensation with a button. The display is a clear LCD one. There is a very small margin of error, and it has water and fog resistance. 
Pros
6x magnification with LCD screen
Lifetime battery replacement 
Adaptive slope switch
Cons
Comparatively short range
NX9 is a great value-for-money rangefinder. You end up saving a lot with free battery replacements. You also get a discount when exchanging for a newer model. It has no shortage of features either.
---
5. TecTecTec ULT-X Golf Rangefinder
The TecTecTec ULT-X is the best golf rangefinder under $300 when it comes to features. It is also the most expensive. 
It has a massive range of 1000 yards. Its margin of error is extremely small at closer yardages. Even at maximum range, it only has a margin of 1 yard.
It has a slope mode with a sliding faceplate. This makes it tournament legal almost everywhere.
It also is rainproof. The display is easy to understand, and it has 6x magnification. You can easily pin a golf flag or hazard with a vibrating pin lock. Its build quality is amazing, on par with Bushnell rangefinders. 
Pros
Amazing 1000-yard range
6x magnification, pinpoint accuracy and vibrating pin lock
Easy faceplate signaling slope switch
Cons
Most expensive on the list 
Readouts are a bit small
If you are willing to shell out the money, then the ULT-X is the rangefinder with many of the best features. Its accuracy and range are top-notch. It is a more expensive rangefinder as well.
Related Post: Best Budget Golf Rangefinders Under $200
You can soften the blow on your wallet by buying the ULT-X when it's on discount. It regularly goes on sale or has some offers on its Amazon.
---
6. Nikon Coolshot 20i GII Slope Rangefinder
The Nikon 20i is the overall best golf rangefinder under $300. It combines the best features at the best price point to emerge at the top. 
Nikon is famous for its lenses, and this one doesn't disappoint either. The rangefinder is capable of measuring distance up to 800 yards. It manages this with its 6x magnification. The eyepiece diopter focuses on your vision. It even has long eye relief for those playing with glasses or sunglasses.
One of the best features of the 20i is the advanced mapping system. You can quickly make multiple measurements without a hassle. The system has great accuracy because it prioritizes the closest target as well. 
Pros
6x magnification, 800 yards range, slope compensation
Advanced target mapping and first target prioritization
Lightweight, easy, and fast to use
Cons
Needs to be kept with care
The Nikon Coolshot 20i GII is the best golf rangefinder on our list. It has some of the best features at a great price point. It should be the first consideration for anyone looking to buy a rangefinder.
You can get two other versions of the Coolshot series, one without slope and one with stabilization.
---
7. Precision Pro Golf NX7 Golf Rangefinder
Another rangefinder from Precision Pro, the NX7 is a great midrange rangefinder. 
It's got all the standard features you'd want. It's got a 6x magnification and decent optical quality. There are two modes, one with slope and one without. It has a decent range of 600 yards.
This rangefinder is accurate as well and easy to use. It has a great ergonomic design for prolonged use. The NX7 is excellent for golfers with shaky hands. 
It shows quick results. 
Pros
6x magnification, pulse vibration technology
Ergonomic and lightweight design 
Fast and easy to use and is accurate 
Cons
Comparatively short range
The Precision Pro NX7 is a low-fuss rangefinder. Easy to use and fast, it is great for ergonomics. It is a fantastic choice for quality features. 
You can even find a version without a slope if you are looking for one.
---
Best Golf Rangefinders Under $300: Buyer's Guide 
If you haven't ever bought any rangefinders before, you might not know what makes a good rangefinder. There are quite a few different things that you need to consider. This is especially true when you're trying to find the best golf rangefinder for under 300 dollars.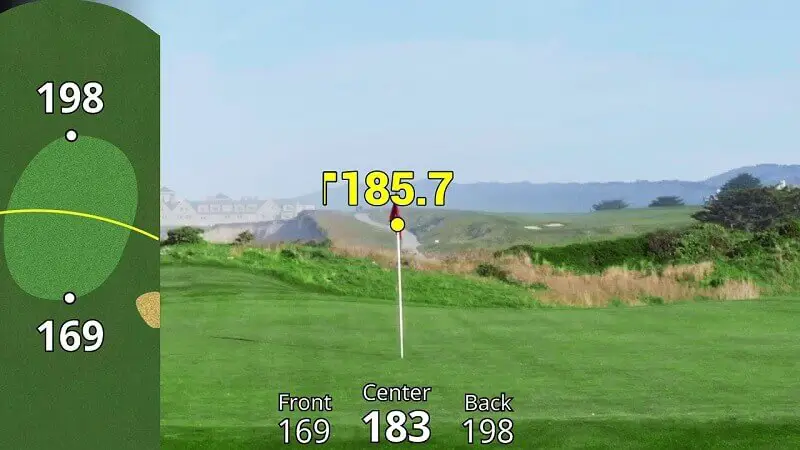 To clear your doubts and show you which features matter, we have made this section. In this section, you'll find all the information you need to separate just average rangefinders from the best ones that you can buy. 
Precision 
You are using a rangefinder to get precise and accurate information about the distance between and your target. If your rangefinder is not accurate enough or precise enough to give a solid number, then why would you even use that rangefinder?
That's why the most important criteria when looking at a rangefinder is it should be precise. The maximum variability that a rangefinder should have is ideally less than a yard. Anything more than that can completely throw your shots off from the target. 
You also want your rangefinder to be able to pick out the correct target. There is no use to the rangefinder's accuracy if it measures the distance to the wrong target. 
Laser-guided golf rangefinders are more accurate than GPS rangefinders. A good laser rangefinder should have a margin of error of fewer than 0.75 yards. A GPS rangefinder, on the other hand, has a much higher margin of error. Their margin of error is anywhere from 2-5 yards. 
Another thing that you need to consider is whether to buy a rangefinder with slope compensation or not. 
Slope Compensation 
A rangefinder with slope compensation not only shows you the distance to the flag but also its elevation. This allows the rangefinder to compensate for the slope accurately and then give you yardage for the shot that has the slope adjusted. 
Keep in mind one thing, rangefinders with slope compensation are not legal in tournament play. So, while a slope compensating rangefinder is a great asset, it is not useful for you if you use your rangefinder in tournaments. 
A slope compensating rangefinder can dramatically improve your game, however. All the best golf rangefinders have this feature. Only rangefinders that are intended for tournament play lack this feature. 
You shouldn't constantly rely on slope compensation in a rangefinder if you are looking to improve your game. Though if you are just having fun on the greens with some friends and playing casually, a rangefinder with slope compensation can improve your experience. 
It takes out a lot of the unnecessary guesswork in making any shots. After all, it is very frustrating to miss a shot just because the elevation threw off your drive.  
Longevity 
If you buy a golf rangefinder, you will be using it often. A rangefinder, on average, will be used multiple times per hole. This means that you'll be using your rangefinder anywhere from 50 to 60 times in a single round of average difficulty. 
When you buy a rangefinder, you don't want it to fail in the middle of the round. 
Not only does your rangefinder need to deal with constant use but also exposure to the weather conditions. It will be used when there is heat, rain, or wind. It will be used in all manners of settings. 
This is not to mention the general beatings it will take in your kit. 
You don't want to be replacing your rangefinder every year. So, the durability and longevity of a rangefinder are very important. The longer your rangefinder lasts, the better ROI you're getting out of your investment. 
Battery Life 
Just like we said above, you'll be using your rangefinder quite a bit. That's why you don't want your rangefinder to run out of power, especially if it does so in the middle of the round. 
Your rangefinder needs to have great battery life. Just being durable is not enough. If your rangefinder runs out of battery every week, it won't be very useful. It is not like rangefinder batteries are inexpensive either. 
The best golf rangefinders can last weeks on a new pair of batteries. 
Though, try to ensure you remove the batteries from the rangefinder whenever it is not in use. This preserves battery life and prevents any battery spills.
Ease of Use 
If your rangefinder requires you to be trained in sniper operations, it's time to switch. Your rangefinder should be easy to use. You don't want to waste time every shot fiddling with it. 
Ease of use also refers to the ergonomics of your rangefinder. Your rangefinder should be easy to use with just a single hand. While golfing, you'll usually only have a single hand free. Your one hand will be using your rangefinder while the other will hold your club. 
Additionally, your rangefinder should be lightweight. You don't want your drive to be compromised just because your arm started to cramp up. 
Display
A good rangefinder will have an incredibly clear and unobtrusive display. Your rangefinder needs to have a great lens for this. It should be like looking through the lens of a great binocular. A blurry lens will not make for a good rangefinder after all.
On top of that, your rangefinder needs to have decent magnification. Most of your targets while golfing will be a fair distance even. That's why you need a rangefinder with at least 5x magnification. The best rangefinders will have around 6x – 7x magnification, however. 
One more thing to look out for, the reticle and yardage readouts should be clear and visible. 
Value 
Finally, you need to have a look at what the rangefinder is going to cost. You can find great rangefinders for under 300 dollars. 
Many top-range rangefinders can cost nearly 700-800 dollars. There is no reason to spend so much money on a rangefinder. 
At the same time, don't settle for the cheapest on the market. There are plenty of great rangefinders which can be found at reasonable prices. 
Make sure that you are only spending an amount that you can afford. Never overspend to get a better product. 
Looks and Design 
This is the least important criteria that you should judge a rangefinder by. Since you are spending a decent amount of money, find a rangefinder that looks stylish to you. At the very least, it shouldn't look ugly.
Best Golf Rangefinders Under $300: FAQs
Whenever you are making a big purchase, you might have some doubts. To answer your questions, we have made this FAQ section. We hope that we can answer your questions. 
✅ Is Slope On A Rangefinder Worth It?
A slope on a rangefinder refers to slope compensation. A slope compensation will allow the rangefinder to measure the elevation and then compensate for it.
A slope on your rangefinder is worth it! It will improve your game by taking the guesswork out of your shots and making your life easier. Instead of trying yardage shots, you can have accurate measurements instead.
Without a slope, your rangefinder will not be as effective for any shots that have an elevation change. In those situations, you'll have to compensate manually. Using a normal rangefinder would be pretty much useless.
As long as you are not competing in tournaments, you should go for rangefinders with a slope. It is well worth any additional price that you may have to pay.
✅ Are Expensive Rangefinders Worth It?
Expensive rangefinders are often not worth the price. The number of extra features they have doesn't compensate for the extra price. A cheap rangefinder will have just as many necessary features and do the job well.
An expensive rangefinder is only worth it if you have the budget to spend that extra cash. Otherwise, a cheap rangefinder is almost always better.
✅ Are Cheap Golf Rangefinders Any Good?
Golf rangefinders can range from just around 100 dollars to well over 1000 dollars. You certainly can get a better quality of rangefinders if you shell out some more money. Though, oftentimes any expensive golf rangefinder will not be much better.
The increase in price doesn't relate to an equal increase in quality. They have a substantial increase in price only for a minor or marginal improvement in performance.
For your everyday golf needs, you can get great rangefinders at a very reasonable price.
A cheap golf rangefinder can have all the essential features and be a great asset to your golfing kit. As long as you choose a golf rangefinder with all the adequate features, you are all set.
Don't worry too much about buying expensive rangefinders.
Conclusion
There are many great golf rangefinders under $300. Our choice for the best golf rangefinder is the Callaway 300 Pro Slope Laser. It is a rangefinder with amazing features and a reasonable price. It's got 6x zoom, a very low margin of error, an expansive range. 
There are many expensive rangefinders. Most of them aren't worth it. Just because you are averse to spending a large amount on your rangefinder doesn't mean that you have to use a bad one. 
We hope that our product reviews and buyer's guide will help you. With this resource, you can select the best rangefinder for your needs in your budget. 
---
Related Posts
Last update on 2022-04-03 at 13:20 / Affiliate links / Images from Amazon Product Advertising API