When it comes to buying basics for golf, you can spend a hundred dollars in an instant. You can purchase a brand new pair of clubs, a golf GPS watch, or a practice net for a garage. So, are you ready to improve your performance after this? Maybe not.
If you don't have a reliable golf rangefinder in your golf collection, you are missing out on the crucial aspect of your game. With golf rangefinders, you can accurately measure shot distances. Moreover, they help you select the right club for your shot.
The best part is they don't have to be expensive. That's why we present you with the reviews of the 7 best golf rangefinders under $100 in this article.
Related Post: Best Cheap Golf Rangefinders Under $200
---
7 Best Golf Rangefinder Under $100 In 2021
Having a rangefinder is the most convenient method to improve your score and distance control. Whether you are a passive player or an experienced player, the best golf rangefinders under $100 will help you make any shot you want.
Any of the below-reviewed models you choose is excellent and will provide the desired results.
1. Gogogo Sport Vpro Laser Golf Rangefinder
The most cost-effective and best golf rangefinder under $100 is Gogogo Sport Vpro Laser Rangefinder. The device is a combination of multiple features. It offers you everything you require for golfing, bowhunting, and hunting.
The rangefinder is highly efficient in detecting various objects irrespective of size up to 900 yards. Moreover, it guarantees one-yard accuracy. Featuring 6x magnification, you can enjoy a better view of the target and area nearby.
You will find three operations modes in this golf rangefinder. The Golf Mode enables you to see pins situated as far as 170 yards, where the flag lock feature allows you to reach about 350 yards.
The Speed Mode measures the object's speed to about 300 km/h. Lastly, you can use its general applications for a continuous scan with a Normal Scan Mode.
Features
Offers to measure range from 5-650 yards with maximum accuracy
Comes with a fully multi-coated optic lens for a brighter and clear image
Equipped with a slope function to correct distances and adjust angles
More Details About Vpro
With Golf Mode, you can detect the slope angles and correct or improve your distances. Now, you don't have to guess how much effort you need to put while hitting the ball.
Additionally, the JOLT technology will make sure that you correctly lock the target. The target will stay locked all the time, making it convenient to find it on the viewscreen. You can grab one of these on Amazon.
Pros
Slope mode off and on function
Angle range compensation system for accurate readings
Ergonomically designed with rubberized grip
Cons
Can only lock in on pin within 150 yards
With Gogogo golf rangefinder, you will get accurate yardage and slope ratings every time. Thus, you can select the right club for every shot. The rangefinder also features quick scan measuring and a flagpole vibration locking mechanism, making it a perfect tool for golfers.
Should You Buy It?
The rangefinder is optimized and designed for ease of use and exceptional comfort. The positioning of control buttons helps you hold the device to adjust the angles effortlessly. The Gogogo golf rangefinder is a great deal for less than 100 dollars with all the features combined.
---
2. MiLESEEY Professional Laser Golf Rangefinder
The multi-purpose rangefinder is ideal for watching races, mountain climbing, golfing, and hunting. The durable and sturdy build makes it a convenient device to perform efficiently in all weather conditions.
Comes with four measuring modes, the golf rangefinder can accurately measure speed, angle, and distance. Therefore, it is an excellent tool for all outdoor activities. Moreover, it can measure about 660 yards with -/+5 yards measuring accuracy.
What else? The rangefinder is developed with an angle slope reward system and TOF technology. You will always get the precise angle-compensated distance. Furthermore, it can measure flag pole distance and lock speed.
Features
Flagpole locking to about 200 yards

Comes with an adjustable eyepiece
Uses time-of-flight technology
Multi-coated lens for accurate and precise measurement
More Details About MiLESEEY Precision
Equipped with a multi-coated lens, you will always receive richer and pure measurements. It is the best device to estimate hazards, wooden areas, and golf flags. With fast target technology, it can lock and scan the range of the nearest target accurately. Grab one here on Amazon.
Pros
Lightweight and compact design
Ergonomically designed
Deliver extremely accurate measurements
Cons
It is usually difficult to use a rangefinder when you are wearing glasses. Luckily, you won't have such a problem with MiLESSEY Professional Precision Golf Rangefinder. Its adjustable eyepiece enables you to use it without wearing glasses. So, it's a great investment for many golf lovers.
Should You Buy It?
MiLESSEY PRO Precision Golf Rangefinder is the high-tech rangefinder available to you at a very reasonable price. You can perform various tasks with this easy-to-use model. The excellent environmentally friendly and compact design enables you to carry the rangefinder as you play.
---
3. BOBLOV 650Yards Rangefinder with Pinsensor
It's time to meet the best friend of golf players, BOBLOV 650Yards Golf Rangefinder. Being the best golf rangefinder under $100, it ensures bright, sharp, and clear images. Moreover, the battery life remains fully charges for the full four rounds.
The rangefinder boasts a pin locking function which vibrates when the unit has measured the distance on locking the pin. Also, the speed measuring function can measure the moving targets accurately.
With an effective range of 650 yards, it delivers measurement with 1-2 yards of accuracy as per the target distance. Besides, the 6x amplification helps in easy targeting. It also includes Pinsensor flag-locking technology to effectively lock the target.
Features
Uncomplicated two button use process

Measures in metric and imperial units
Delivers clear optics with 6x amplification
Equipped with Pinsensor technology for measurement with +/-1 yard accuracy
More Details About BOBLOV 650
The golf rangefinder features three different modes, including Speed mode, Flag-locking mode, and ranging mode. The device supports different speed measurements.
Additionally, you can view all the data on-screen with a short press on the power button after you direct the objects. Check BOBLOV 650Yards Price On Amazon.
Pros
USGA Approved for tournament use
Offers decent 650 yards measuring range
Water-resistant model
Cons
Irreplaceable in-built battery
BOBLOV 650Yards Golf Rangefinder is an exceptionally reliable and durable model. Unlike other rangefinders, it can also measure the distance and speed of moving objects. What's more? It comes with slope measurement and a USB-chargeable battery at a reasonable price.
Should You Buy It?
If you are not able to hit your ball outside 200 yards, this golf rangefinder is your excellent choice. Available in two different color options, the device is lightweight and portable. Apart from golfing, you can also use the device for various outdoor activities.
---
4. WOSPORTS 650 Yards Rangefinder with Slope
The Wosports Golf Rangefinder is one of the best golf rangefinders under 100, equipped with exceptional features and modern design. In addition to being a golf rangefinder, the device is also great for hunting purposes.
Like most high-quality rangefinders, this device also offers a pin seeker feature. It can capture the flag and easily target the object. Once the target is captured, it will lock it for fast measurement results. 
With speed and fog modes, you will get clear images of far-off distances. The measurements are not affected by the outside weather conditions. Besides, you will enjoy the maximum measuring range of about 650 yards.
Features
Measuring range between 5-650 yards
Equipped with speed and fog modes
Up to 180 yards of flag pole locking system
More Details About WOSPORTS
Everyone has preferred units to read and measure speed and distance. With this device, you can easily switch between units. It offers you the ability to choose between yards and meters. By doing so, you will always have reliable and accurate readings. You can grab one of these from Amazon.
Pros
Easy to switch between yard/meter
Equipped with LCD display
Comes with multiple modes for accurate measuring results
Cons
The Wosports Golf Rangefinder is known for its easy operation and precise measurement results. Moreover, the portable design and ergonomic support enable the golfer to carry the rangefinder while playing. Not to forget, the easy switching measuring modes are incredibly convenient for golfers.
Related Post: Best Budget Golf Rangefinders Under $300
Should You Buy It?
Most people love how affordable the product is, while others loved it for its exceptional features and stylish design. The device has garnered several positive reviews, which is why it is highly ranked among golfers.
---
5. AOFAR GX-2S Golf Rangefinder with Slope
To improve and enhance your game, you need a reliable and affordable golf rangefinder. The AOFAR GX-2S Golf Rangefinder is easy to use and equipped with appealing features to improve your game.
In terms of performance, the device includes a CR2 battery. The fully charged battery would perform exceptionally well for a maximum of eight hours. Also, the HD offers six times more precise magnification for accurate aiming.
The rangefinder offers an excellent range of 600 yards. Besides, you can lock on the flag to get an accurate number to about 250 yards. Moreover, the device also enables you to lock on a tree within 415 yards. Thus, you figure out how to play long shots and drives on any course.
Main Features
Delivers fast reading with AI tracking technology
Comes with a Slope switch design
Includes speed, fog, and scan modes
More Details About AOFAR GX-2S
What if the weather is foggy or dusty? It shouldn't stop you from playing golf. The AOFAR golf rangefinder can withstand all weather conditions like downpours or fog.
The waterproof design enables you to hold the device with wet hands. Moreover, it can resist dust that could disrupt the view and measurement of distance. Grab one of these on Amazon.
Pros
Portable and lightweight
Highly durable and water-resistant
Comes with integrated auto-off technology
Cons
Slightly sensitive to hand movements
Being a lightweight device, you can easily carry it in your golf bags. While hunting or golfing, the compact size lets you slip the rangefinder into your pocket. Also, the durable body is dust and water-resistant, which makes it the best golf rangefinder under $100.
Should You Buy It?
The device is worth a purchase because of its effortless usability. The speed mode and flagpole lock mode provide an excellent golfing and hunting experience compared to other models. All in all, it would be a wise investment.
---
6. BOBLOV 650Yards Slope Golf Rangefinder
Another addition from the BOBLOV golf rangefinder is the slope edition. With the inclusion of the K600AG with slope, the device offers an adjusted distance as per the decline/incline of the hole. Moreover, it enables you to select your club for each shot.
The device is equipped with a flagpole locking feature which vibrates on locking the target. Once locked, it will send and display the measured range data on the screen. Thus, it will prevent you from keeping guessing when your target is locked.
Due to 6x magnification, the model can measure accurate distance quickly. Additionally, the device's multi-coated body is highly durable, enabling you to become a professional player in no time.
Another interesting feature is the four different modes of the device. Each mode is designed to fulfill your gaming requirements. The modes include Speed mode, Continuous mode, Flag mode, and Slope mode.
Features
Equipped with Slope Compensation Calculation
Flag Acquisition Technology to lock the target on the flag
High accuracy of +/-1 yards
Comes with a long-lasting and durable battery
Details About BOBLOV K600AG
This K600AG golf rangefinder comes with a CR2 battery. The battery supports over 5000 single-click readings, meaning about 20 rounds of golf. Accuracy is most important for golfers, where this rangefinder stands at the top due to its two modes.
Mode one delivers flag distance measurement with slope, whereas Mode two offers continuous and accurate measurements. BOBLOV K600AG Price On Amazon.
Pros
Ergonomically designed lightweight body
Vibrates on locking the target
Provide support to continuous measurements
Cons
Apart from the ergonomic and appealing design, the rangefinder got full marks in its accurate and precise measurements. Not just golf, you can use the device for various outdoor activities, which require measurements.
Should You Buy It?
With slope compensated distance, the BOBLOV K600AG Golf rangefinder provides improved distance with improved measurements. Besides accuracy, the device is easy to use and has excellent battery life. Thus, the device is made for an extended period of use.
---
7. MOESAPU Laser Golf Rangefinder with FlagLock
The last addition to the list of best golf rangefinders under 100 is MOESAPU M-600VH Laser Golf Rangefinder. The device has a maximum measuring range of 1500 yards than any of the rangefinders mentioned here.
The pin sensor features effective measures the distance up to 1500 yards. It can even measure overlapping subjects accurately. Moreover, the high magnifying power will help you zoom in to the target for accurate shots.
The device comes with four scan modes to make your golf make more effective and enjoyable. Mode one provides space actual distance; mode two has Angle and distance mode, mode three measures horizontal and vertical distance, and mode four measures the moving target's speed.
Equipped with adjustable focus, you will not have difficulty using the device with glasses. Rotate the eyepiece towards the right for the myopic user and left for the hyperopia user.
Features
Comes with effective 7X magnification
Offers +/-0.3yard measurement accuracy
Adjustable focus for hyperopia and myopia
Easy to switch between yard and meter
Details About MOESAPU M-600VH
The rangefinder includes additional features such as Automatic shutdown, Mode memory, and Continuous scanning. The mode memory will enable you to resume your reading where you left before. And, the automatic shutdown will turn off the device after 10 seconds of inactivity. Grab one here on Amazo.
Pros
Offers high magnifying power
Provides highly accurate results
Four mode functions for precise measurements
Cons
Switching from yard to meter is not simple
The rangefinder is highly efficient and reliable with its four measuring modes. That's why the device is popularly used in industrial measurements, topographic surveys, and more.
Furthermore, the device comes with an easy-to-use design and interface. That makes it the first choice of many golfers trying to improve their game.
Should You Buy It?
Offering the maximum yard distance, the MOESAPU -600VH golf rangefinder is worth a deal. Thus, it makes the device suitable for engineering measurement, climbing, hiking, bird watching, and of course golfing. Overall, the rangefinder is value for money.
---
Best Cheap Golf Rangefinder Under 100: Buyer's Guide
By now, you must have understood how beneficial a golf rangefinder is for your game. It improves your performance and lets you plan your game effectively. Thus, you must know some crucial features of a rangefinder to make the most out of it.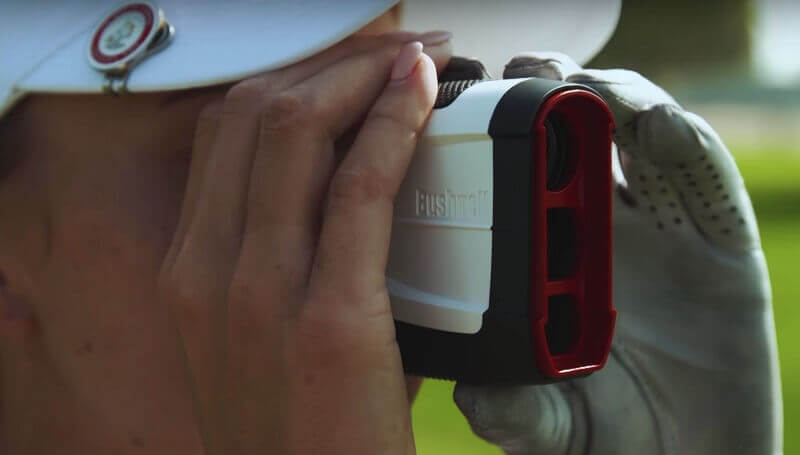 Also, these features will help you find the best golf rangefinder for under 100 dollars. Before you purchase, make sure to check out the below-mentioned features.
Accuracy
The first thing you need to consider is the spot-on accuracy of the rangefinder. You can go for a GPS Range Finder when you want a five or six yards variability on the measurements.
They provide a proper map of yardages and holes to the back and front of the greens. A rangefinder with a fraction of yard error variability is acceptable but not more than that.
You also want the rangefinder to show accurate yardage measurement of the selected target. The rangefinder should target the flag rather than the tree behind it as it can result in overlapping. So, make sure that the yardage is accurate to the selected target.
Range
How do you know that you have found the right rangefinder? For that, you need to know how far you can see clearly with the device.
You can clearly see the half yard's images, but it shows less accuracy when you move farther away. There is a possibility that the device won't show accurate measurement at the maximum range.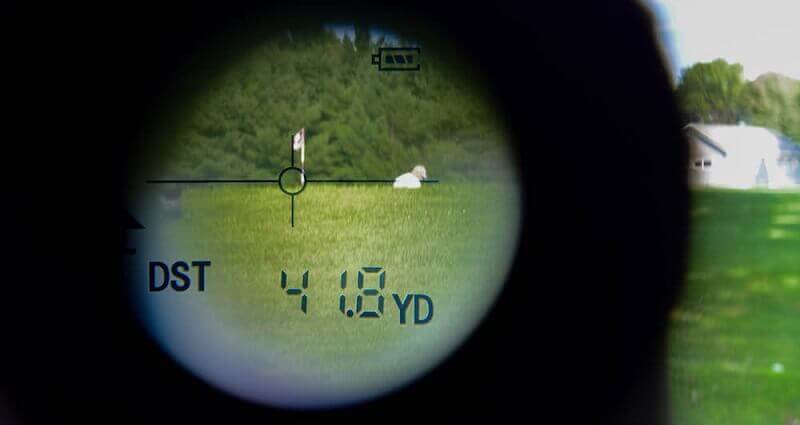 You need to know your ideal range to find the ideal distance. The farther you move, your hands will shake, and you will have inaccurate readings. Therefore, if you know your ideal range, you can determine the rangefinder's accuracy.
Battery Life
You wouldn't want your rangefinder to run out of battery in the middle of the game. So, you should ensure that the battery life is long enough to get you through the round. Or check if the rangefinder comes with a replaceable battery or not?
You should always carry a backup battery for the safe side if you run out of it during the game. Alternatively, you can carry a USB charger to charge the device to keep it fully functional during your course. 
Slope Adjustment Mode
You will always find slopes on the golf course. So, the course will have decline and incline slope angles. These slopes create angles with the flagpole, resulting in the change in distance and range between the pin and the golfer.
The best golf rangefinders under $100 should be able to measure and adjust the decline/incline angles between flagpole and slopes. With slope adjustment, you will know your position and thereby adjust your readings.
Knowing the surface and slope of the course will help you make better shots. Also, be sure to read more about the Blue Tees S2 Pro Slope Rangefinder.
Eye Relief
Different models of rangefinders offer different eye relief features. The rangefinders work differently with contact lenses and glasses. Before purchasing, you should try how your eyes feel while using the rangefinder.
Your eyes mustn't feel strain upon using the rangefinder continuously during your shots. Thus, you should look for a rangefinder that comes with an adjustable focus. That way, you can adjust the focus that is soothing to your eyes.
Flag Lock Mechanism
Another crucial feature is the flag lock mechanism. The feature is highly beneficial to improve your game. It will help you to quickly find the flagpole. As soon as it finds it, it will lock and measure the distance.
Some rangefinders with flag lock mechanisms come with the vibration feature. It will alert you with vibration when it locks the pin and distance.
Durability
On average, the golfer will use the device about 20-30 times in one round and even more on challenging courses. The rangefinder will go through a lot of abuse of being tossed around, dropped, repeatedly going back and forth out of the case, and more.
Therefore, the build quality of the rangefinder should be robust and durable enough to handle all the outside impacts. And even after such mishandling, it should provide accurate readings.
Optics and Display
Optics and display mean how your eyes perceive while looking through the rangefinder's lens. The optics should be clear as a crystal without any blurring. It would be best if you look for 6x magnification for clear images.
For display, it should be easy to understand and read. You would want a display that shows correct and accurate yardage whenever you use it. Some device comes with a diopter adjustment which helps improve the focus.
Price
The golf rangefinders are available in different price ranges. You can spend on the device as much as you can afford. However, the affordable models include all the essential features required to improve your game, like expensive models. Don't forget to learn about Top Golf Rangefinders Under $300.
You can find the best golf rangefinders under 100 that meet all the requirements of a golfer. So, it all came down to your budget how much you want to spend on the device.
Best Golf Rangefinders Under $100: FAQs
After reading the reviews and buyer's guide of the best golf rangefinder under 100, you must have certain questions in mind. That's why we have made this section solely to clear your doubts.
Conclusion
In the end, the decision to purchase the best golf rangefinders under 100 dollars depends on your personal perspective. However, there is still one that stands at the top of our list: WOSPORTS Laser Golf Rangefinder. It comes with a slope distance correction feature and high definition vision for accurate measurements.
Alternatively, the Gogogo Sport Vpro Laser Rangefinder is best for budget-conscious golfers. In addition to the regular modes, it comes with a continuous scanning mode and slope compensation.
---
Editor's Choice
Last update on 2022-04-03 at 13:20 / Affiliate links / Images from Amazon Product Advertising API