What a great feeling it is when you knock the ball right in the middle and proudly pick the tee while everyone is staring at you in awe. It's just another day at golf where you swing the ball at high speed.
Players with high swing speed need to produce more energy as they make an impact on the ball. Thus, the ball must not excessively compress and can handle the higher force. That's where the necessity of the best golf ball for high swing speed comes.
If you want to take your performance to a top-notch level, the 7 best high swing speed golf balls:
---
7 Best Golf Balls For High Swing Speed 2021
The best golf balls for high swing speed offer a soft feel, low spin rates, and an excellent low compression balance. That's why many golfers are after the high swing speed balls to enhance their game potential.
Picking one among hundreds of options can be a tedious task. No worries, as we are here reviewed the best golf ball for high swing speeds in this section.
1. Bridgestone Tour B XS Golf Balls
Being a fan of golf, you must have heard of this well-known brand for manufacturing golf balls, Bridgestone. The brand has made it easier for golf players to find the best golf ball for high swing speed right from the box.
The golf balls are ideally made for golf players swinging the ball at 105 mph. With the soft feel, it offers the desired spin and feels around the greens to the golfers. Moreover, the 'S' in the name symbolizes Spin.
One interesting feature of the golf ball is Gradation Firmness Core. With a 75 rating of compression, the golf ball can further the distance in your game. The lower side spins and higher ball speed offers an advantage over the course of your game.
The golf balls come with similar superior aerodynamics for distance, speed, and better flight. With dual dimple technology, you will receive further distance and efficient ball trajectory. The less drag allows you to take the ball at a farther distance more rapidly.
Features
Gradation Firmness core offers forgiveness and added distance.
Double dimple technology for better smoothness and further distance.
Slip Res Cover offers extra spin direction and feel.
Seamless Cover Technology offers improved balance to the ball.
More Details About Tour B XS
The golf ball has an exceptional urethane cover, which comes with Slip Res technology. The urethane cover performs many unique and essential functions.
First, it makes the ball durable and long-lasting. Secondly, it offers additional power and control around the greens to the golf players. Check the current price of Amazon by clicking here.
Pros
The exterior of the model is long-lasting and durable
Offers penetrating flight across the wind
Exceptional performance/value price ratio
Cons
The softcover can get scuffed quickly
Used by Tiger Woods, the Bridgestone Tour B XS ball delivers the exact performance that you expect. The low spin and fast off face provides excellent accuracy and delivery with high speed swing. Therefore, the golf ball makes a perfect choice for senior-level or lesser handicapped golf players.
Should You Buy It?
With Bridgestone Tour B XS, you will get loads of feel and control, which makes it worthy of the price. Golf balls with a perfect rating and several positive reviews are hard to find. With exceptional control and feel, this golf ball is definitely a performer in the true sense.
Check The Tour B XS Price On Amazon
---
2. Vice Pro Plus Golf Balls
Whoever has played with Vice Pro Plus Golf Balls is left with only one remark, value for money. But, for whom is this best suited? The all-new Vice Golf Pro Plus ball is designed ideally for high swing speed golfers. However, you can't miss the aspiring golfers who want to increase their game potential.
The material of the ball is super smooth. Besides, the thickness is half of the traditional ball. Do you know what the best part is? The ball's thin covering ball doesn't compromise the overall durability.
The ball is equipped with 4-piece urethane, which offers maximum length off the tee and minimizes spin. Thus, the ball is designed for lower spin and lower the launch to maximize the distance. It can offer more than 110 mph swing speeds.
Perfect for long-distance shots, the ball comes with a dual casing and 336 dimple design. The casing and the design offer great control over the ball. Also, on long shots, the ball provides reduced backspin. Conversely, on short shots, the ball offers a high spin.
Features
Designed especially for longer distance
Exceptional green grabbing control
Offers Lower Ball flight trajectory
4-piece urethane cover and 336 dimple design for durability
More Details About Vice Pro Plus
Unlike other best golf balls for high swing speeds, this one comes with S2TG technology. What this technology meant to do is stop the ball drop-dead on the ground. Also, it will not swerve even if the wind is blowing.
On the other side, the ball has a lower compression rating, meaning more effort as you swing the ball. It might be a problem for novice golfers but works for junior or professional golfers. You can grab one of these on Amazon.
Pros
High spin on short shots
Comes with S2TG technology
Dual casing support long distance and keep lower flight
Cons
Lower compression rating of ball
In the end, the Vice Pro Plus Ball meets all the professional standards due to its dual casing and unique design. Moreover, with minimum backspin, you can enjoy long-distance shots. For golfers wanting to go the extra mile, the Vice Pro Plus Golf Ball is worth trying. 
Should You Buy It?
Vice is an established brand among mainstream golf manufacturers. You can only expect to have exceptional quality and durability in this model. The golf balls also come in different color options for easy spotting. Thus, with Vice Pro Plus Golf Ball, you can definitely change your game. 
Check Vice Pro Plus Price On Amazon
---
3. TaylorMade TP5x Golf Balls
You won't find any golf ball with 5-layer technology like this excellent Taylormade TP5x golf ball. It is explicitly designed to improve each golfer's performance. It's time to make a switch to experience a complete package of control, velocity, flight, and feel.
With the higher launch and higher compression, you can manage to get the arc-like shot height. The ball goes straight, piercing through the wind while landing exceptionally soft on the greens. Moreover, the proprietary core helps in delivering outstanding spin and shots from the fairway.
The 5-layer construction doesn't affect the spin performance. On top of that, it increases the speed of the ball. Additionally, the Tri-Fast Core promotes maximum distance and low drag in windy situations. Read TP5x full review.
Featuring High-flex Material, the higher ball speed comes with a rebound effect. In other words, HFM works like a spring to create energy and deliver a rebound effect. And what you receive a ball with high speed.
Features
Equipped with 5-layer construction
Comes with new High Flex Material for enhanced speed
Dual-Spin Cover
Tri-Fast Core Technology
More Details About TaylorMade TP5x
With urethane cover, the ball's exterior can handle outside impact effectively. Thus, it makes the ball highly durable and long-lasting. Apart from that, TP5x offers a solid feel.
On a higher compression of 90, it spins less. That is the reason high swing golf players mostly prefer this golf ball. You can grab one of these from Amazon.
Pros
More carry, higher ball flight, and less spin
Thicker cover for an improved and softer feel.
Offers High compression and wedge spin
Cons
Not ideal for players with a hook or slice issues
Overall, the Taylormade TP5x is an excellent golf ball providing great wind control and more compression. With multi-layered construction and spin control, the TP5x will undoubtedly catch your eye. Furthermore, the golf ball is highly recommended for mid-handicappers.
Should You Buy It?
When you talk about golf balls, it all depends on the quality of balls that makes the game better. So, TaylorMade TP5x offers is one such high-quality ball that you can get at an absolutely reasonable price.
Check TaylorMade TP5x Price On Amazon
---
4. Titleist Pro V1x Golf Balls
Titleist Pro V1x is the most preferred ball of professional golfers. Why? Because it assists the high swing speed golf players to hit straighter and longer shots. Its low spinning ball and higher launch make the ball suitable for low handicap players.
The ball comes with about 17 per cent thinner covers. Due to this, the ball offers incredible control over the ball. The internal layer is engineered to distinguish spin for different golf clubs. You will have more spin with your wedges and less spin when using the driver.
As a golf player, you know the importance of iron's stopping power. The ball can softly sit on the green after having enough spins on a long hop. Moreover, the urethane elastomer cover enhances the durability of the ball.  
What's more? The ball can maintain the greenside control while providing superb spin rates and long driving distance. The swing speed can go up to 100 mph as per the golfer's potential. Also, the lower spin rate and higher trajectory work effectively in windy conditions.
Features
Long Driving distances
Superb short-game control
Comes with a urethane elastomer cover
Higher trajectory with consistent flight
More Details About Titleist Pro V1x
The all-new Titleist Pro V1x offers a combination of a revolutionary painting system and urethane elastomer cover. Read Pro V1x full review.
As a result, the best golf balls for high swing speeds will stay brighter and whiter even after frequent use. Moreover, both features enable consistent aerodynamics every time you use them. Grab one here on Amazon.
Pros
Maximum performance and consistency
Produces a sublime sound
Provide superb spin and greenside confidence
Cons
Slightly expensive than other golf balls
To summarize, the Titleist Pro V1x offers a more firm feel in comparison to its predecessors. Apart from softness, the newer version delivers incredible driving distance to maintain control and feel. The professional golfers will observe how the ball becomes more controllable when a firm grip lowers the backspin.  
Should You Buy It?
The Pro V1x will cater to the playing style of high swing speed golf players. With nearly perfect ratings and customer reviews, the Titleist Pro V1x is among the bestsellers. Thus, the super firm style of the balls can handle extreme windy conditions.
Check Titleist Pro V1x Price On Amazon
---
5. Pinnacle Rush Golf Balls
Pinnacle is another reputable golf gear manufacturer which is known for manufacturing golf balls. The golf balls offer a perfect combination of value and distance.
With the proprietary high-energy core technology, the golf ball is designed to produce fast ball speed. In return, you will get a great distance when you make full swing shots.
The golf ball is equipped with an advanced icosahedral dimple design that delivers powerful and consistent ball flight. Also, the ionomer cover is durable and soft, which offers an impressive feel.
Features
comes with 322 icosahedral Dimple Design
Durable ionomer cover
Designed for longer distance
Pack of 15 balls
More Details About Pinnacle Rush
The Pinnacle Rush Golf Ball makes use of universal design elements. This ensures high-quality performance and feel. Also, the golf ball comes with a high-energy core, which offers excellent distance and consistency. Grab Pinnacle Rush Golf Balls from Amazon here.
Pros
Available in two color options
Well-reputable brand with years of experience
Offers great ball flight and consistency.
Cons
Does not offer much accuracy
The Pinnacle Rush Golf ball comes up with the best possible price for golf balls. In addition to quality, the balls are highly effective and durable.
To increase the distance along with performance, the interior core comes with an exterior layer for added feel and protection. Also, the ball is great for golfers looking for endurance and quality. 
Should You Buy It?
The Pinnacle Rush Golf Balls come in a pack of 15 balls. Moreover, you choose from two color options, white and yellow. Apart from that, the ball never disappoints its players with an excellent performance from green to the tee.
Check Pinnacle Rush Price On Amazon
---
6. Callaway Chrome Soft Golf Balls
Another golf ball on the list for best golf ball for high swing speed is the latest Callaway Chrome Soft Golf Balls 2020 model. What you receive with this golf ball is its incredibly soft feel across the clubface.
Comes with a DuraSpin cover, the 3-piece ball is equipped with a Soft fast core to offer expected feel and touch along with the greens. The outer core is covered with two materials. This is to supplement both higher swing and lower swing speed players.
The Callaway Chrome Soft ball uses four layers of construction. This way, the thin mantle layer will cover Dual SoftFast Core's two inner layers. Besides, there is an outer layer of urethane cover for excellent feel and grip.
Off the clubface, the ball is quite easy to compress. That means the ball will provide more distance and power on off-center hits. Also, the Hex dimple design offers more crisp shots. The ball will pierce through the wind easily.
Features
Garphene Dual SoftFast Core
Soft Urethane Cover
Hex Dimple Design
Four Layer construction
Optimized aero design for consistent trajectory
More Details About Chrome Soft
With sufficient spin, the ball can give any average golfer more control over the ball. The extra backspin will reduce par putts and a long birdie. Additionally, the softcover delivers the exact feel you need on putts and chips. Check The Chrome Soft Price On Amazon.
Pros
Highly durable and long-lasting
Offers soft feel off the putter and clubface
Maximum distance and control off the tee
Cons
Available slightly on an expensive side
Simply put, the Callaway Chrome Soft Ball can offer high-level Tour performance. The golf ball is useful for any handicapper level. The feature like Graphene Dual Soft Fast Core provides maximum forgiveness and feel.
Should You Buy It?
The Chrome Soft Ball is great for any mid to low-level handicappers. The low compression can eliminate the probability of mishits. Moreover, its low spin and high launch combination are ideal for accurate shots. It comes in a variety of colors, which makes it a great purchase.
Check Chrome Soft Price On Amazon
---
7. Srixon Z Star 6 XV Golf Balls
Srixon has reached the sixth generation with the manufacture of Srixon 6 XV Golf balls. This four-piece golf ball comes with 338 dimples. The golf ball is also designed to offer maximum distance to skilled players while offering complete tour performance.
As a high-speed swing golfer, you can expect consistent and balanced performance. Even the flight performance is exceptional. The dimple pattern creates less drag and enhances the lift to increase the overall distance. Even in extreme weather conditions, the ball will fly straight.
One unique feature of this golf ball is the new Fast Layer Core and fourth-generation Spin Skin and SeRM. Moreover, the Spin Skin is equipped with Slide Ring material as a soft outer cover. It creates additional friction as you hit the ball.
The wind can ruin your golf game at any time. With the 338 dimples, the ball neutralizes the wind. Thus, you get a maximum lift and reduced drag.
Features
Four-piece golf ball
100% tour technologies
338 Dimple Pattern
Fourth Generation Spin skin technology
Urethane cover for excellent stopping and spin power
More Details About Srixon Z Star
The fourth-generation Spinskin coating and urethane cover offers a softer feel to the ball. Thus, whenever the ball touches the clubface, it results in better accuracy and control.
Additionally, the Spinskin coating can increase the spin to control the ball while hitting. You can grab one of these from Amazon.
Pros
Offers high compression of 102
Fast Layer core maximizes the distance
Exceptional feel and greenside control
Cons
The durability of the Srixon Z-star 6 XV Golf ball cannot match up with other balls due to Spin skin and a urethane cover. It offers amazing spin and control for the wedge shots within and around the greens.
Should You Buy It?
If you are looking for an effective golf ball that can generate great spin and distance, this is the one to consider. The golf ball offers a soft feel even on shorter chip shots. Also, it provides a noticeably longer distance in comparison to many other tour-balls.
Check Srixon Z Star XV Price On Amazon
---
Best Golf Balls For High Swing Speed: Buyer's Guide
How do you know you have found the best golf ball for high swing speed? For better performance at the game, you need only the high swing speed golf balls.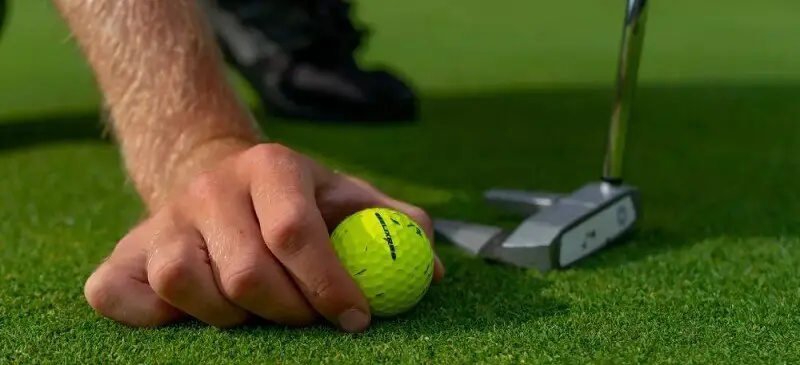 You need to understand the ball's distance and construction. Read our buying guide thoroughly to know what features to consider for buying high swing speed golf balls.
Spin And Distance
For the best golf balls for high swing speed, you need to consider the distance. How far can your golf ball travel? Whatever ball you choose, it should aim to increase the driver's distance. Additionally, the ball should control the spin along with the distance.
How to find a golf ball that controls the sidespin and maximizes the distance? While you are purchasing a golf ball, look out for the following features:
Designed for specific swing speed
Offers maximum compression
Exceptional spin rate and launch angle
If your golf ball is comprised of the following qualities, grab it immediately.
Construction Of Golf Ball
The best golf balls for high swing speed are available in two different types of construction. The first is two-piece balls, and the second is three to five-piece balls. Let's discuss the two types briefly.
Two-Piece Golf Balls
The two-piece golf balls are generally made of a large rubber core. They also feature urethane or ionomer cover. Due to low spin and variable degrees of compression, it is not suitable for high swing speeds. But, these balls are relatively affordable.
Three To Five Piece Golf Balls
Next up is the three-to-five piece golf balls. They are highly suitable to use for high swing speeds due to their various components and features. This category will include three-piece hybrid balls and four-piece Tour balls. Each one of them is great for any level of golfers wanting high swing speed balls.
Dimple Pattern
Why do Golf balls have dimples? It is to maximize the lift and reduce the drag. The dimple covers the surface of the ball with a turbulent air layer, which later travels to the ball's back. This way, it decreases the drag and increases the lift.
If you want the best golf ball for high swing speed, it's better to go for a higher number of dimples. This offers your ball travel maximum distance.
Compression
When the ball contacts the driver, it becomes flat due to compression, which allows the ball to travel a long distance. However, the amount of compression differs for different balls. If you had to use more force, meaning compression rating is higher and vice-versa.
Balls with more compression are suitable for professional or mid-level handicap players. These balls are ideal for high swing speed.
One another benefit of a high compression ball lies in its low side spin for more control. Only players with high swing speed can manage high compression balls. 
Best Golf Balls For High Swing Speed: FAQs
Are you still confused about the best golf balls for high swing speeds? We agree it's not an easy task to find a golf ball that matches your game requirements. Therefore, this section is particularly devoted to clear all your doubts regarding such golf balls.
What's a High Swing Speed?
High Swing speed is when a golfer can swing the ball with a driver at a speed of 110 to 125 mph. When a golf ball goes under maximum compression, it will deliver the best results.
The ball's core results in maximum compression. Due to this, the ball will travel maximum distance.
Who's More Like to Swing at High Speed?
The mid-to-high level handicappers who have become consistent in hitting greens or fairways are most likely to swing at high speed.
Additionally, the golf players who know how to control and hit the ball with force will swing at high speed. They have experience in hitting different shots.
What Makes a Good golf Ball for High Swing Speed?
A good golf ball for high swing speed should offer maximum accuracy at different shots. It should be comprised of dimples that need to be placed strategically.
The dimples will help the aerodynamic of the ball to react differently with different clubs. Also, the outer cover should be soft to provide maximum distance and control.
Conclusion
What golf ball you should buy is entirely depends on what performance you expect and your personal preference. However, we will recommend Titleist Pro V1x as they know their business very well. Also, the golf ball is ideal for both average and pro-level golfers.
A high swing speed golf ball requires generating more spins and creating a high trajectory. In such a case, you need Vice Pro Plus, which allows you to launch the ball with perfection. At an affordable price, the golf ball is powerful enough to give tough competition to market leaders.
---
Related Posts
Last update on 2022-04-03 at 13:20 / Affiliate links / Images from Amazon Product Advertising API