Sometimes, it takes more than just skill and luck to get a perfect shot. A good golf game relies on multiple factors, and the most important of them is a golf ball. The Callaway Hex Tour Soft is one such intricately designed piece that even pro golfers appreciate.
When it comes to a long-distance hit, this Callaway ball has more potential than any other ball. If you're struggling to make impressionable shots, this Callaway ball is your best bet.
In this Callaway Hex Tour Soft review, we'll discuss each minute detail of the product. This Costco Hex Tour Soft Golf Ball review breaks down each feature, pros, and cons. Let's jump to the reviews before you drive away for another golf game!
Callaway Hex Tour Soft Golf Ball Review In 2021
There are a variety of golf balls in the market, which makes it challenging to choose.  Callaway Hex Tour Soft Review takes into account all the features of the product.
| | | |
| --- | --- | --- |
| Features | Callaway HEX Soft | HEX Tour Soft |
| Cover | Ionomer | Surlyn |
| Number of Balls | 24 | 24 |
| Dimples | 332 | 332 |
| Construction | 2-Piece | 3-Piece |
| Forgiveness | Best | Best |
| Color | White | White |
| Manufacturer | Callaway | Callaway |
The best thing about buying golf balls from Callaway is their brand name. Golf balls from Callaway will never ditch you on the course. Though the price point of these balls is on the higher side, it is well worth it.
The main reason for picking the Callaway Hex Tour Soft balls is their versatility. It is arguably one of the best golf balls out there using the most advanced technology.
This Callaway Hex Tour Soft Golf Ball has found some exciting features in the product. The combination of distance and control in the ball can impress all golf fanatics. We are yet to see whether the golf ball stands on its promises or not.
Features and Benefits
When it comes to features, no other product can beat the Callaway golf balls. In this Costco hex tour soft review, you can get to know all about the fantastic features of the ball. Here are some of the features that you can expect from the Callaway Hex Tour Soft Golf ball:  
Suitable For All
If you've just begin with your golf journey, you will require more reliable and quality gear. If you're going to hit the green for the first time, look no beyond the Callaway Hex Tour balls. You must know that there are different balls for varied skill levels.
Professional golfers usually prefer golf balls with high compression. High compression balls provide better control over the greens. There are many players out there who also wish to use soft golf balls. It is perfectly natural for every player to adopt different styles and preferences.
Callaway hex tour soft specs suggest that the ball is apt for all skill levels. The ball consists of characteristics that let it cover more distance and also give more control. This control is crucial for chip shots, pitch shots, and ground shots.
Its resilient yet has a softcover, which makes it gain more velocity. It has all the characteristics that make it feasible to suit players of all experience levels.
High-quality, Long-lasting & Durable
If you're looking for a high-quality, durable, reliable, and long-lasting golf ball, this is it. If you want your golf ball to last for years to come, it should be resistant to wear and tear. Additionally, it should also exhibit a high-quality construction.
The sturdy and robust construction of the Callaway makes them last longer than its competitors. Callaway Hex Tour Soft golf ball employs Polybutadiene, which is a reliable and robust material. Also, be sure to read more about Callaway HEX Tour Soft vs Pro V1.
The material does not damage easily and is also resistant to lower temperatures. The quality of the ball is so exceptional that its performance is consistent for a prolonged period. If the ball losses its softness fast, it means that it isn't reliable or durable.
Softness and distance is the best feature of this ball from Callaway. It's hard to find a ball with 3-piece construction that is so soft and promises durability.
Soft Feel
Whether you are a golf beginner or a professional, you'll have certain expectations from your ball. A ball that is soft enough will be able to pass through vibration and waves at all times.
The Callaway Hex Tour Soft Golf Ball makes it possible by using unique technology. This technology results in a softer feel when you hit the ball. Let us tell you that not all the balls in the market are good at achieving this.
The Hex Tour Soft ball does not only have a soft feel, but it also has adequate resistance. The outer mantle layer of this Callaway ball has a soft feel. The Callaway Hex ball combats vibrations like a pro.
Flawless Engineering
The most important yet the best feature of this Callaway ball is its perfect engineering. The Callaway Hex Tour Soft Golf Ball cover has been designed after days of research. The curious thing about this ball is that it is soft and can also produce a stunning velocity.
It's engineering and design aims to enhance resilience. Resilience is a crucial factor for the ball to travel more speedily and achieve long distances. Besides, the high stability also lets the ball retain its shape and cut down air friction.
Why is reduced friction important? A reduced friction results in a faster and longer-traveling golf ball. More importantly, the cover also provides better control than other golf balls through the course.
The Callaway ball grabs the green ground firmly to slow down the ball and stop it at the right spot. You will require this control in chip and pitch shots through various landscapes. It helps and improves the golfer's performance.
The primary reason behind this specific cover design is to deliver more distance and offer more control. The right golf ball will have both these features. Most of the past users highly credit the engineering of this ball for their successful shots!
Optimum Control
All golfers expect to have some amount of control over their gears. A golf ball should be able to offer power to the players on the greens. In addition to longer distances and a higher velocity, the Callaway Hex Tour balls can also provide control.
These fantastic balls equip the right technology, core, and design, which results in greater control. The balls travel in an expected trajectory and only achieve the desired resistance.
Low Compression
It is no secret that a low compression ball can do wonders for your performance. With low compression, the golf balls can take up greater distances. Low compression balls are generally softer than high compression ones.
To our joy, the Callaway Hex Tour Soft Golf Balls have low compression. This low-compression helps the ball to attain a longer distance. However, you may not have enough control with a low compression ball.
In general, the high compression balls have higher control. Despite popular belief, some users claim that this ball possesses decent controlling abilities. The Callaway Hex Tour Golf balls strike the right balance between distance and control.
Travels in a Straight Trajectory
Are you wondering if the Callaway ball has a straight trajectory or not? The good news is, yes, it does travel in a straight path. Moreover, when it comes to golfing, weather becomes a prime determiner.
Strong and fast winds can change the ball's direction. As a considerable relief, the Callaway Hex Tour Soft Soft Balls can prevent that from happening. This Callaway ball takes the straight route while it's up in the air.
Higher resistance and a handful of other features make it possible for this golf ball to travel straight. It is also resilience that plays an essential role in helping the ball to fly straight. With this ball, you can stop hitting the ball in non-desirable directions! Also, be sure to read more about the straightest golf balls.
Travel a Longer Distance
A golf ball that can cover a long distance surely deserves to be apart of your golf arsenal. Most pro golfers claim that their secret to great shots is the golf balls. The golf ball's distance covering ability can make or break the whole experience.
The good news is that Callway takes significant measures to improve distancing in this golf ball. There are numerous factors and features in this Callaways ball, which enhances its distance.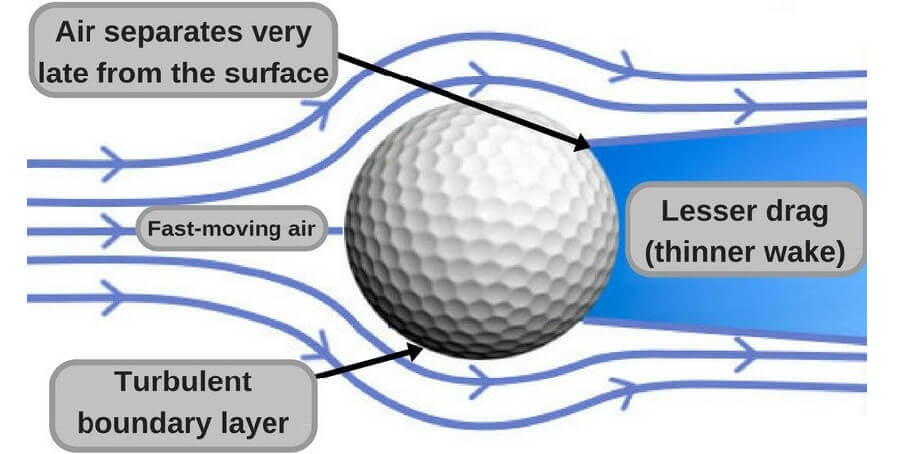 Firstly, there's the high-quality core composition. This technology has enhanced spin separation levels. What does longer distance mean? It means that you'll require fewer shots to make it to the hole.
Then, there's the low compression design that contributes to the farther distance. So, if you are looking for an all-rounder, the Callaway Hex Tour Soft Ball is it.
High-Velocity Abilities
If your golf ball does not offer a high velocity, get ready to be disappointed on the course. Thankfully, the Callaway HEX Tour Soft delivers excellent velocity. Besides, many of you are not aware, but the velocity also affects the distance.
With a high velocity, you may be able to hit an ace by using this Callaway golf ball. The high-quality of the ball cover produces a high resilience. This high resilience, in turn, makes it possible to deliver a high velocity.
Many golf fanatics swear by a thermoplastic urethane-covered golf ball. Not to mention, but the Callaway also uses the same material for outer covering. Furthermore, resilience helps to reduce friction in the golf ball. All these factors combine to allow more distance and strength to the golf ball.
Whether you are a newbie or a pro, we highly recommend buying golf balls with a velocity like this one.
Core Technology
These Callaway golf balls equip the best and most advanced technology in the market. It has a design that improves spin separation and helps the golfer to achieve longer shots.
No matter what the condition, this core technology allows, the golfer to give their best performance. We doubt there's any golfer who disagrees with straighter and longer golf ball capabilities.
The core content of the ball comprises polybutadiene plastic. This material is pretty strong and wears and tear-resistant. Since the ball does not wear off easily, it is more durable than its rivals.
The high elasticity of the core allows the ball to have low compressions and also be more flexible. This type of design enables the golf ball to travel further while it is up in the air. With this core technology, you can rest assured that the golf ball will serve you for years to come.
Golfers desire that their ball travels a longer distance while maintaining a straight trajectory. Both in the green and air, the golf ball should be well-performing. For this to happen, we recommend buyers look for a ball with lower compression.
Construction
The construction of the golf ball is one of its most imperative features. The hex tour soft review found that the product has a professional construction.  It has a 3-piece construction that has commendable control and durability.
Along with the Thermoplastic Polyurethane cover, the Hex has an aerodynamic design. The hex design pairs up 332 dimples so that the ball flies without facing much drag.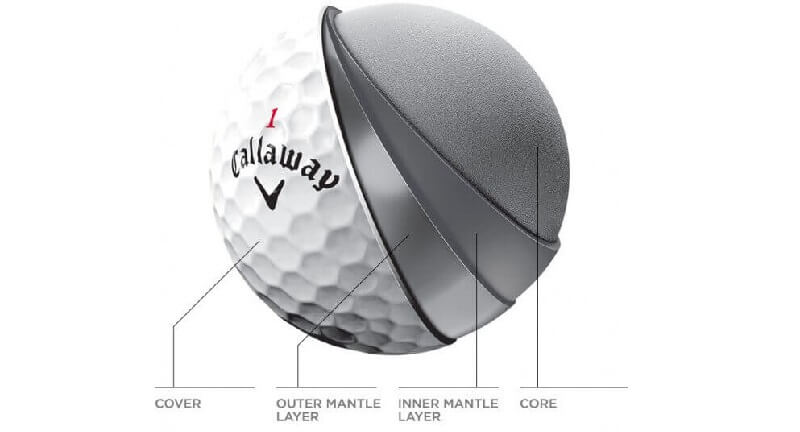 The soft Surlyn layer of the ball has a thickness of 0.042-inches. You're already aware that this Callaway ball uses Polybutadiene to enhance the overall strength of the ball.
Even with the roughest of encounters, the ball will not lose its shape or strength. Also, the construction of the ball makes it pretty responsive to the greens.
More Details About Costco Tour Soft
With so many features, the Callaway can undoubtedly do a great job on the greens. It can give you great control, despite having a soft feel. It travels a greater distance than the rest of the golf balls in the market.
The ball will stop and slows down at the desired spot. However, the control might not be as great as a high compression golf ball.
Pros
It can travel at a high-speed and cover a decent distance
This product is a durable, high-quality golf ball suitable for golfers of all skills
Callaway Hex Tour Soft has low compression and a soft feel
Cons
It has no other color variation other than white
The ball is a tad expensive
When it comes to golf balls, Callaway knows to do its job. Though the ball isn't exactly for the budget-conscious, it still has a lot to offer. The performance of the Callaway Hex Tour is very consistent. What's more, the ball is soft, can travel long distances, and allows a certain degree of control.
Buy Or Not to Buy?
Do you play on a slow swing speed? If that's the case, then you can consider buying this Callaway golf ball. Yes, the product is not exactly pocket-friendly, but it is a valuable investment if you're a golf fanatic. It's hard to find such products that come with so many features.
Check HEX Tour Soft Price On Amazon
---
Difference Between Callaway Hex Tour Soft and Hex Soft
Wish to find out the clear differences between the two products? Check out the table below to understand everything you need to know in a nutshell.
---
Callaway Hex Tour Soft Review: Buyer's Guide
In this Costco hex tour soft review, we've also gathered a buying guide just for you! If you are keen on improving your shots and enhances your golf skills, you'll also need the perfect ball. So, what does the ideal golf ball look like?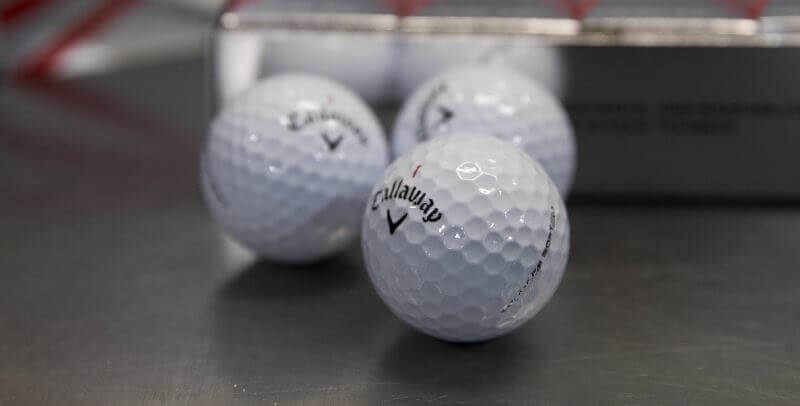 A golf ball can come with a multitude of features. It becomes easier to buy the golf ball once you are aware of all the features. Check out our detailed buying guide before you hit the stores!
Golf Ball Type
There are primarily three types of golf ball types – spin control, distance, and tour performance. To make the game effortless, some players try to hit the ball as far as they can. In this scene, the distance of the ball plays a significant role.
People looking to eliminate that big slice or hook should consider investing in a spin control ball. Tour performance balls are apt for golfers who are looking for a complete package.
Golf Ball Layer
Golf balls generally have two types of construction – two-piece and multi-layer. As the name suggests, the two-piece balls have a dual-layer. The multi-layer balls can have three, four, and even five different layers. Two-piece golf balls are suitable for mid handicapped players with slow-swing speeds, and beginners.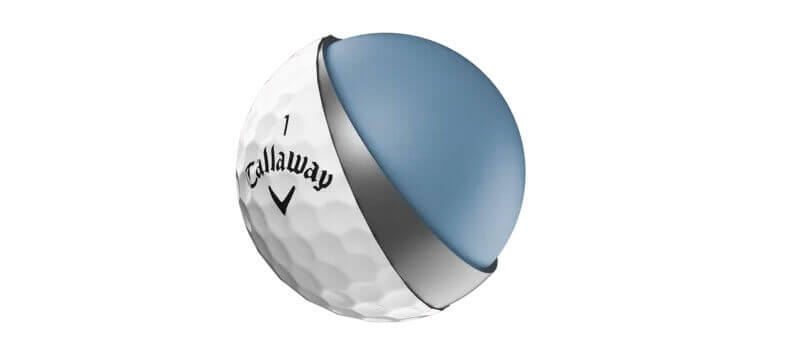 Multi-layer balls are apt for mid-to-low handicap golfers. Golfers with high swing speeds will find multi-layer balls to be more comfortable. Your fast swing speeds will activate every layer up to the core to offer more distance.
Golf Ball Cover
Generally, you'll find two types of golf ball covers – Surlyn and urethane. Surlyn is an isomer-type resin that is more common than urethane. This type of material is extremely scratch-resistant and durable.
Golf ball manufacturers have been using Surlyn since the 1960s. This material ensures maximum distance and efficient energy transfer. On the other hand, urethane is a softer material than Surlyn.
Urethane is great for more feedback and feel. However, urethane is not as durable ad Surlyn. Most high-end multi-layer golf balls equip this material as it generates more control and spin. This performance and feel are beneficial for highly skilled golfers.
Golf Ball Feel
Since picking the golf ball is so related mainly to personal preference, the feel has enormous importance. When it is about feel, the compression of the golf ball becomes very crucial. When you strike the ball with your clubs, it possibly deforms with that action.
This temporary shape change springs the golf balls forward when you hit them. Golf balls with lower compression deform more. This feature allows golfers with slower swing speeds to create a spring-like action to generate a better distance.
That's why balls with lower compression feel softer. On the other hand, balls with higher compression are not prone to easy deformation. These types of balls require harder and faster impact to deform.
Note that the current generation golf balls have a very different concept of compression rating.
Callaway Hex Tour Soft Golf Balls: FAQs
Many of you will still be having doubts regarding the ball's features and performance. It is better to clear out all your queries before you step ahead to buy the product.
In this Callaway hex tour soft Costco review, you can find some frequently asked questions. Hopefully, these answers will clear out any doubts you might be having regarding the product.
✅ How Far Can This Hex Tour Ball Travel?
Because of the Callaway Hex Tours' excellent construction, it can travel a tremendous amount of distance. It has a unique dimple pattern and a lightweight core.
The features of the Hex Tour come together to offer the ball more distance covering ability. With the Callaway Hex Tour, you can not only travel farther but also on a straight trajectory.
✅ Is Callaway Hex Tour Soft the Right Ball?
If your game style involves a slow-swing speed, the Callaway Hex Tour is the right option. It has a low compression that allows the ball to travel a farther distance. Whether you are an amateur, beginner, senior, you'll love to take this ball on the greens. It possesses all the essential features to amp up your golf games.
✅ Is the Callaway Hex Tour Tricky to Control?
According to popular belief, softballs are tricky to control. People generally regard balls with high compression to deliver more control. When it comes to the Callaway Hex Tour Golf Balls, it is not valid. This tour-quality ball is super easy to control on the greens.
✅ Where Are Callaway Balls Manufactured?
The Callaway Golf Balls are manufactured in Taiwan.
---
---
Conclusion
If you are someone with a slower swing speed, the Callaway HEX Tour Soft ball is your go-to option. It can increase the distance off the tee, and most importantly, it is durable. Players who struggle to achieve a good spin can get this golf ball.
These top-tier golf balls exhibit all the top-class features that a pro golfer desires. They have an enhanced and ultra-soft cover that delivers a positive experience. Along with the cover, the core technology also contributes to a farther distance.
The straight trajectory of this golf ball is the cherry on the top. We love the fact that the golf ball can complement multiple play styles and skill levels. All in all, we can conclude this Hex Tour Soft Golf Ball Review by claiming that this one is a show-stealer!
---
Related Posts
Last update on 2022-04-03 at 13:20 / Affiliate links / Images from Amazon Product Advertising API