Being an avid golfer, you would have thought about getting a precise rangefinder for your golf sessions. Rangefinders come in handy when you are aiming for a long shot and are not sure about doing the yard math on your own.
Being a team of professional golfers ourselves, we know the nitty-gritty of the rangefinders that are ideal for any golf session; therefore, we have shared a detailed Callaway 300 Pro Laser Rangefinder review to explain to you what is best to level up your game.
You might have heard about golf rangefinders from professionals too, so getting one of them has got to be a good investment in your game.
Callaway is not a new name for the majority as the company has amazing customer service and quality deliverance. In short, you will not find a better quality, cheaper price, and pinning accuracy in any other golf rangefinders as you would in their golf rangefinders.
So, we would say, just go for Callaway 300 Pro Laser Rangefinder and aim like a pro!
Callaway 300 Pro Laser Rangefinder Review
It is better to have a short overview before going for the eagle's view of the details. Therefore, we will be sharing the complete Callaway 300 Pro Laser Rangefinder with a slope measurement review to help you compare it with other golf rangefinders available in the market.
Being a tough contender, the Callaway 300 Pro Laser Rangefinder is equipped with a laser beam to judge the most accurate distance to the flagstick. So, it is considered more of an essential in a professional golfer's kit.
This means that getting a more precise and magnified result is only possible if you go for this sort of golf rangefinder. Therefore, it is worth diving in deeper and learning more about these golf rangefinders.
Related Post: Raythor Pro GEN S2 Laser Golf Rangefinder Review
The plus point here is that we have also compared the Callaway 300 Pro Laser Rangefinder vs Bushnell in this review because we know that you often compare the two.
A part of this Callaway 300 pro golf laser rangefinder review has talked about the pros and cons and some equally reasonable alternatives as well. Therefore, you will get a better idea of the rangefinders market upon reading the complete review. So, let's get started!
Breakdown of the Specs And Features
The Callaway 300 Pro Laser Rangefinder is equipped with all those features that a golfer would desire to be there in his golf rangefinder.
One thing to notice here is that all the features are aligned to make it easier for you to calculate the distance to the flagstick most accurately.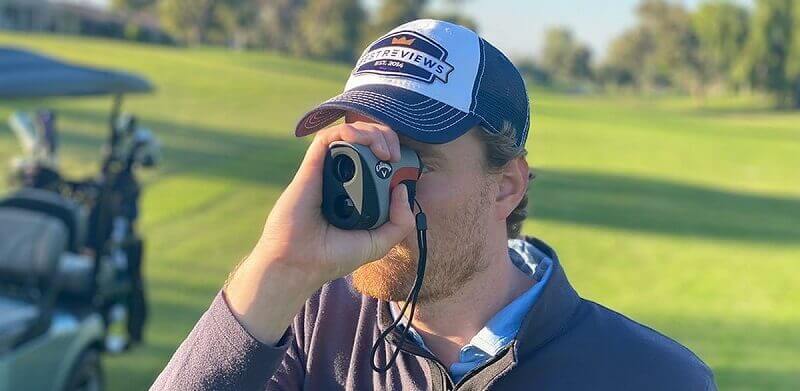 What's unique about Callaway 300 Pro Laser Golf Rangefinder is that it considers slopes and dips while measuring the distance to the hole. In this way, you get a more accurate estimate of the distance; thus, you get to make your best shot.
We understand that you want to know the in-depth analysis of all the features; that's why we have discussed them all in this section of our Callaway 300 pro golf rangefinder review.
Design
Having a size that can easily fit one's pocket, the Callaway 300 Pro is a lightweight rangefinder that can easily fit your pocket. Since it only weighs 7.5 ounces, we think it won't be much difficult for you to carry it.
With a magnahold (magnet) feature, this rangefinder has made it further easier to be carried. It has a strong magnet attached to its body, so you may fasten it on your cart's frame for quick access.
Overall, we think that the design is pretty satisfying because it has a plastic body that makes it quite durable against slips or damages.
Ease of Use
As far as we have observed, the Callaway 300 Pro Laser Rangefinder functionality is pretty simple to use for any newbie. There is a separate, clear LCD screen that shows you the distance in both yards and meters.
Related Post: Golf GPS vs Laser Rangefinder: What Should I Choose?
In addition, the device is packed with certain technological advancements that have made locating distance significantly easier. Therefore, we believe that overall, this rangefinder has a user-friendly interface.
Rain/Fog Resistant
What we liked about the Callaway 300 Pro Laser Rangefinder is that your game is never affected by the weather conditions. May it be fog or rain, this rangefinder gives you top-notch quality in every season. So, you can rest assured that you will be able to use it irrespective of the season.
Slope Technology
The slope technology is one of the most highlighted and talked about features of the Callaway 300 Pro Laser Rangefinder. This advancement is such that the rangefinder considers the geographic depressions and elevations while calculating the distance to the hole.
The good part is that you can turn off this feature manually when you are going for a tournament, so that makes this rangefinder legal for tournament play as well.
Pin Acquisition Technology
The Callaway 300 Pro Rangefinder comes with a Pin Acquisition Technology (PAT), so it incredibly locks the pin location. The cool thing is that you can lock multiple locations at a time, even if they are in green forests or near a pond.
There's also a birdie feature that makes a chirping sound once you lock the target in birdie.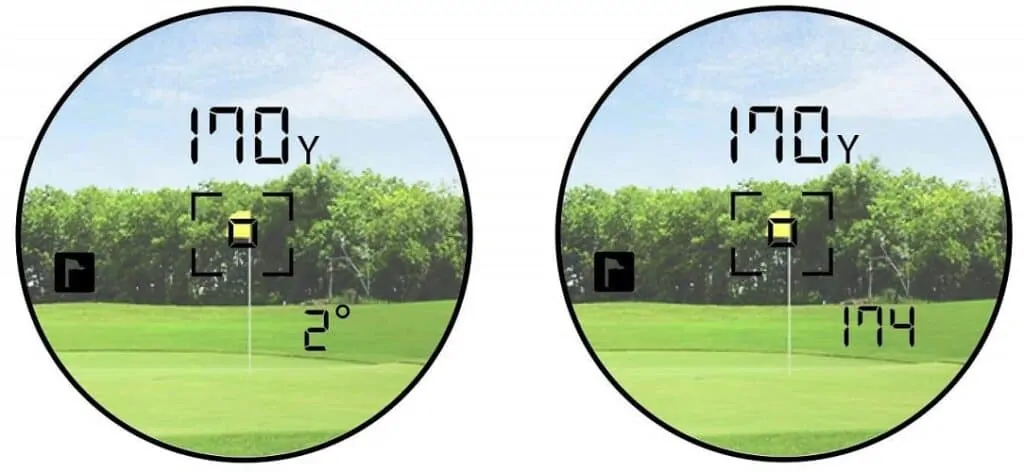 In addition to this, the device vibrates a little to give you a sign that the laser pin is locked which is quite helpful.
However, this feature has some shortcomings because it only lets you pin to lock the location up to 300 yards. So, you might face problems as a newbie golfer who completely depends upon a laser rangefinder to lock a pin.
6X Magnification
Giving six times magnified result, this rangefinder is great for aiming from 5-1000 yards with +/- 1-yard accuracy. The accuracy is mainly due to the laser that this rangefinder has for locating pins.
Although a 6x magnification is something great for a newbie and most of the other golfers, it might not do the job for a senior golfer.
Nevertheless, it is still pretty competitive among other rangefinders that you will find in the market.
Pricing
The Callaway 300 Pro Laser Rangefinder comes in at a very reasonable price if you compare it with the set of features that it is offering you.
In fact, this is one of those rangefinders that offer you a pro-level experience at a mid-range price. So, this is something which we think is pretty amazing.
To Conclude…
Going through our Callaway 300 Pro Rangefinder review, you would have had an idea of how you can rely on this gadget for your golf session.
We have observed that the features are pretty much justified and can make your golf experience worthwhile. So, it is worth the shot.
Related Post: Cheap Golf Rangefinders Under $100
Nevertheless, we have shared some refined pros and cons to give you a better idea of why we are thinking like that.
Pros
Highly precise PAT for locking targets quickly

Up to 6x magnification of the view
Cost-effective
Suitable for all weathers
The distance measurement is highly precise, with an accuracy of +/- 1 yard.
Cons
Callaway 300 Pro requires a steady hand as it may give inaccurate readings if you're shaky as a laser rangefinder. However, this is not an issue for the professional golfers among you.
We know that the features highlighted in this Callaway 300 Pro Rangefinder review are quite overwhelming. So, why don't you check its price at Amazon and buy this amazing rangefinder?
Some Alternatives to the Callaway 300 Pro 2021
It is understandable that you might be interested in buying some other rangefinder, or maybe Callaway is still too pricey for your budget as a newb. Therefore, we have shared some alternatives that you might think of going for if Callaway is not accessible:
1. TecTecTec Rangefinders with Stabilization + OLED
TecTecTec Series Golf Rangefinder with stabilization can be thought of as an alternative to the Callaway 300 Pro because it is known for the greater degree of accuracy that you get in Callaway.
In addition, this laser rangefinder also offers 6x magnification, so you can rest assured that you will have great golfing with this one too.
However, one issue here is that this rangefinder comes with a big price tag, unlike Callaway, so it won't satisfy the majority's budget unless they are willing to spend $250-300 on a rangefinder.
2. Precision Pro NX9 Laser Golf Rangefinder
Precision Pro NX9 Laser Golf Rangefinder is much like the Callaway 300 Pro Laser Rangefinder. Nevertheless, this rangefinder only covers 600 yards, unlike Callaway 300 Pro.
Nevertheless, since it has a lifetime battery replacement offer, you may think of it as a considerable option.
Apart from all that, you should remember that this one is one of those products that lie in the higher price range, so you can only think of this alternative if you have a bigger budget.
3. GoGoGo Sport Vpro Laser Rangefinder
GoGoGo Sport Vpro Laser Rangefinder is probably one of the cheapest options that you can find in the market. However, the other features are then compromised here.
Unlike the Callaway 300 Pro, this model does not support longer distances and has a maximum distance coverage of 650 yards.
Nevertheless, one thing to note here is that it is legal for tournaments because it comes with a slope switch button.
Also Read: Budget Golf Rangefinder With Slope
Buying Guide
Now, you have a better idea of what the market is offering and what features you are getting in the Callaway 300 Pro Laser Rangefinder. Therefore, we will be discussing a precise buying guide in this section of our Callaway 300 Pro Rangefinder review.
Design
Typically, the rangefinder that is handier is better. This means the ones that are compact and lightweight are better. In addition to these qualities, the ability to be resistant to weather changes like waterproofing makes a rangefinder more durable for long-term use.
Accuracy
By the rule of thumb, the greater the accuracy, the better rangefinder it will be. Having a 1-yard accuracy is quite reasonable; however, if you get a rangefinder that has a lesser margin for error, it is great as well.
But what you should remember is that accuracy is one factor; you need to consider aspects too when you are picking the right rangefinder.
Battery
Most of the rangefinders are battery-operated. You might think that this is a shortcoming if you have to recharge or replace your rangefinder's battery. However, batteries are available at stores pretty easily, so getting and replacing them is also not a big deal.
Scan Speed
There is a short duration that your rangefinder takes to lock the target. It is pretty understandable that the ones with a shorter scanning time would be more efficient as they let you save time.
However, keep this scanning speed in mind when you have multiple options available, and you have to choose the most suitable one for your game.
Price
Price is basically a factor that everyone is concerned about. At times the quality deteriorates with the price, so going for the cheapest option in the market might not be the best thing you can do.
Therefore, you should go for those mid-ranged options and come with better features as well because we have seen that the mid-ranged ones are usually more reasonable and have better quality.
---
---
Frequently Asked Questions (FAQs)
We know that even after knowing the nitty-gritty of the Callaway 300 Pro Laser Rangefinder with slope measurement review, you would still have some questions in your mind. Therefore, we have shared the answers for the most common ones below.
Who Makes Callaway Rangefinders?
Callaway is a golf company based in Chicago and has been known for making golf kits and gadgets for more than a century. The company began producing its products back in 1876, so it has a big name by now. Along with the various golf equipment, the company masters in making rangefinders too.
How Does It Work with Eyeglasses?
There are no known issues when the Callaway 300 pro rangefinder is used with eyeglasses on. So, we can say that they work perfectly fine with glasses.
How Do You Change the Scale from Meter to Yards?
If you wish to change the scale from meter to yards or vice versa, the procedure is pretty simple. You are supposed to switch on the rangefinder by pressing the power button.
Once it is powered on, press the mode button that is denoted by M on your rangefinder.
Once done so, you will find two options, "Y" and "M," on the top right side of the screen. From there, you can choose the Y option to convert the scale to yards and vice versa.
How Long Does the Battery Last?
Callaway 300 Pro Laser Rangefinder comes with a replaceable CR2 3-Volt Lithium battery which is an excellent battery that can last for years. However, it is advisable that you change it every year if you use it more often.
Does the Callaway 300 Pro Come with Batteries?
Callaway 300 Pro comes with a replaceable battery.
Conclusion
Going through every detail regarding the Callaway 300 Pro, we can say that this is probably the best rangefinder in this range.
People like comparing Callaway 300 Pro Rangefinder vs. Bushnell, as Bushnell has a big name too. Well, for that, we would say that Callaway has every feature aligned in a way that sets it apart from most of the rangefinders that are available.
In addition, it has a more active customer service that proves it to be the best one you can get.
We understand that you might have a different take on our Callaway 300 Pro Rangefinder review, and we would love to know that. So, feel free to share your thoughts in the comments section below!
---
Related Posts
Last update on 2022-04-03 at 13:20 / Affiliate links / Images from Amazon Product Advertising API