If you are a passionate golf enthusiast, you would not need anyone to tell you how frustrating it can be to miss a shot just by a few yards. 
You would also know that even if you strike the golf ball with all your might, there is a certain calculation behind it that determines whether your shot will be a hit or miss. Therefore, it is vital to have a clear idea about the distance between your target and the point where you stand.
But how will you do that without squinting your eyes while trying to look into the distance? Have you considered purchasing a Raythor rangefinder?
If you have, bingo! You are in the right place! Because in this Raythor golf rangefinder review, you will find out everything there is to know about these rangefinders. 
Related Post: Top Golf Rangefinders Under $300
So, without further ado, let's get started!
Raythor Pro GEN S2 Tournament Legal Rangefinder
Mass producing a wide variety of rangefinders is one thing. However, manufacturing a high-quality rangefinder ergonomically designed to satisfy every expectation of the golfer is a whole different ball game.
However, this is exactly what you will find with Raythor Pro GEN S2 Tournament Legal Golf Rangefinder and this Raythor Pro Gen S2 Golf Rangefinder Review. So keep reading!
| | |
| --- | --- |
| Distance Range | 5-1000Y |
| Magnification | 6X |
| Pinseeker Range | 180 yards |
| Flag-lock | 300 yards |
| Slope On/Off | ✓ |
| Physical Slope Switch | ✓ |
| Field of view | 7 degree |
| Objective Lens | 25mm |
| Eyepiece lens | 16mm |
| Laser Type | 905nm (safe to eyes) |
| Lens Coatings | Fully Multi Coated |
| Measuring Time | 0.5-3 Seconds |
| Angle Measure | ±45° |
| Battery | Rechargeable Battery |
| Size | 4.3*1.5*2.8 inches |
| Weight | 0.38 pound |
Immense Accuracy
The true cream of the crop lies with this product's accuracy levels and pin seeker with pulse vibration technology. 
As a pro golfer, you will know that every yard matters when you are out on the field. That's why the Raythor Pro GEN S2 narrows your vision and brings it down to ± 0.1 yards.
However, you also have the freedom to adjust the range and set it between 5 to 1000 yards. Additionally, you can also set it 400-plus yards to the flag. This way, you can easily make your shot with the utmost confidence in your skills!
Moreover, with the Raythor Pro GEN S2 rangefinder, you will have two major modes for golfing. 
Mode 1 will help you effortlessly scan through the field to give you a clear vision of all objects in the golf course. And the best part? You can even scan through potential obstacles like traps and trees. This way, you will know how to work your way around them. 
Meanwhile, mode 2 exists to help you get clarity on what lies ahead of you at different distances in the field.
Pin Seeker and Vibration Technology
In addition to this, the Raythor Pro GEN S2 also helps elevate your game to a professional level, thanks to the advanced pin seeker feature. A  buzzing pulse vibration technology that alerts you whenever you have locked on to bag a victory.
Compact Size and Lightweight
I really dig the Raythor Pro GEN S2 because it comes in a really convenient size. So, as far as I'm concerned, this rangefinder fits like a glove in hand. 
Moreover, it is also very lightweight, so it does not drag your hand down. Besides, no one wants to be lugging around a huge rangefinder all day long.
Furthermore, it comes with a smooth ergonomic finish; you can now have a worry-free golfing experience!
Stellar Magnification
Additionally, it also comes with a 6x magnification feature that gives your clean, bright images, thanks to the high-quality LCD screen. Sure, 6x magnification might not seem all that fancy at first, but you will be mind blow when it makes you a patriot in the field!
Moreover, the Raythor Pro GEN S2 also makes the task of flag acquisition easy as a breeze! So, if you need a good upper hand to help you.
Related Post: Bozily Golf Rangefinder Review
Overall, I would highly recommend the Raythor Pro GEN S2 to anyone who needs a good upper hand to help you work out the exact yardage distance with perfect clarity. Moreover, it comes at an affordable price, making it ideal if you are shopping on a tight budget.
Pros
Comes with excellent accuracy
Has a powerful in-built 6x magnification
Comes with the pulse vibration feature
Rechargeable battery for added convenience
Rechargeable battery
Ergonomic design for maximum comfort
Cons
The display could use be improved 
Yes, this near-to-perfect does have some disadvantages, but there is no doubt that the pros outweigh the cons making Raythor Pro GEN S2 a worthy investment. So, if you are interested in purchasing this product, make sure to check out their price on Amazon!
Raythor 6X Rechargeable Slope Laser Rangefinder
If you are looking for a high-quality rangefinder with in-built technology to see long distances with superb clarity, you can read this Raythor 6x golf rangefinder review. You can be sure to get this with utmost confidence as this will not fail you.
Target Acquisition Technology 
As a pro-golfer, you might be all too familiar with the struggle of finding the perfect yardage next to the desired location. Without accurate yardage, you will find yourself squinting your eyes, trying to find your target. 
That is why the Raythor Golf Rangefinder, 6X Rechargeable Laser Range Finder utilizes the target acquisition system to help you focus on the perfect target right next to the flag and not behind it. 
In addition to this, the continuous scan functionality helps you focus on multiple targets all at once. This way, you will have more confidence in your game and eliminate all possible swing mistakes.  
Slope Adjustment Technology
Furthermore, the Raythor Golf Rangefinder, 6X Rechargeable Laser Range Finder uses the hi-tech Slope Adjustment Technology to help you choose the perfect club based on the incline or decline of the hole. Moreover, this rangefinder is also perfect for carrying to your tournament golf games.
To make this easier, this technology also comes with three distinct modes. 
While the first mode allows you to scan and determine the distance between you and the target, mode 2 has features like more distance adjustment features, target angle, and more to get accurate distance values. 
When paired with mode three, which gives you amazing speed, you will never have to second-guess your shots again!
Pin Sensor Technology and Rechargeable Battery
In order to score the best points at a golf game, you need to consider every measurement.
However, the Raythor Golf Rangefinder, 6X Rechargeable Laser Range Finder, offers accurate measurements up to 0.1-yard accuracy. When combined with the Pinsensor technology, you can easily measure great distances while overlapping obstacles, wooded areas, hazards, and so on. 
Related Post: Best Budget Golf Rangefinders Under $100
In addition to this, the range finder is also equipped with a powerful rechargeable lithium battery carrying 3.7V/900mah. Moreover, it also comes with a micro USB cable which you can charge with most electronic devices. 
That makes it extremely convenient as you won't have to keep changing the batteries frequently. What's better than saving both your time and money!
Pros
The product has good worth for the value
It is made of high-quality materials
It is powerfully packed with features
It provides top-notch performance
Perfect for professional golfers
Cons
Beginners might find it a little complicated
With this list of positives and negatives, you can see that the pros outrank the cons. Undoubtedly, the Raythor Golf Rangefinder, 6X Rechargeable Laser Range Finder will give you the trust you need to master your game! So, make sure to check the price on Amazon today!
Raythor Pro GEN S2 Laser Rangefinder (Golf, Hunting)
In order to become a good golfer, you will need to master basic and advanced golfing techniques with premium clubs. However, to score more points, you will somehow need to analyze the distance to make efficient progress in the game.
And what better tool to use than the Raythor Pro GEN S2 Laser Rangefinder that can get you the perfect target by analyzing the slope! So read this Raythor pro gen s2 review to see if it is a good fit for you!
Slope On/Off Technology
The highlight feature of the Raythor Pro GEN S2 Laser Rangefinder is that it makes use of the impressive Slope On/Off Technology.
With this, you will get a perfectly adjusted distance by analyzing the target hole's incline or decline. That, in turn, will help you choose the right club to shoot your shot.
In addition to this, the physical slope gives you the freedom you need to turn the feature on and off. This way, if there is any golf tournament that has restrictions, you can simply turn it off and level up on your game.
Pin Sensor with Pulse Vibration
One of the most frustrating things to deal with on the field is when you cannot get accurate yardage to your desired location. 
However, with the pin sensor and pulse vibration feature of the Raythor Pro GEN S2 Laser Rangefinder, you can now get the perfect yardage without measuring the obstacles near the target.
Moreover, you will also have a short vibration to give you a heads up once you have successfully measured the distance between you and your target location. This way, you can  
Continuous Scan and Long Battery Life 
Picture this: You have gotten yourself a decent rangefinder for unbelievably low prices at a store, and now you are on the golfing field. Just a few minutes in, and the battery dies leaving you lost. Does this situation sound familiar to you?
Lucky for you, this is a problem you don't have to worry about with the Raythor Pro GEN S2 Laser Rangefinder. Thanks to the premium rechargeable battery, you can now effortlessly play ten rounds of golf games (or maybe even more)!
In addition to this, it also comes with an efficient micro USB cable that you can use anywhere to recharge your device. 
And as for the continuous scan feature, you will be able to get accurate measurements for various targets without having to stress your eyes too much.
Pros
Compact, stylish design
It is lightweight
Comes packed with great features
Very easy to use
Comes with an efficient rechargeable battery that gives backup when needed
Great value for money
Cons
The scan mode could have been made more accurate
The best part about the Raythor Pro GEN S2 Laser Rangefinder is that it comes packed with all the right features you need to up your game. You can use them based on what your needs and requirements are. So what are you waiting for? Visit Amazon today to check out its price!
Side by Side Comparison
Raythor Pro GEN S2 Laser Rangefinder for Golf &...
Raythor Pro GEN S2 Tournament Legal Golf...
Raythor Golf Rangefinder, 6X Rechargeable Laser...
Raythor Pro GEN S2 Laser Rangefinder for Golf &...
Raythor Pro GEN S2 Tournament Legal Golf...
Raythor Golf Rangefinder, 6X Rechargeable Laser...
Alternatives to Raythor Rangefinder
If, for some reason, you would like to look for brands outside Raythor, don't worry! I have listed three other products below to give you more options to choose from. So, read on!
Callaway 300 Pro Slope Laser Golf Rangefinder
If you look at the current market today, you will know that a good majority of golf manufacturers claim to make high-quality rangefinders but do the exact opposite. 
However, Callaway is a brand that has upped the ante to make stunning rangefinders.
While it comes packed with features like long-range vision, Pin Acquisition Technology, slope-measuring technology, and more, it still comes with a high price point. 
But is it worth the amount? Yes, absolutely! 
If you would to invest in a rangefinder with excellent hunting scopes, make sure to add the Callaway Laser Golf Rangefinder to your cart. Sure it may cost a few extra bucks than most rangefinders, but with features that keep you at the top of your game, this product is definitely worth it.
Blue Tees Golf S2 Pro Slope Laser Rangefinder
Last but not least, I bring you the Blue Tees Golf Series 2 Pro Slope Laser Rangefinder. 
It is true that premium, high-quality rangefinders are expensive enough to break your bank. However, this is the kind of investment that will go a long way, without any issues.
With the Blue Tees Golf Series 2 Pro Slope Laser Rangefinder, you will be getting easy usability, various user modes, unmatched yard range accuracy, and so on. 
However, the main highlight here is an HD display that is completely resistant to water. Rain or shine, you can always stay at your best with this rangefinder!
Related Post: Blue Tees Golf Series 2 Pro Slope Laser Rangefinder
Is the cost for the Blue Tees Golf Series 2 Pro Slope Laser Rangefinder a premium price to pay? Yes. But does it offer the same level of high-quality features? Absolutely!
Gogogo Laser Rangefinder 6X for Golf & Hunting
What makes the Gogogo Sport Vpro Laser Rangefinder the best alternative for Raythor rangefinders is its impressive yardage accuracy and outstanding value. However, this product also features fantastic features like quick scan measurement, a 6x magnification lens, and a flagpole vibration locking mechanism.
In addition to this, it also features the slope calibrating function that will allow you to find precise yardage measurements regardless of the bumps and other elevations on the field.
For instance, let's assume you are on a 150-yard marker. But the problem is that the pin lies downhill. That is where the Gogogo Sport Vpro Laser Rangefinder comes to the rescue! 
This device does an excellent job of calculating the distance between you and the target, even with different elevations. This way, you will have an idea of which club to play with to score more points!
So if you are looking for a rangefinder that is pocket-friendly and offers high-quality accuracy, the Gogogo Sport Vpro Laser Rangefinder is a must-have.
What to Look for While Buying a Quality Rangefinder?
As mentioned earlier, there are tons and tons of products available on today's market. And as seen from the products mentioned above, you may have already understood that rangefinders are not an affordable expense.
And much like all other products, there is a good side and bad side to this. 
Here's the bad side. Half the products that come at "unbelievably low prices" are made of poor quality. So if it seems like a deal that sounds too good to be true, it probably is. 
But here's the good side, if you are well aware of what factors you need to look for while buying a rangefinder, you will easily spot the real products from the fake ones. 
And that is why I have included this section to give you a good understanding of how you can find the best product based on the following features.
So, let's dive in!
Accuracy
The main reason why both pro and beginner golfers use rangefinders is to get accurate yard measurements to help you score more points. 
So when you are searching to buy a good rangefinder, make sure to purchase one that will give you precise yardage measurements between you and the target location. Make sure also to test out its accuracy to make sure all the readings are right.
Slope
The slope function is yet another key feature of a quality rangefinder, following accuracy.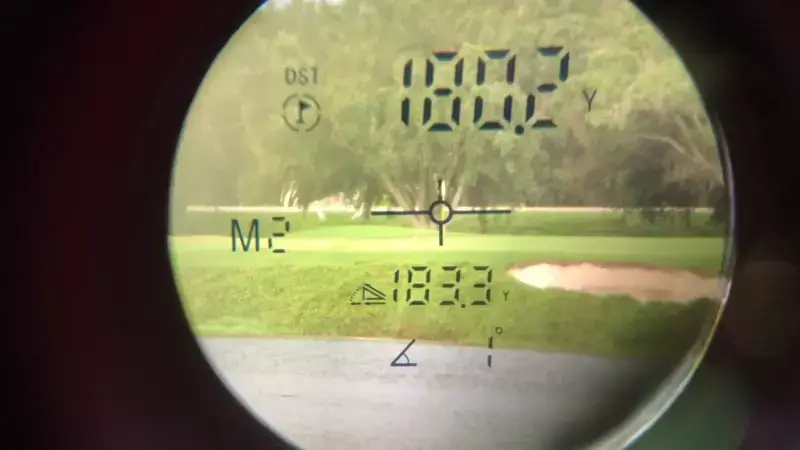 Suppose you have ever played golf before; you would know that the elevation in the field has quite a lot of bumps. That is why most pro golfers prefer having a slop function that can show you proper measurements extending to 150 yards.
Moreover, as an advanced golfer, you also know that you need to have the most precise measurements to shoot your shot.
Optical Range
Let me ask you a simple question. What do you use a binocular for? To see things far away with maximum clarity. The same logic applies to rangefinders. 
You will need a good rangefinder that has a magnification power of up to 6x. Besides, the more the magnification power, the more clarity you will get to make that perfect shot.
The good thing is that most rangefinders on the market today will give you a magnification of over 1,000 yards with a good distance of over 450 yards.
Battery Power
Binoculars work without batteries. However, rangefinders need to be powered on by batteries. 
Thankfully, most rangefinders make use of rechargeable batteries that will help you charge even on the go. 
In addition to this, rangefinders also do not use a huge chunk of power while getting you accurate measurements. Therefore, you can be sure that your device's batteries can last up to 10 rounds or maybe even more before they need recharging.
Speed of Scanning
If you are not sure what scan speed is, let me elaborate a little. In simple terms, this is the time taken by your rangefinder to lock into its target location. Most rangefinders from high-end brands (like the products mentioned in this Raythor golf rangefinder review) come with quick scan speeds.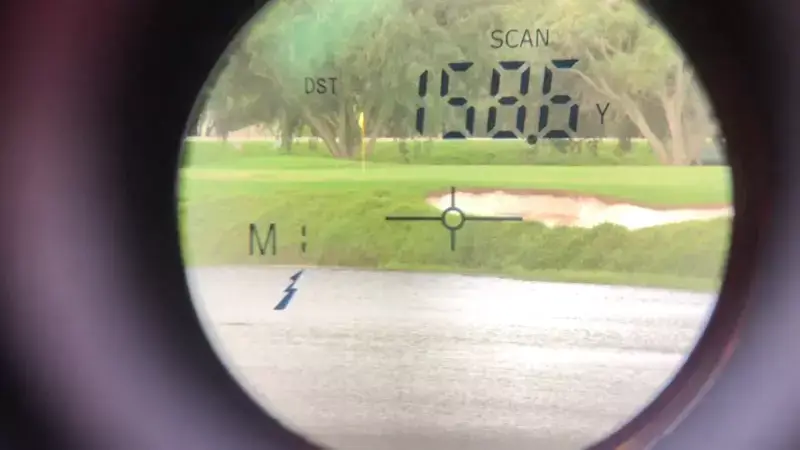 Waterproof
Needless to say, all the best rangefinders available today come with a waterproof coating that makes them safe to use even in the harshest of rains. 
Rain or shine, it is absolutely vital that your rangefinder is waterproof. The reason being moisture can seep in and affect the internal components, thereby rending the rangefinder useless.
---
---
Who makes Raythor Rangefinder?
All the products mentioned in this Raythor golf rangefinder review are manufactured by Raythor Tech Co., Ltd, a trade-integrated business and industry.
Is Raythor a good range finder?
Yes, absolutely! In fact, in my Raythor 6x golf rangefinder review, I found that the model was great for covering both straight and slope devices. All measurements were extremely accurate and down to the T.
Moreover, the accuracy of the pin/flag locking was also quite shocking.
How do you hold a golf rangefinder steady?
Holding a rangefinder can be nerve-racking if you are a beginner golfer, especially if you have shaky hands. However, let me make this as easy as 1-2-3.
Find your target on the field, and aim your rangefinder directly at the desired target location. Next, activate your device to get the perfect yardage measurements!
How long is the battery last? Do I need to replace the battery?
Raythor's rangefinders usually come with a lithium battery that you can recharge to use over and over again. When the device is fully charged, you can expect it to perform for at least 2 hours of gameplay.
However, after this, you might have to find the nearest micro USB cable to recharge it once again.
Is this rangefinder rainproof, waterproof?
As per the Raythor 6x golf rangefinder review, this model comes with three types of protection: waterproof, shockproof, and dustproof.
 
It safeguards the device from nasty impacts and other splashes.
Conclusion
Whether an amateur golfer or an advanced one, everyone can benefit from having a rangefinder as their best friend while playing golf. Not only does it help in providing accurate yardage measurements, but it also easily shaves off 10 minutes by giving you all the information you need in seconds. 
And that's why I have done my best to help you understand all the features of Raythor's rangefinders in this Raythor golf rangefinder review. So I hope to have given you an in-depth idea with this post and helped you arrive at a conclusion on which model you purchase to up your ante at the next game. 
What's your take on rangefinders? Do you think they are an absolute necessity for golfers? Feel free to share your opinion in the comments below!
---
Related Posts
Last update on 2022-04-03 at 13:20 / Affiliate links / Images from Amazon Product Advertising API