Rangefinders come in handy in multiple situations. Although many golfers can enjoy the advantages that these tools provide, having shaky hands makes it all more complicated. However, today is your lucky day if you're part of this club.
Today, we'll be reviewing the 5 best golf rangefinder for shaky hands you can find in today's market.
It's normal for people to have shaky hands as they age. However, this becomes a huge problem for golf players, preventing them from having their distance measured with precision.
Therefore, these golfers can enjoy several benefits from the best golf rangefinder with stabilization. 
5 Best Golf Rangefinders for Shaky Hands In 2022
As technology is advancing more and more every day, now players with unsteady hands can still have great performance despite this drawback.
Related Post: 7 Best Golf Rangefinders Under $300: [#1 Is Awesome]
Rangefinders can now measure distances with better precision while taking into account other factors, such as the slope, even if a shaky-handed player is holding them.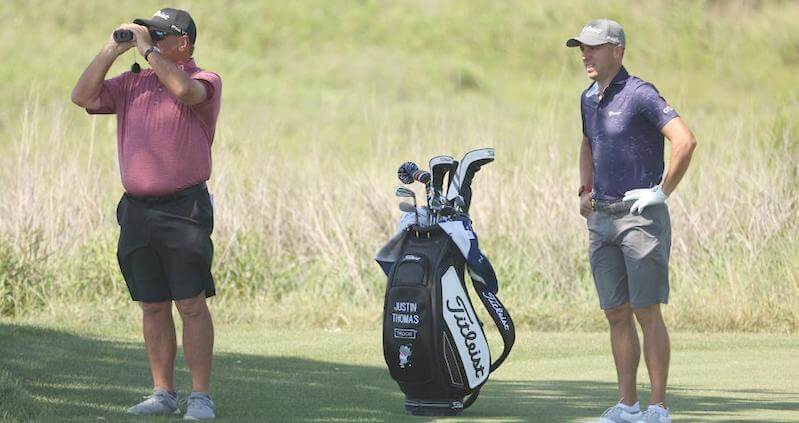 Therefore, if you're struggling to find a modern rangefinder that's suitable for your unsteady hands, you've come to the right place. Here we have some of the best golf rangefinders for shaky hands you can add to your kit.
---
1. Nikon Coolshot Pro Stabilized Golf Rangefinder
Nikon has been providing high-quality products for quite a long time. So, one of their approaches to rangefinders falls into the same category as well.
If you're a person that struggles with shaky hands while using your traditional rangefinder, perhaps this device can help you improve your performance in little time.
Everything about this product looks exceptional, from the finish to the features. The case provides you with enough sturdiness for it to be durable for a considerable amount of time.
However, it continues providing you with more durability thanks to its water and corrosion resistance. Hence, it should work best with golfers that often play while it's raining.
This device has multiple features that make it a good purchase, especially for veterans. Among the many elements, we can mention the OLED display, which features a red color that makes it easier to read than the traditional green that most rangefinders include.
Furthermore, this rangefinder is also known due to the exceptional stabilization technology it has integrated. Therefore, you can expect more accurate measurements even if your hands tend to shake like crazy while you're playing.
It includes an OLED display in red color. Thus, it is easier to read in the greenery.
It provides the user with accurate measurements.
Thanks to its stabilization technology, you will be able to receive the most precise measurements compared to other options.
You can choose to deactivate the slop easily by pressing a button. It may sound like cheating during official tournaments, but you should be fine as long as you keep it off during official matches.
It includes a few extra accessories that you may find useful, such as the extra battery.
Pros
It was chosen as the Best Rangefinder in late 2018.
It's capable of providing instant, accurate feedback.
It's more rugged than most of the options listed in this article.
Cons
It's extremely expensive.
---
2. Bushnell Golf Tour V5 Rangefinder
Pinseeker improvements have been being introduced to the market since a few years ago. This time, it is Bushnell's turn to see what they can do, and they are doing it exceptionally fine.
The Bushnell Golf Tour V5 Rangefinder introduces several new elements and updates for older features. It is comparable to the Nikon Coolshot Pro Stabilized Golf Rangefinder.
This device has come a long way since its early versions. Now, it includes an improved version of the JOLT technology, which first appeared in the V3. Besides the functional improvements, it also looks more compact and sturdier than its previous versions.
The combination between pin seeker and JOLT technology will make every player with shaky hands fallen love with this rangefinder. It is capable of providing precise details immediately after you've locked it on a target. As a leader in today's market, you can't expect less of it. 
Of course, it has its drawbacks, but it's a 100% legal tool that you will be able to use at all times.
It can work exceptionally well with beginners and professionals, but the JOLT technology really takes the spotlight here, granting it a position among the best golf rangefinders with stabilization.
It offers precise numbers with an extremely reduced margin of error.
It has a sturdy, rainproof case that makes it perfect for those that like playing in the rain.
It lets the user know that the device has located and is continually tacking a target via small vibrations. Hence, it is the best device you can choose if what you're looking for is feedback.
The JOLT technology that has been present since the V3 of the Bushnell Tour Rangefinders has been enhanced greatly.
Pros
It provides immediate feedback.
Its case makes it extremely easy to grasp.
It combines many features, such as the pin seeker and JOLT, that make it perfect for golfers of all levels.
Cons
It's only available for U.S. residents at the moment.
---
3. Garmin Approach Z82 GPS Laser Rangefinder
If you're trying to find the best golf laser rangefinder for shaky hands, we're pretty sure that the Garmin Approach Z82 will grant you exactly what you need.
It's one of the new products by the brand Garmin. It's also one of the most accurate rangefinders you will find in the market, as it will mark exact distances within a 450-yd range. It is certainly a strong contender if you're trying to find the best golf rangefinder for shaky hands.
Besides working as a rangefinder, it also contains a G.P.S. Therefore, you'd be getting two devices for the price of one, which at the same time makes it easier to read the distances displayed. Shaky-handed golfers will find this combination extremely helpful. 
This device has an OLED display that makes it less challenging to read the information it shows. The colors have been enhanced, and now the targes are easier to spot. However, this is just one of the features that have been enhanced.
The ranging function has also been improved. This way, now you can easily reach the flag with a laser.  Therefore, this device excels at differentiating the flag from every other object present in the green.
Related Post: Golf GPS vs Laser Rangefinder: What Should I Choose?
When the ranging function hits the flag, the Garmin Approach Z82 will produce a "buzz," and the display will "blink" most information.
The combination between the G.P.S. and the flag finder is an excellent addition to this unit. We can say it is a strong competitor for the title of the best rangefinder for shaky hands. You can choose solely for these features. This innovation makes it an excellent contender in this list.
It combines a G.P.S. and a rangefinder in the same device. 
It has over 40K+ preloaded courses not only from the U.S.A. but worldwide. The device will display accurate information about the distance and other elements that you may find useful.
The laser and internal system have received notable upgrades. The device can determine the distance between your current position and the flag from 10 inches and up to 450 yards.
Thanks to the OLED display, you'll be able to see the target easily.
The ranging function contains notable improvements compared to other models listed. Therefore, reaching the flag with the laser is now a more intuitive process.
Pros
It's legal in tournaments

It grants you free access to the Garmin App

The OLED display makes it easy to know the information you need
It displays enough information for you to be sure that its measurements are accurate

It has a modern design that makes it easy to grab, making it excellent for players with shaky hands
Cons
It's more expensive than most of the options listed
Its battery life could be better
It doesn't have a high range as the competitors
---
4. TecTecTec ULT-S Stabilization Golf Rangefinder
This market has been introducing several new devices that are more precise and intuitive each time. If you think you'll have to pay an expensive price to get a premium-quality product, you're wrong.
The TecTecTec ULT series compiles everything you need in the best golf rangefinder for unsteady hands.
The most popular option in this series is the TecTecTec ULT-X due to its affordability. It contains enough features for it to be comparable with premium options, such as an extra CR2-3V battery. 
However, the ULT-X option comes with the basic features and doesn't provide enough stability for someone with shaky hands. Since that's this article's main demographic, you'll be glad to know that the ULT-S and ULT-S PRO devices actually come with a stabilization feature.
Each model introduces a new feature:
The normal model, ULT-X, comes with basic accessories and features.
The ULT-S incorporates the stabilization aspect. This feature makes it the best golf rangefinder with stabilization on this list.
However, if you'd like something even better, perhaps you'd like the ULT-S PRO. This model not only comes with the stabilization feature but also adds an OLED display that allows you to see everything more accurately.
Besides what's mentioned above, there are little differences between each model. Also, while all of them have different distance capacities, each improvement adds more to your comfort, making them suitable for a person with unsteady hands.
As for the distances, here's how they work:
TecTecTec ULT-X – From 0.3 to 300 yards.
TecTecTec ULT-S – From 0.5 yards to 600 yards.
TecTecTec ULT-S PRO – From 1 yard to 1,000 yards.
It has an ergonomic, compact presentation. Each device is small enough to fit your hand, but the display is clear enough for you to see all the information clearly. It weighs 0.46lbs.
Although this device doesn't have the best performance of all the products listed in this article, we can say that it's a good choice if you often struggle with shaky hands.
It has a compact presentation that makes it quite easy to carry around.
It includes clean, legible graphics that make it rather uncomplicated to understand.
The upgraded versions come with image stabilization. The "PRO" version comes with an OLED display. So, it is even less challenging to understand.
Pros
It's compact, lightweight, and easy to carry. 

Its clear graphics are enhanced even further if you choose the OLED model.
The "quick start" guide will help you get to know each function this device contains in little time.
If you're willing to spend a few extra bucks, it has excellent image stabilization in the latter models.
Cons
Its performance leaves a lot to be desired.
You can find better rangefinders for about the same price.
You may get different distances every time you use its main mode. However, the "press" and "hold" methods can help you achieve precise measurements from the first try. It may not be the best thing to offer in such an expensive rangefinder.
---
5. Callaway 400s Golf Laser Rangefinder
It can be a bit challenging to compile all the features that golfers look for in the best golf rangefinder for unsteady hands. 
Imagine if the device had a nice slope feature that allows you to know the slope's effect on the distance. What if all of this was available in a single product?
Then, if you're looking for a rangefinder that's both intuitive and easy to use, perhaps you should go with the Callaway Laser Golf Rangefinder.
If you've used rangefinders before, the Callaway Laser Golf Rangefinder will feel different than all of them from the first use. Not only will it provide you with precise scanning, but it will also be capable of giving you such accurate results with slight shaking. 
It includes Pin Acquisition Technology.
It has a slope function, which you can turn off during official tournaments.
As for the birdie technology, it will produce a "notification" sound when the target has been identified.
It is extremely resistant to water and fog.
It is equipped with a precise yard range that goes from 5 to 1000.
It's a good product for everyone: average players, novices, and pros.
Pros
It's resistant to water and fog.

It is available within an affordable price range.
It comes with P.A.T. and other essential elements (slow, birdie technology) in the same product.
It's very easy to use and comes with intuitive features. Hence, provides a quicker response to experts while it remains easy to read for beginners.
Cons
It doesn't contain image stabilization.
The plastic case may feel too fragile and cheap.
Other devices may feel more "rugged".
Related Post: Callaway 300 Pro Laser Rangefinder Review: 1000 Yds
---
Best Stabilization Golf Rangefinder: Buying Guide
What aspects should you take into account while buying a new rangefinder to improve your game? As it happens with everyday items, golf technology is constantly advancing and devices that were considered top-notch yesterday are obsolete today.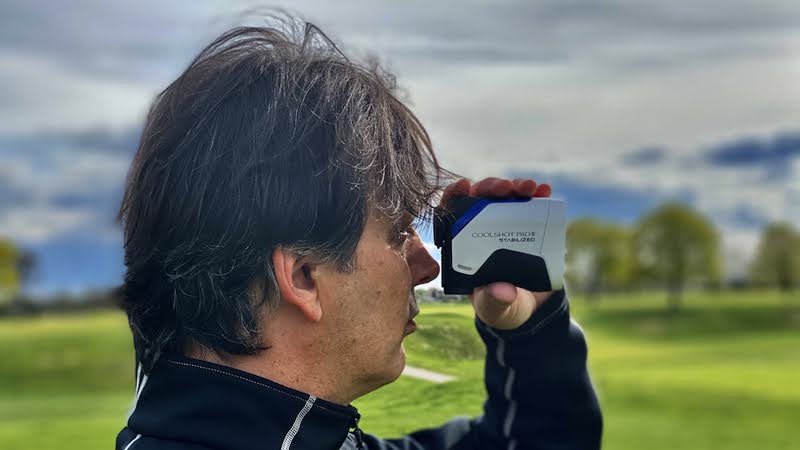 So, if you'd like to get to know what the best rangefinders in today's market are, here we have a few aspects you should take into account during your selection process.
Accuracy
Accuracy is primordial in a rangefinder, although some are better at it than others. With that being said, you should know that laser rangefinders are the most precise and consistent devices in the market right now. For instance, the Tour V5 by Bushnell excels in this category.
Slope
Although it is a vital feature for most golfers, not all range finders include it. So, it is something you have to decide first while you're deciding what kind of device you'd like to utilize. 
The slope is a measurement that refers to the elevation changes between the user and its target. Hence, it will display an approximate distance of your next shot as well as the real distance between the current location and the target.
It is a good addition to casual golfing, but it's not an acceptable feature in official tournaments.
Display
Although it may seem trivial, not all rangefinders provide the same quality when it comes to the display. You'll probably want to use a device that has intuitive features and is easy to understand, which isn't so complicated to find in today's market.
However, here's where you can get picky. Do you want the lens to provide you with more clarity, or would you like to get as much information as you can?
Displays are different in each device. For instance, the Nikon Coolshot Pro Stabilized offers one of the most simplified but clear displays of all the rangefinders tested.
Contrary to what's described above, the Garmin Approach Z82 offers more information thanks to the inclusion of a G.P.S. However, the latter also includes other information such as yardage (from any angle), distances, and even slope. It's an excellent device for both beginners and professionals that want to improve their games.
Usability
Not all rangefinders are built the same, and therefore, some of them are easier to use than others.
Players that have used rangefinders before probably won't have any problems, but someone that has never used one before will probably be overwhelmed by everything that a device like the Garmin Approach Z82 has to offer.
In this case, it would be best if you chose a rangefinder like the Callaway Laser Golf Rangefinder.
Size
Shaky-handed players may have trouble with small devices. However, it isn't a problem with the TecTecTec ULT series. Still, bigger devices are easier to handle than smaller ones, especially if you're used to employing both of your hands to grab the rangefinder.
Locking Indicator
Laser rangefinders utilize diverse features that vary from a device to another to lock on to an objective. A good example of this is the JOLT technology that's so popular in today's market, but the more combined alerts it has implemented, the better. It will contribute to the device's accuracy.
Most Bushnell rangefinders are excellent in this regard. The company has been improving its products with each release, and the Tour V5 happens to be a real masterpiece as for the locking indicator.
Additional Features
This isn't such an essential aspect, but it's worth taking it into account. The "slope" can be considered an additional feature, as well as the G.P.S. that the Garmin Approach Z82 includes. Try to consider all the information they will display based on these additional features.
---
Conclusion
Golf rangefinders are helpful resources for any golfer, although those with shaky hands (especially older adults) can have a hard time trying to use them to obtain accurate measurements. In these cases, the best option is to search for the best golf rangefinder for shaky hands. 
These devices come with integrated features that allow you to get precise measures despite struggling with unsteady hands. What's best is that some devices include automatic or intuitive technologies that make each rangefinder even more useful.
So, if you happen to be struggling with trembling hands for whatever reason, utilizing one of the devices listed above (or finding one with similar characteristics) is one of the best things you can do.
Do you know any other rangefinder that's helpful for shaky hands?
---
Related Posts
Last update on 2022-04-03 at 13:20 / Affiliate links / Images from Amazon Product Advertising API