Many people have a passion for playing golf and like to engage in this activity almost every week. Some people may engage in golfing for recreational reasons once a month. No matter how frequently you play golf, finding a suitable golf course is always your priority.
If you have just relocated to Northern Virginia and are searching for some good golf courses, this guide will help you a lot. You may have specific preferences when it comes to choosing the best golf course.
We have listed the 11 best public golf courses in Northern and West Virginia to help you find the right one.
Best Public Golf Courses In Northern Virginia 2021
The Northern Virginia region is perfect for lovers of golf! With its lush green lands and pristine locales, you will find a brilliant abode to practice some golfing. Have a look at some of these best public golf courses in Northern Virginia and get ready to improve your game.
1. 1757 Golf Club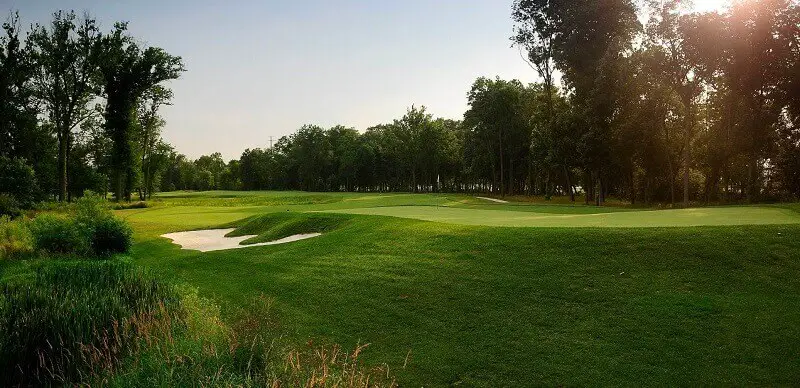 The 1757 Golf Club is situated in Dulles and is a great place for having a relaxed time. This is an amazing golf facility where you can enjoy a friendly time. Golfers will find this to be one of the best public golf courses in NoVa. This public golf course has been open since 2009.
Golf Outings
The golf outing is the perfect gathering of numerous golf lovers. Here, you will get to interact with different players and have a fantastic game. There are many other elements such as beverage and food stations, welcome table, bag drop, and others before the tee time.
Memberships
1757 Golf Club provides a 5-star membership to their golfers. This membership lets golfers follow a monthly structure. With this structure, you can cancel your membership when you are not using the course. These contracts are not for the long-term and are designed to adjust to the convenience of the golfers.
Events
The 1757 Golf Club holds special events for its golfers. You will find an event calendar on the official site. This calendar will show the upcoming events organized by the golf course. Furthermore, you can ask if you could host any event.
---
2. Algonkian Regional Park Golf Course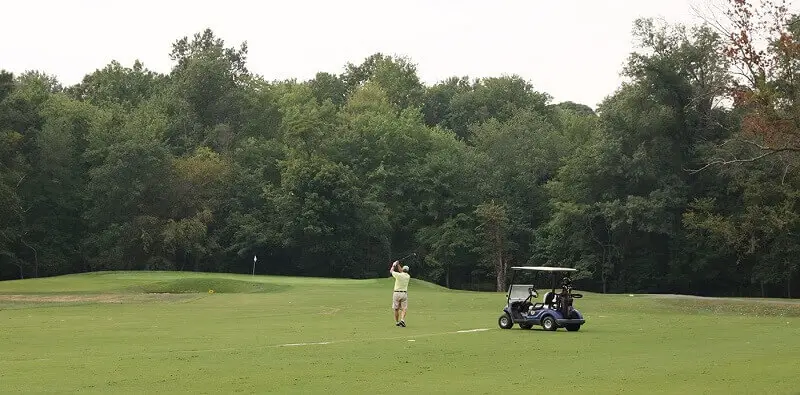 The Algonkian Regional Park Golf Course is one of the most well-known and best public golf courses in Northern Virginia. This golf course is spread over 7000 yards and is the perfect place for professional golfers. The signature holes of the Algonkian Regional Park Golf Course are on number 16 and number 6.
Club Policy
Each golfer will have to strictly follow the rules laid down by the Algonkian Regional Park Golf Course administration. Golfers and accompanying spectators are the only ones who can go on the course. The golfers need to have a minimum of six clubs in their golf bags. The management will notify several other rules.
Memberships
Algonkian Regional Park Golf Course provides numerous membership options for its regular golfers. Here, you can get annual memberships but with variable packages.
All the packages are designed to suit the requirements of different golfers. There are packages for junior and senior golfers who are below 17 and above 55 as well.
Rental Services
At Algonkian Regional Park Golf Course, you will find rental services for different golf amenities. These amenities are clubs, power carts, and pull carts. The prices for these amenities are given both for 9 holes and 18 holes. These rental services have an affordable price range.
---
3. Meadows Farms Golf Course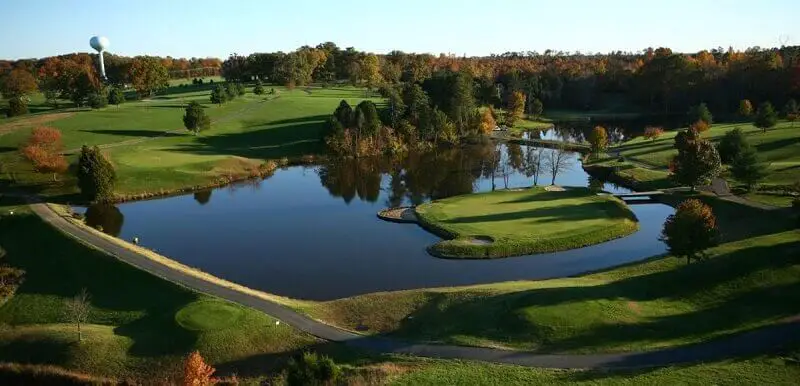 Meadows Farms Golf Course is another site that is considered one of the best public golf courses in Northern Virginia. This course is the perfect place for both professional and practice golfers. The Meadows Farms Golf Course is spread over 180 acres.
Leagues
The Meadows Farms Golf Course offers four leagues. These are the Sunday league, Tuesday league, Wednesday league, and Thursday league. Also, there are different formats and time structures for these leagues. You can choose any of these leagues depending on your preference.
Junior Golf Camp
If you want your child to become the next professional golfer, you could enroll them in the junior golf camp. Professionals will help them to ensure they learn the best tricks of the game. You can also enroll in the course and check out the suitable timings for you.
Stay In the Premises
Golfers can also enjoy the ambiance by staying at the partner inns of the Meadows Farms Golf Course. Here, you can play at any time you want and not go back home. You can just return to the inn and come back for the next game.
---
4. Belle Haven Country Club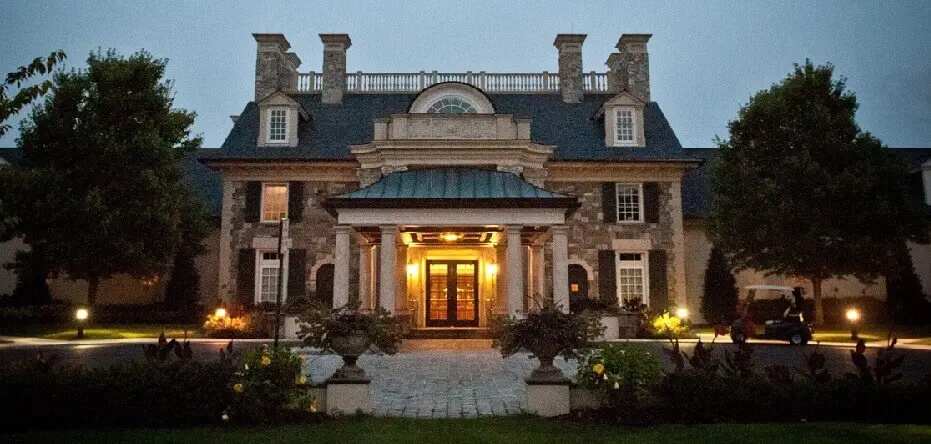 Belle Haven Country Club was established around the early 1920s. With time, the club saw many enhancements and upgrades. This club began with a golf course with 9 holes and is now one with 18 holes. Many other facilities are available within the Belle Haven Country Club.
Four-Ball Tournament
Belle Haven organizes a four-ball tournament on May's first weekend. This event was first started in 1949 and is one of the most awaited events. The four-ball event brings many amateur champions. There are two divisions in this tournament for the open and senior category.
Patriot Day Golf Classic
Belle Haven Country Club honors the people who are hit by the tragedy of 9.11.01. They do this through the Patriot Day Golf Classics. The funds for this tournament are raised through donations and registrations.
Golf Outing
The Belle Haven Country Club provides golf outing facilities. You will find assistance in the form of golf professionals and event planners. There are customized packages for outings that the hosts can avail themselves of. For bookings, you will have to seek help from the administration staff.
---
5. Brambleton Regional Park Golf Course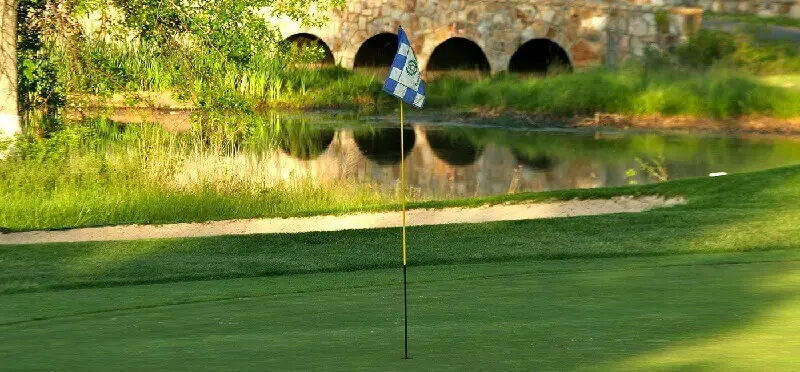 Brambleton Regional Park Golf Course is situated in Ashburn and is a grand golf course. It covers a total area of 6800 yards. Different greens and holes are located at amazing points. Some of these prove to be a great challenge for professional golfers. Special rates are applicable for golfers who are under 17 and over 55.
Golf Tournaments
Brambleton Regional Park Golf Course offers tournaments and outing packages. These packages include cart signage, riding cart, greens fee, tournament scoring, and range balls. There are variable rates for weekdays, along with a base package and a junior/senior package. During the weekends, the package rate is different.
Memberships
To become a member of the Brambleton Regional Park Golf Course, you will have to register for their membership packages. Different packages are available, keeping in mind the needs of the golfers. Seniors who are more than 55 years old and juniors under 17 will also find special membership packages.
Quick Tip: 7 Best Golf Courses in Cabo San Lucas Mexico
Tee Times
You may need to book tee times well before your game. However, this may not be a necessity for this field at all times. If you want to know whether tee times are necessary, you can contact the golf club's administrative staff. During busy times, booking tee times beforehand might become very important.
---
6. Bristow Manor Golf Club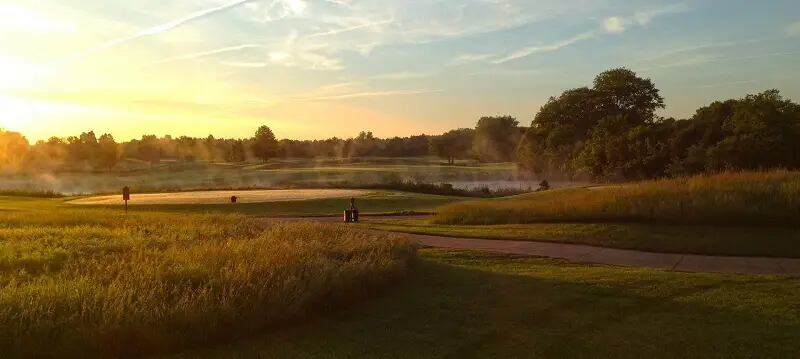 Bristow Manor Golf Club is located in the historic countryside, which is incredibly peaceful. Ken Killian designed this golf course and has been selected from 1998 to 2000 in the Golf Digest's 100 Top Places to Play. Besides providing an amazing golf course, the Bristow Manor Golf Club is also home to various events.
Cart Policy
You can book golf carts in the course for reaching different greens. However, you will need to follow the cart policy. Single players will have to share the cart with other single players or a threesome player. Foursome players will be given two golf carts, and twosome players will be given only one cart.
Golf Memberships
Bristow Manor Golf Club provides several membership options with different benefits. The full membership is annual, whereas the weekday membership is also a yearly membership but only applicable on weekdays. There is a junior membership for golfers who are 18 and under.
Golf Outings
Golf outings and tournaments can be held on the course premises. The outings package will consist of range balls, green fees, and carts. You will also get customized scorecards, cart signage, and rule sheets. Each of the tournaments will have customized packages according to the requirements of the host.
---
7. Pleasant Valley Golf Course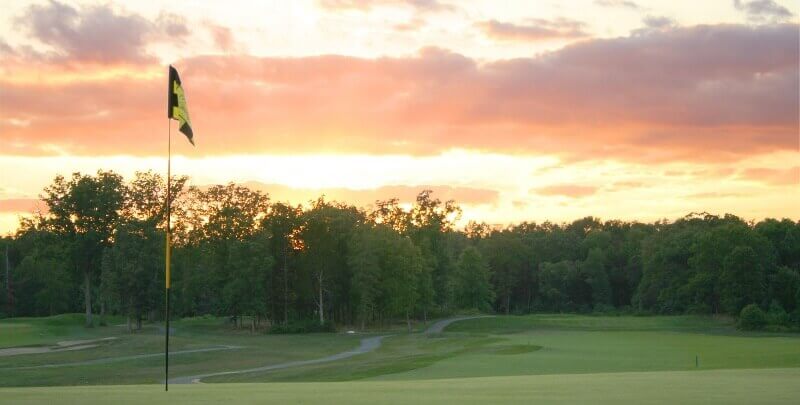 Pleasant Valley Golf Course is located in Chantilly and is a beautiful site. There are no homes around the golf course. It is only surrounded by golf holes and portrays an exceptional scenic beauty.
This field hosts championships, tournaments, outings, and many more. Though the field provides golf carts, the availability may depend on the business of the course.
Tee Time
Booking the tee time is necessary for this golf course. You can do this online on their official site. You will be provided the timings along with the rates when you book. However, for booking online, you will need to register on their website. If you are not comfortable with online booking, you could book offline.
Outings
Pleasant Valley Golf Course has provisions for holding outings. There can be any reason for holding these outings, but you need to inform the authority. The golf course promises high-quality service for their guest. You can provide a tournament request with the details of the outings on their site.
Membership
Pleasant Valley Golf Course offers several memberships, which give you the freedom to play at your convenience. They have young adult membership for new applicants who are not more than 35 years old. Club membership is present for both individuals and families on a monthly and annual basis.
Other memberships include weekday, junior, founding, and charter memberships.
---
8. Bull Run Golf Club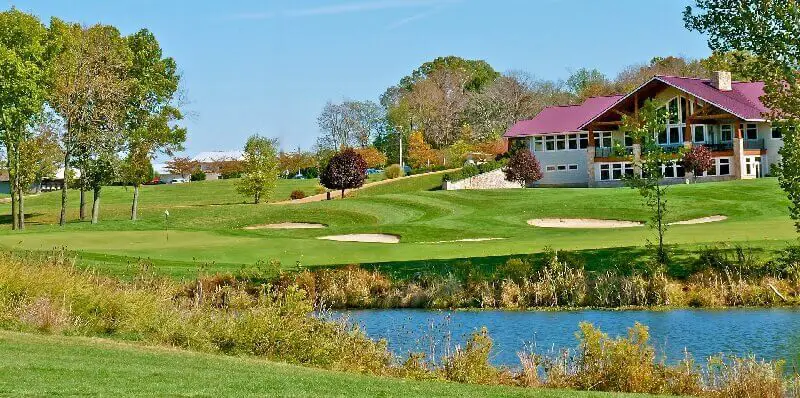 The Bull Run Golf Club is an 18-hole golf course that was established in 1998. It covers more than 450 acres of land, which is more than most golf courses. Not only can golfers enjoy a smooth game, but they will be mesmerized by the scenic beauty. This golf course is perfect for both practice and professional golfers.
Golf Tournaments
The Bull Run Golf Club is the perfect site to hold golf tournaments and outings. You will find the perfect greens here, which are great for professional golf. The club has a very talented staff that will assist you through the whole process. You can fill-up the form on their website to know more about this.
Membership
You can select the different membership plans that the Bull Run Golf Club provides. There are many benefits that you can enjoy by signing up for the membership. For example, the annual membership offers special rates for guests and a 14-day tee time reservation in advance.
Tee Time
You can book the tee time in advance for a maximum of 7 days. The booking can be done both online and offline. For an outing, the tee time can extend to a maximum of 13 months in advance. Golfers have to inform the authority 24 hours in advance in case of any cancellation or modification of the tee time.
---
9. Prince William Golf Course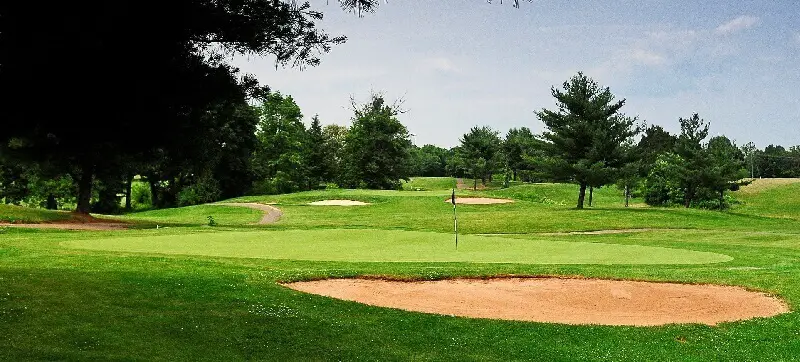 Prince William Golf Course has been functioning for more than 50 years. It is a historic course that is perfect for every golfer. The golf course has a gorgeous setting and provides wide fairways. You might need a golf cart to reach some of the greens, but it is a pleasant course to walk.
The Course
You may find some irregularities in the course, but that is a common problem. The knolls in the course are gentle. Moreover, the majority of the fairways are quite generous and open. Professional players will score well playing on the back tees. Several holes will require higher skills.
Leagues
The Prince William Golf Course provides certain leagues that you could either host or join. Tuesday Senior League can be attended both by women and men who are at least 55 years old. Another league is the Wednesday Ladies League that starts at 4 p.m. This league is open for all ages.
Golf Specials
The golf course places a special emphasis on family bonding. That is why their specials consist of free games for kids after 4 p.m. every day. This means you can book the course for your family, and one kid can assist you for free. For additional kids, you have to pay the junior rates.
---
10. Raspberry Falls Golf Course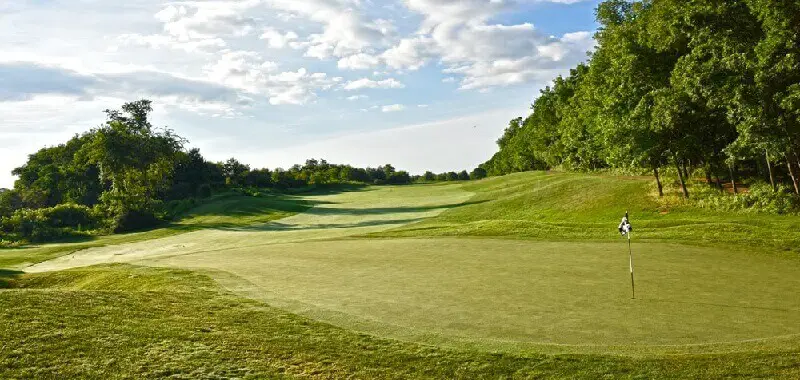 Raspberry Falls is a site that is perfect for a golf course. This golf course is located in the Leesburg region of Northern Virginia. The Raspberry Falls Golf & Hunt Club gives you the feel of golfing in the British Isles. Its amazing terrain, bunkers, streams, and stone walls are exceptional.
Tee Times
You can book tee times on the golf course through their website. For the reservation, you will need to create an account on their official site. For online booking, you can make the payment online as well. However, you can also make an offline booking and pay upon reaching the course.
Golf Outings
You can hold tournaments or golf outings on this golf course.
If you want to get more information about this, you can fill an online form on the official website. You will have to specify the event type, desired format, date, number of players, and other essential credentials. Eventually, the officials of the club will contact you and give you the complete information.
Practice Facilities
The Raspberry Falls Golf Course gives you practice facilities. There, you can warm up or enhance your game. This is for short games. It is present on a green-side with a sod bunker that is stacked and has a fifty-yard area. You will find the rates for the driving range on the website.
---
11. Gauntlet at Curtis Park Golf Course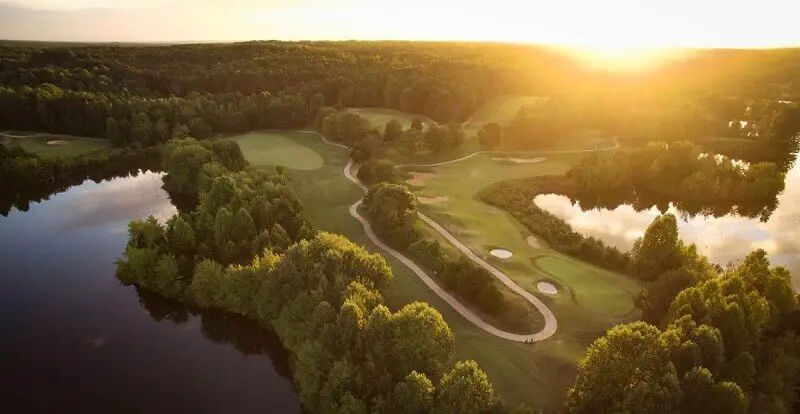 The Gauntlet is Curtis Memorial Park's centerpiece. This golf course was established in the year 1995. It is quite a tough golf course. Professionals will able to enhance their game with these challenging layouts. Some blind shots are also present, which are also difficult.
Memberships
The Gauntlet at Curtis Park Golf Course provides memberships for their golfers. There are different types of membership for both walking and cart users. You will find benefits in these memberships, such as discounts, advance tee time bookings, and others.
Practice Facility
You can practice and enhance your skills on the golf course before any major tournament. These practice sessions have different rates and time structures. You can book the greens according to your suitable time. This will help you in your professional game or even for bettering your shots.
Tee Times
Booking tee times helps you have a fixed time when you can play your game. Make sure that you book your required tee time well in advance. In busy seasons, it will be hard to find a suitable timing.
---
Before you walk into your chosen golf course, there might be some queries plaguing your mind. Different golf courses have different rules. However, there are some commonly asked questions that we have answered for you.
✅ Do Golf Courses Follow A Dress Code?
The dress code depends on the policies of individual golf courses. Some courses follow strict dress codes, while some are very lenient with what the golfers wear.
You may determine whether the golf course has a dress code depending on the course price. If the green fee is on the higher end, there is a possibility of a dress code.
Generally, you can wear a collared shirt with golf slacks, shorts, skirts, or skorts. However, some golf courses do not allow shorts or skorts for the golfers. Some private luxury golf courses do not allow denim, but you might not find this issue in public golf courses.
The dress code should not restrict you from playing your favorite sport. Some people like wearing comfortable clothes while playing the game. They do not want to follow any strict dress code that might disrupt their game. For such people, there are numerous golf courses in the Northern Virginia region.
If you want to check out whether the golf course you have chosen has a dress code, just call them ahead. This way, you will know if the particular golf course is suitable for you.
✅ What Do The Lines And Stakes On A Golf Course Mean?
Golf courses have two general lines and stakes, which are yellow and white. Knowing the meaning of these stakes and lines is essential for your game. The white lines or stakes mean out-of-bounds. Some golf courses might also denote this by a fence marking a boundary.
When OB is denoted by fence or stakes, then the closest inside point shows the beginning. If the OB is indicated with a painted line, it will start from the line itself.
Another is the yellow lines and stakes, which determine water hazards. Even though water hazards are obvious, some golf courses make it known to the golfers using the stakes and lines. If there are ditches and seasonal creeks, there might be yellow stakes to notify the same.
In some golf courses, you will find red lines and stakes which show lateral water hazards. The only thing that differentiates lateral and standard water hazards is the lateral aspect.
Similarly, you will see some other lines and stakes of different colors. If you do not know what that means, you could always ask your friends or people who know about it. Some of those are blue, green, blue with green at the top, red with green at the top, and many other stakes.
✅ Are Pin Sheets A Necessity?
Pin sheets are present in most golf courses but not in all. They are present to let the golfer know about the location of the hole in the green. These sheets can either be basic or have complex information.
If you have never encountered a pin sheet, you may do so in some of the new golf courses in Northern Virginia. Professional golfers generally do not have any requirement for pin sheets. However, players who are just playing for fun may require pin sheets.
This is especially needed if you are playing on a new golf course. That is why if the golf course you have selected has a pin sheet, the game would be much easier for you.
You will be able to determine where the holes are located in the greens. Moreover, these holes will be shown in terms of the shape of the greens. You will know how the holes can be approached. Furthermore, the pin sheets show what side the flagstick is positioned on, which affects the golfer's shot selection.
Pin sheets are not a necessity but can make a huge impact on the golfer's tee shots. If you are confident about your shot, then you will not require pin sheets. However, if your golf course provides you with one, you can use it.
✅ How Should The Golf Cart Be Used On The Course?
Every golfer needs to follow certain etiquette when using golf carts on any golf course. Before you pay the cart and greens fee, you need to know the essential rules. Make sure that you do not go near the hazard lines. Always follow the cart path, or the wheels might get damaged.
You should stay away from paths that have mud or casual water. Every golf course has a designated path for golf carts. You must follow that path at all costs.
One of the essential things that you need to remember is that accidents can happen in golf carts. That is why you should go for a joy ride in your cart and follow safety rules.
Every golf course has a set of rules that needs to be followed. There will be some courses that provide special safety rules. These rules will mostly be based on the condition of the course for the day. There will also be some common rules that you should follow for all golf courses.
If you are an amateur golfer and do not know what cart etiquette is, the golf course can inform you.
✅ Is Tee Time Necessary For Playing On A Public Golf Course?
Tee time is the golf course reservation time when the first shot will be done. This means if the tee time is at 11:13 a.m., then the first shot should be made at 11:13 a.m. Tee time is a necessity in professional golf, where the group will start the game. This also helps the audience follow the game of the professional golfers.
Tee times make the game more organized and ensure a smooth flow. However, not every golf course has tee times. Either golf courses will require tee times mandatorily, or they might have tee times that are not mandatory. On the other hand, some courses will have no provisions for tee times.
If your golf course has a tee time, you can book it online or from the golf course physically. However, this booking cannot be done on the day of the game. You will have to book the tee time a few days before you would be playing your game. Even this policy may differ for different golf courses.
To know your chosen golf course's tee time policy, contact the golf course and talk to the person in charge.
Conclusion
Finding the best public golf courses in Northern Virginia will not seem too hard with our detailed guide. Here, we have listed out some of the top golf courses which you can choose from.
Among them, Algonkian Regional Park Golf Course is the most famous golf course. Nonetheless, all the other courses listed in the guide are also very well-known and maintain high service standards.
---
Related Posts