Golf is a sport that requires concentration, skills, and the right equipment. However, with the constant advancement in technology, another important aspect of making your golfing experience worthwhile is choosing the perfect application that helps you determine distances, analyze your shots.
It gives your recommendations and statistics for the shots you have played and how you can improve them.
For all those looking for decent apps to help them enhance their golf skills, we have listed down some of the 15 best golf apps for Apple Watch, iPhone, and iPad.
Golf GPS SwingU
GameBook Scorecard & GPS
Hole19 Golf GPS & Scorecard
Golf GPS 18Birdies Scorecard
Golfshot: Golf GPS + Caddie
GolfLogix Golf GPS + Putt Line
Golf Pad: Golf GPS & Scorecard
Golf Coach by Dr Noel Rousseau
Hudl Technique Golf
Coach's Eye – Video Analysis
Zepp Golf
The Official Rules of Golf
Golf Handicap Tracker & Scores
PGA TOUR
Golf Digest Magazine
These top-rated, golfer recommended apps have various features and benefits that can help you explore the course you are playing on.
Best Golf Apps for Apple Watch Reviews In 2021
Considering the uncountable list of golfing apps available on the App Store, it's difficult to choose a particular app that fulfills all your golfing requirements. However, we have made it simple for you by short-listing some of the best applications to help golfers.
Choosing the right equipment is surely one of the important aspects which enhances your golfing skill, but with the golf app, you can do it more efficiently and without wasting extra time figuring your way around.
Top 7 Scorecard and Rangefinder Golf Apps
SwingU is a top-performing, free golf app that works great as a rangefinder and a scorecard. Formerly known by the name SwingxSwing and has more than 5.5 million users from all around the world.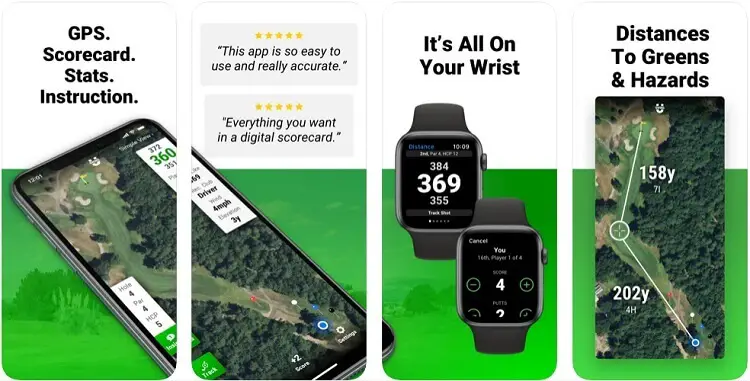 This app is considered one of the best golf apps for iOS as well as Android. This application offers two membership types, according to which golfers can avail of the various features it offers. According to golfers, one can easily lean on this app for some great guidance.
Features & Benefits
There is a reason why golfers classify SwingU as one of the best golf apps for Apple Watch and Android. Not only does it promote game improvement, but it offers a wide range of features including Scorecard & Stats, Tips & Lessons, and a lot more.
Features
Some exceptional features offered by SwingU include Shot Tracking & "Smart" Club recommendations, which help you find a club suitable for you according to speed and elevation.
It offers Hole Insights by giving detailed statistics of your shots and comparing them with SwingU golfers for course strategy.
Also, it shows advanced on-the-course games and wagers for you to become a part of. SwingU is easily the best application to help golfers with increasing their golfing skills.
Benefits
Wind Speed & Elevation
Digital Scorecard
GPS Rangefinder for every course
"Zoom-in" distances for greens
Always carry your digital scorecard on your wrist or in your pocket. Golf GameBook Scorecard & GPS app is what you need to enhance your golfing experience and learn new techniques and tips every time you take a shot.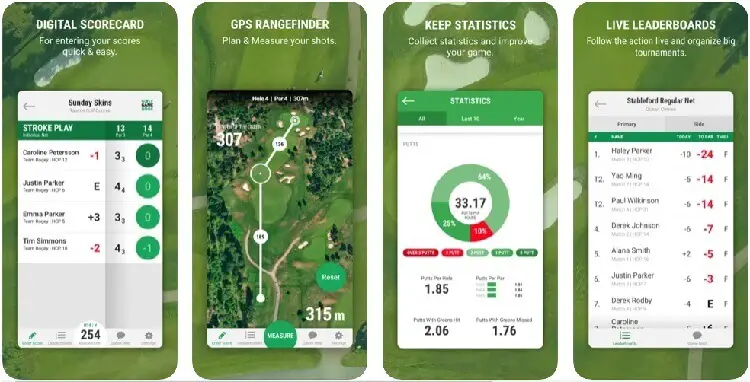 Golf GameBook is considered a staple for golfers, as it is one of the best applications to help golfers with its numerous features and availability in more than 180 countries. GameBook is free to download and use for all the golfers out there.
Features & Benefits
With the Golf GameBook app, you can get a variety of game-improving features that allow you to pre-plan and measure your shots, showing you a list of available golf courses around you along with plenty of other specifications that you would grow to love.
Features
Since the latest update in the GameBook golf app, you get over 38,000 golf courses and extensive information regarding the courses that include data like hole-to-hole scoring and GPS coordinates.
Moreover, you can view your game history and statistics of all the rounds you have played previously, all the way from fairways and green to average putts in each round.
The best feature is the Eclectic scorecard, which combines your best-performed shots and your best score for each hole to determine the most suitable personal hotspots and pitfalls for you.
Benefits
Easy scorekeeping
Add putts and fairway hits
GPS Rangefinder
Measure your shots
One of the best golf apps for iOS and Android includes the Hole19 Golf GPS & Scorecard. While there is a wide range of golf apps available for free or partially free, this app offers a high-quality golf GPS app with absolutely no charge.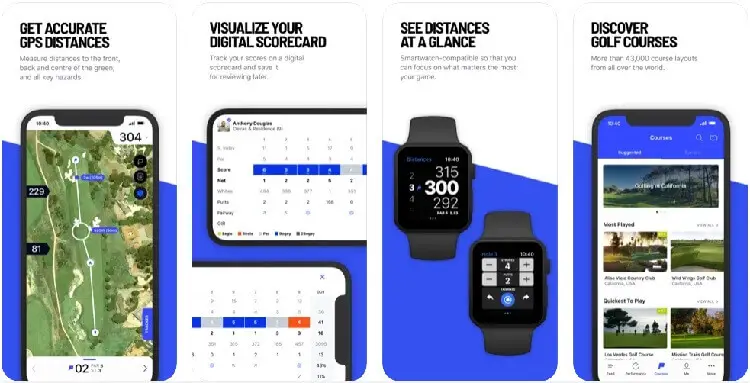 With its numerous user-friendly and professional features that help enhance your game performance and make it fun, Hole19 is a must-have for all the golfers out there.
Features & Benefits
Among the various apps available for golfers, help improve their skill while keeping a score of their shots. Hole19 offers some exceptional features, which makes it one of the best applications to help golfers.
Features
Being one of the best golf apps for iOS, Hole19 gives you the option to adjust changes according to your game with Auto-Change Hole feature, which helps keep the focus on the round and lets the app change the hole for your automatically.
You can track the distance of your shot using the Distance Tracker feature, which keeps a check on how far your last shot was hit. Apart from that, you can use the Watch Scoring feature and have the complete score right on your wrist.
Benefits
No charges
Measure distance accurately
Over 43,000 golf courses available
Compatible with Apple Watch
Golfers can now learn amazing tips and tricks on how to improve their game while making use of features that give to the dot statistics about their shots, location, angles, and more with the Golf GPS 18Birdies app.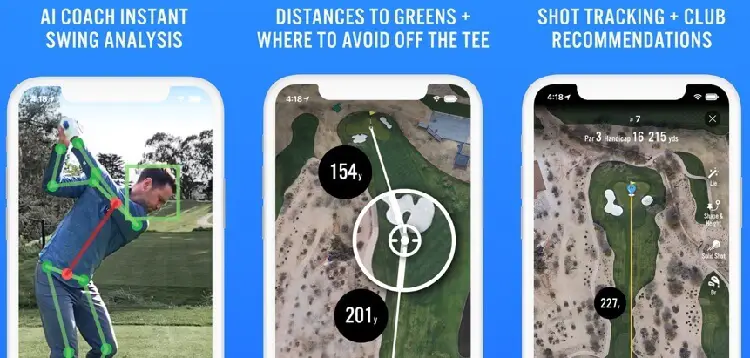 This is an award-winning app for being the best for swing and game analysis. 18Birdies offers two types of memberships, including basic and premium, according to which is the availability of its features.
Features & Benefits
Golfers claim for 18Birdies to be the best golf apps for Apple Watch for its easy integration and user-friendly interface that allows golfers to get all the information regarding their shots, directions, golf courses, and much more on their Apple Watches.
Features
Using the best golf apps for Apple Watch is a must if you want to become a pro at your game. With 18Birdies, you can take the guesswork out of your game with accurate information regarding wind speeds, elevation, temperature, rain, and much more.
It gives you advanced statistics regarding your game performance and recommendations that can be accessed using the Live Coach features. You can get Hole insights as well as a Tee Shot Planner to manage your game accordingly.
Benefits
Caddy+ allows you to hire your own digital caddy (For premium members)
AI Coach
Live weather map
Stroke gained score
The Golfshot is not just an average golfing application, but it also offers a lot more than one can expect. Apart from the numerous helpful features, it has for golfers to enhance their golfing experience; it is also a professional caddy that you can carry in your pocket.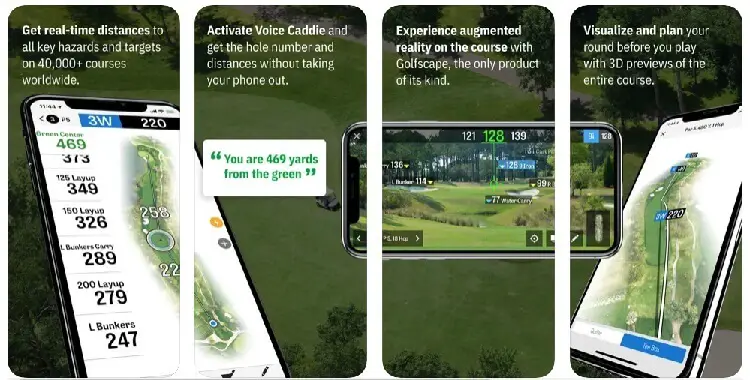 Golfers consider this as one of the very few best golf apps for iPhone and rely on it to improve their game.
Features & Benefits
With over 40,000 golf courses available on the map, Golfshot is an app that supports your game and allows you to track your Handicap Index using the Apple Watch fitness system. Golfshot has plenty of other unique features that make it one of the best golf apps for the Apple Watch.
Features
This application offers a wide variety of features. One of the main features it provides includes the 3D visualization of the entire course you are playing on. These features easily make it the best application to help golfers, as it is the only app offering augmented reality.
You can easily track your shot's distance along with the direction of the club at which the shot was hit. Moreover, it offers world-class coaching tips that is accessible through GolfPlan.
Benefits
3D hole and course previews
Stroke Play and Stableford scoring
In-depth statistics
Track distance of shots played
Another one on the list of best golf apps for iPhone, iPad, and iOS is the GolfLogix Golf GPS, which reads your putts and determines exactly which angle to take your shot.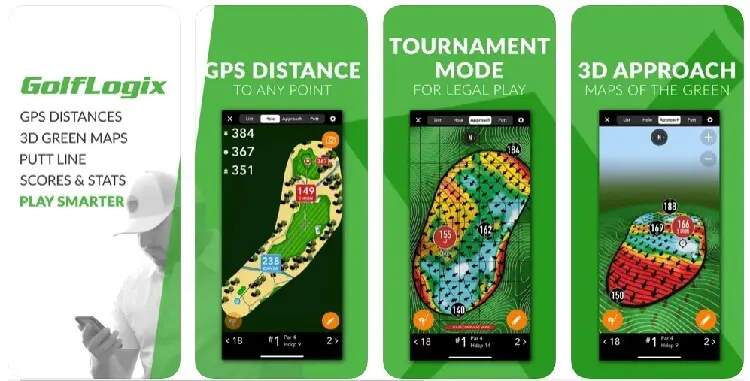 GolfLogix offers ground-breaking technology and is considered a trusted and reliable golf app by golfers worldwide. You can easily blend your golfing routine with the fast a fun use of this app on the course.
Features & Benefits
With precise GPS distances on every tee and, game statistics of professional level, handicap tracking, and tons of other features that enhance your golf skill set, GolfLogix is easily one of the best applications to help golfers. Especially with the new updates, it is every golfer's favorite choice.
Features
GolfLogix has had massive improvements over time and now offers features like Stats, Tee Time, Play Golf, Upgradation, and more. You can easily use your current location and create an entire list of courses around you with this app as it offers over 35,000 golf courses on its map.
Out of those 35,000, there are more than 12,000 maps that have 3D mapped greens. Along with that, it measures the accuracy and speed of your shots and provides up to four different displays for distance.
One of the most prominent features it has is the Approach View and Putt Break, which is considered useful in locating your ball and the hole on the map.
Benefits
Stat-tracking
3D green mapping
35,000 golf available golf courses
Putt breaks technology
While there are many golf apps out there in the technological world, Golf Pad has remained one of the best golf apps for Apple Watch to help golfers increase their game efficiency.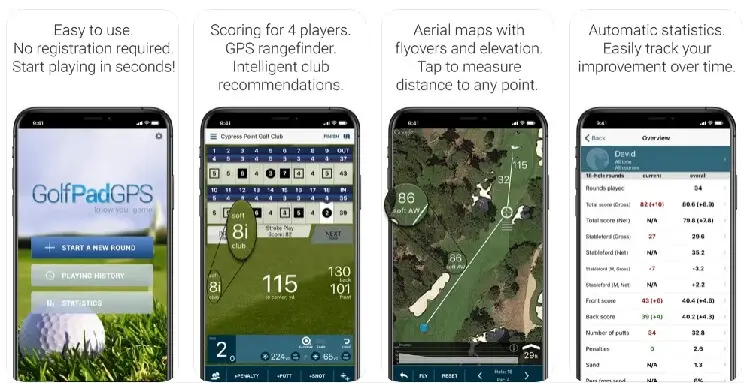 Golfers have been raving about this app for the great service it offers, along with the consistent innovative features and value it holds. Not only is it easy to use but it improves your game massively.
Features & Benefits
Golfers need an app that contributes to making their golfing experience fun and challenging them to perform better. This is just what Golf Pad helps achieve with its innovative features and near-perfect app stability that makes using it absolutely hassle-free.
Features
One of the core features that Golf Pad offers, which makes it the best application to help golfers, includes the intelligent club recommendations it offers. According to your game history and course information that you have played on, you can get recommendations that help you determine how to play better.
It offers real-time round sharing, which allows your friends or golf coach to watch you unfold while you play. This makes this the best golf app for Apple Watch is its premium smartwatch feature allows you to use the app on your Apple Watch without having to keep your phone on you.
Benefits
View scoring and club averages
Rangefinder distances
Tee-to-green shot tracking
Aerial maps with flyovers
4 Best Track Your Swing with The Best Golf Apps
What is better than an online top-ranked coach that you can have with you at all times?
The Golf Coach App by Dr. Noel Rousseau is one of its kind and is considered as one of the best golf applications to help golfers improve their game and learn new methods of how to hit their shots along with which equipment to use for certain plays.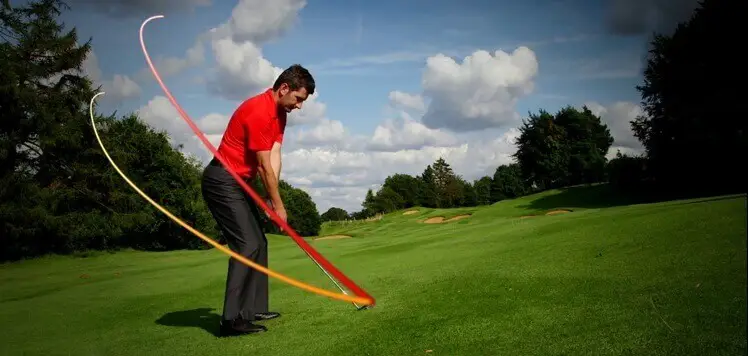 With the award-winning Golf Coach app, you can now transform your game and learn professional-level golf in less than no time.
Features & Benefits
Contrary to various popular apps used by golfers, Golf coach offers features like no other. From shot analysis to coaching programs, you can get all the features you need for game improvement. This app offers some exceptional features that you will love.
Features
Being one of the must-have apps and the best golf apps for iPad, Golf Coach contains features like golf instruction that cut to the chase and get you to start learning different methods of playing.
It has clear and concise tutorials that are explained in detail conceptually according to topics. You can get various benefits by being a member, including access to the 'vault', which covers a multitude of topics for extensive learning.
Along with that, it offers you structured courses that apply to your playing style. Of course, coaching is one of the major benefits that contribute to your practice sessions on the course.
Benefits
Free trial for all golfers
High-quality golf instructions
38 HD videos
Swing analyzer feature view
Hudl Technique Golf was earlier called Ubersense Golf and has helped golfers analyze their game by frame by frame, slow motion evaluation of their swing shots, and form of playing.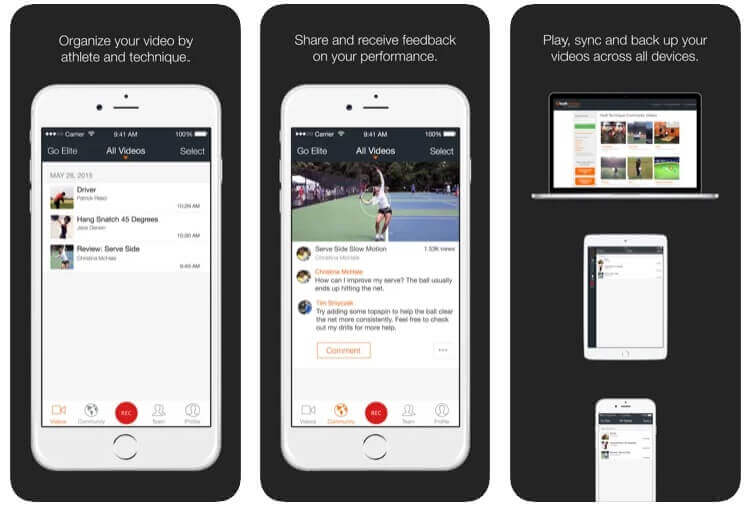 Coaches and athletes have regarded this as the best golf application to help golfers mainly because of its real-time display of playback. You can get it for free on your iOS devices from the App Store.
Features & Benefits
Golfers have been raving about the Hudl Technique Golf app for its unique features, allowing them to explore their true potential when it comes to golf. It is one of the must-haves for every golfer, whether beginner or professional.
Features
With a long list of features instilled in Hudl, golfers can make great use of some of the main ones which include the swing recording feature in HD up to 240 FPS.
Along with that, it allows comparing your style of swing with 90 other PGA golf players like Jeff Overton and Patrick Reed. You can get on-app instructions from leading PGA coaches and improve your swing according to the course and range you are most likely to play on.
Benefits
Create swing reviews with voice-overs
Import and analyze your shots
Lessons from PGA instructors
Share your swing shots online.
One of the most distinct apps that golfers can use is the Coach's Eye app, which offers detailed video analysis of your shots and helps you and your team with performance improvement.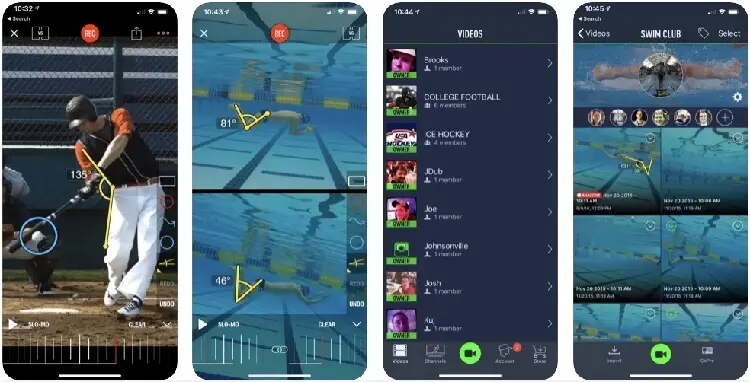 You can analyze your playing form, body mechanics, swing, and a lot more with this app. Golfers claim Coach's Eye to be one of the best golf apps for Apple Watch as well as iPad as it is the world's leading video platform for athletes and instructors who need to review shots of the players.
Features & Benefits
Being one of the top-ranked video analysis applications, there is a lot that Coach's Eye can offer to golfers and coaches to review their performance. Not only does this give you a detailed view of how you perform but also allows for you to improvise, keeping past shot videos in the front.
Features
Coach's Eye offers a wide variety of features, including capturing video at a minimum of 60 and a maximum of 240 FPS, depending on the device you are using. It allows you to compare videos side by side and compare them.
Moreover, you get the angle, timer, and spotlight tools, which allow you to draw, add times, and focus on important parts of the videos. The best part about this app is the USA Track and Field video from various leading golfers.
Benefits
Record video with voice-overs
Draw lines to indicate where changes are to be made
Review videos in slow motion
Analyze your swing shots in detail
One of the most powerful swings analyzing apps that is a personal favorite for golfers is Zepp Golf. With the latest features offered by this next-generation application, you can explore various opportunities to improve your golf experience.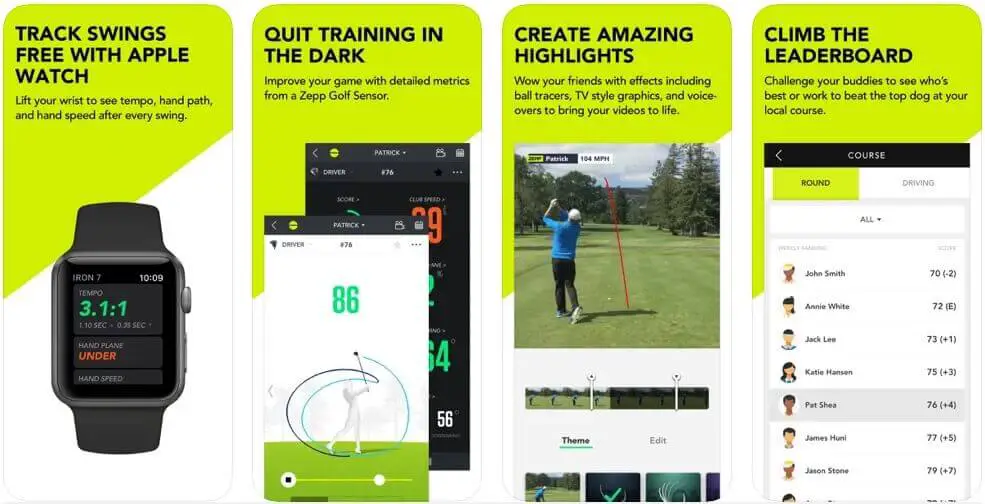 Not only is it one of the best golf applications to help golfers, but it is also a fantastic choice for users interested in other sports like tennis or softball.
Features & Benefits
Coming across an application that fulfills all your game improvement requirements does not happen often. However, with Zepp Golf, you can be sure to get the guidance you need on the range or golf course. This app plays the role of a virtual coach and helps you learn better and faster.
Features
With a wide list of features, Zepp Golf has paved its way to becoming one of the best golf apps for iOS by offering features like sensors that work towards improving your swing.
The app instantly measures the important aspects of your swing, which may include speed, plane, tempo, and many others. You can get a 3D swing analysis and smart coach training system that can help you swing better.
It also offers the feature of tracking your score using GPS.
Benefits
A revolutionary smart coach training system
The swing sensor attaches to your glove.
Highlight clip creation
Compare your data with professional players.
Top 2 Measure Your Handicap Level with These Apps
Choosing the right equipment, course, and technique is great. However, knowing the game rules is the first thing you need to learn before you make any other choice.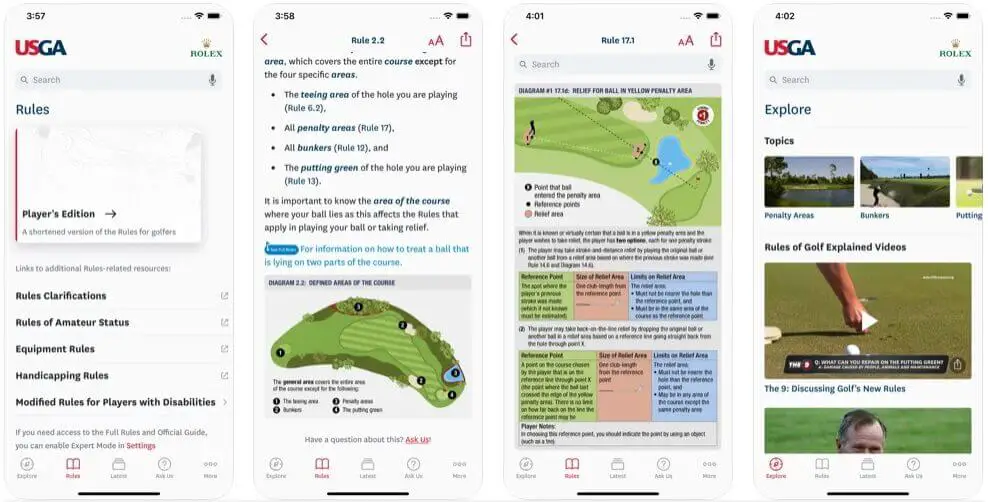 The USGA Rule of Golf App is an official app that gives you a detailed explanation of how the game works and what rules need to be adhered to regarding different tournaments. This app can be used by all the members of the game, including referees, administrators, and players.
Features & Benefits
With this app's help, golfers can receive comprehensive answers to many of their questions regarding the rules and regulations of playing the game and need to be dealt with before they go on for tournaments. It contains information regarding different courses for players of all types of abilities and more.
Features
Rules of Golf app by USGA offers various features that can prove to be useful during the game. It is an essential app that includes the interpretation of all the rules and committee procedures necessary for both referees, as will committees that organize and hold golf tournaments.
One of its key features includes the Modified Rules of Golf for players with disabilities. You can get videos, diagrams, FAQs, quizzes, and a lot more with this app that is known to be one of the best golf applications to help golfers.
Benefits
Keep you up to date with the latest rules
User-friendly operation
More than 200 graphics
Contains rules for stroke and match play
Golfers looking for the best golf apps for iPad need to stop looking because the Golf Handicap Tracker and Scores by InfoTalk LLC has proved to be one of the most useful apps for handicap tracking. This is a simple yet intuitive app that helps you calculate your handicap for free.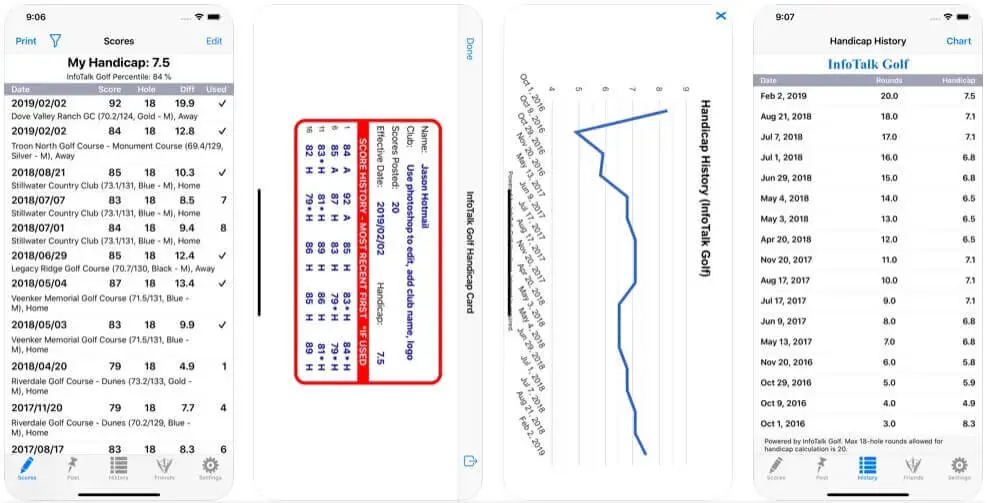 According to the number of users it has currently, it is one of the fastest-growing apps, making it exceptionally easy to submit your scorecards once you are finished with the game.
Features & Benefits
Fun to use and easy handicap tracker that makes it easy for you to keep track of your handicap index according to the latest rules. The Golf Handicap Tracker and Scores offers numerous features that help in enhancing your performance through the game,
Features
You can calculate your handicap for any particular course along with the maximum stroke with the help of this app. You can also implement a soft cap and a hard cap to limit the extreme upward movement.
Not only that, but you can follow your fellow golfer friends and keep track of their handicaps and scores to make it interesting and challenging for you.
Most importantly, you can get thousand of courses with their ratings and slopes and download them if you want to experience their play.
Benefits
Easy to use interface
Support 9-hole score combinations
Downloads available for thousands of courses
Calculate handicap based on U.S, Canada, and Australian rules
Top 2 Latest Golf News with The Best Apps
The official app for PGA allows fans to receive information in a new and unique way that they cannot get otherwise. This app has been claimed as one of the best golf apps for iOS users and is available to download for free through the App Store.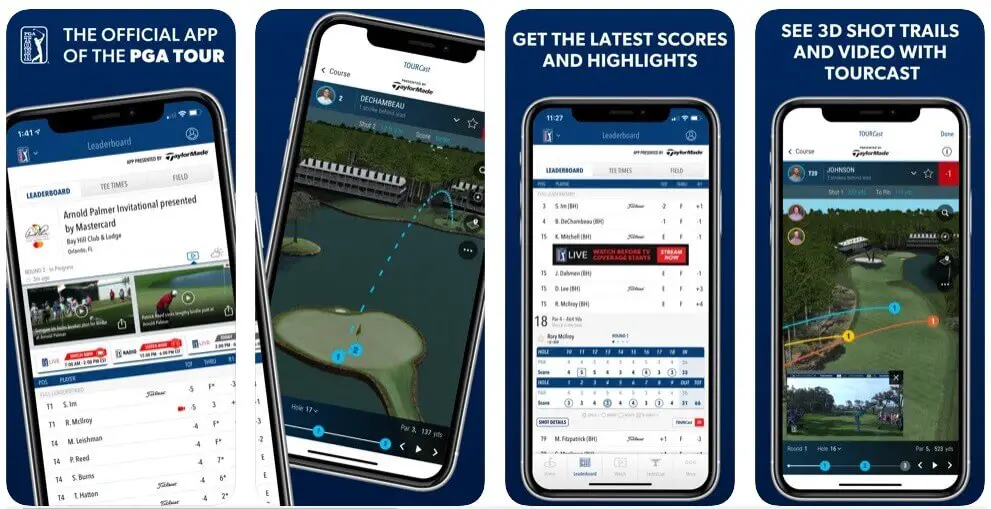 You can use this app on your iPhone and iPads to get the latest news regarding the PGA Tour. It has plenty of built-in features that can be used depending on whether you use it on your iPhone or iPad.
Features & Benefits
With the latest update, the PGA Tour application now makes it possible for you to monitor every featured shot along with a 10-minute post-round recap. No longer will you miss any of your favorite sport details, thanks to PGA Tours application and its exceptional features.
Features
Follow all of the action from the touch of a single app that offers a real-time leaderboard with a player shelf allowing quick access to player scorecards, profiles, and videos. Along with that, you can get all the latest news from this app related to Champions Tour, PGA Tour Latinoamerica, and various others.
Also, it shows shot trails and shot plots for all players with a full 18-hole view to show where your favorite players and leaders are on the golf course. It sends you to push notifications and allows you to follow all the actions happening even if the application is not launched.
Benefits
Real-time leaderboards
Play-by-play video highlights
Statistics and 3D shot tracking
News related to favorite players
This is not just an average digest magazine but in fact one of the best golf apps for iOS users. This app helps golfers enhance their game with the help of instructions from top-ranked teachers.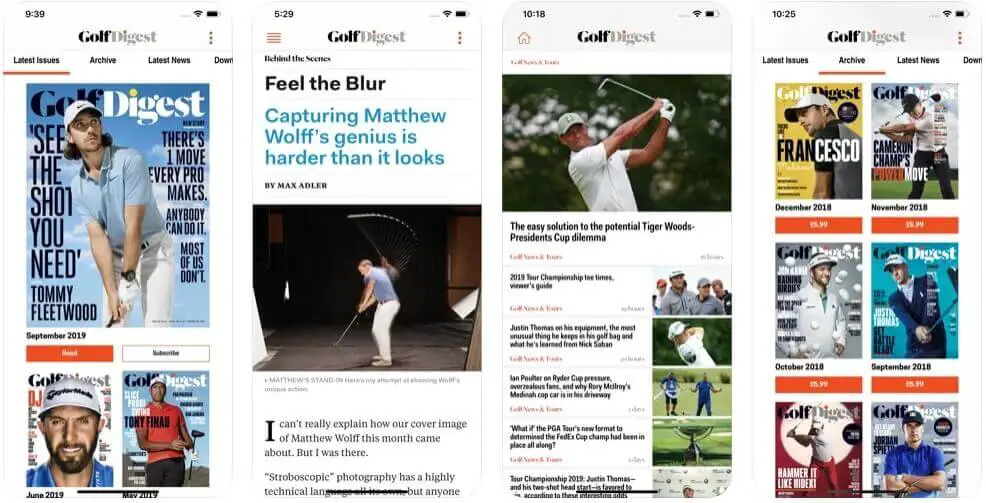 Along with that, it offers recommendations regarding golf equipment, and it can contribute to making your game better. Also, it features leading golf personalities and gives insights on their techniques and achievements for you to take inspiration from.
Features & Benefits
Golf Digest Magazine is available on the App Store with various in-app purchase options, including yearly and monthly subscriptions and the Hot Lists for every month. It offers plenty of other features for you to learn from if you are a golfer or just a passionate fan of this sport.
Features
With the editor's top-picked features, you can get a detailed analysis of the best swings and games. Apart from that, the Golf Digest Magazine shows 'solid shots' by leading players, and it also helps you track your best game.
With recommendations regarding golf equipment, including clubs, balls, brands, and more, you can revamp your golfing experience.
Benefits
Access golf news remotely.
Ratings for the latest equipment
Get on the go news on your favorite golfers.
Instructions from top golf coaches
Conclusion
Making the right choice is of key importance when it comes to golf. Whether it is the right course or the necessary applications, while it can be a bit technical to choose an application that is fit for you, we personally recommend Golf Pad: Golf GPS & Scorecard for the unique features it offers.
Followed by that, we have Zepp Golf in line, one of the best golf applications to help golfers track their swing.
Lastly, we recommend The Official Rules of Golf to make sure you have full knowledge of the game.
---
Related Posts