At one point or another, we've all heard someone describe golf as a rich man's sport. Primarily, it is because of the costs one incurs in the course of playing golf.
One of these costs is the amount paid to the caddie. Caddies are a crucial element of golf. They serve the needs of the golf player and assist them.
Caddies are responsible for carrying the player's golf clubs and keeping the score. They also keep the clubs and equipment clean.
Other than that, they are expected to have good knowledge of the sport. All golf players need caddies as they are a massive help to the player.
Do you get intrigued, thinking about how much these indispensable caddies make? Prepare to know the answer to the question: How much do golf caddies make?
How Much Does a Golf Caddy Make?
| Types | Hourly | Daily | Weekly |
| --- | --- | --- | --- |
| Teenage | $20 to $30 | $80-$120 (4-5 hours) | $560-$600 |
| Amateur | $25 to $30 | $100-$120 (4-5 hours) | $250 to $300 |
| Professional | $45 to $50 | $360 to $400 (8 hours) | $1800 to $2000 |
| TopGolf | $8 | | $2000 |
| PGA Tour | | | $1000 to $2000 (5-10% of the players winnings) |
| LPGA Tour | | | $1200 |
How Much Do Teenage Caddies Make?
We often see teenagers looking for part-time jobs or weekend gigs to earn some extra bucks. It turns out hitting up the golf club is an excellent opportunity for such teenagers, as caddying is a reasonably well-paying weekend opportunity.
Junior caddies can start working from as young as 14 years of age. They just need to be willing to put in the effort to learn the skill and understand the game. Besides, caddies are also paid considerably in the form of tips.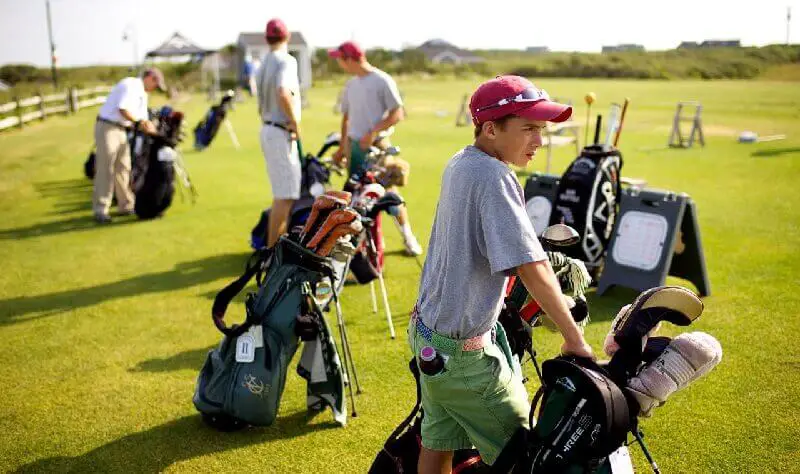 Though children under the age of 14 are not typically allowed to work in the United States of America, a few states have different provisions for caddies.
Michigan law permits caddies to start at the age of 11, while in Illinois, the minimum working age for caddies is 13 years old. Colorado allows caddies to work from the age of just 9 years old.
The average pay for a teenage caddie for the duration of one loop is $100 to $120. One loop lasts for roughly 4 hours, making the hourly wage $20 to $30. There are 18 holes in one loop, and the caddy will have to carry two bags for the duration of the loop.
For students looking to make extra money, this is not a bad option.
How Much Do Amateur Caddies Make?
Amateur golf caddies are definitely an upgrade from teenage golf caddies. However, they are also usually part-time hustlers trying to make extra money besides working at a regular job.
Based on a wide range of factors, their hours may vary. Assuming that most amateur caddies have a primary source of income or job, they may spend only a limited number of hours caddying.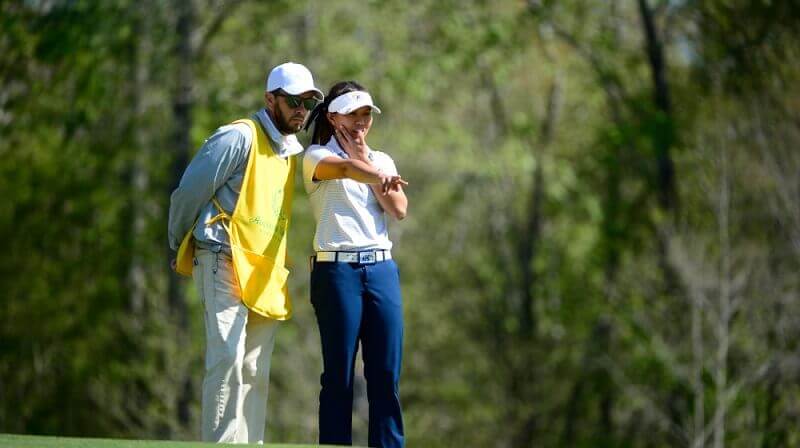 On average, amateur golf caddies are paid $25 to $30 per hour. They put in about 10 to 15 hours in a week. This makes their gross earning around $250 to $300 per week.
Amateur golf caddies are a bit more experienced than teenage golf caddies and often build strong relationships and connections with golf players. These relationships may open up more avenues for them, helping them find more gigs and potentially make more money on the golf course.
How Much Do Professional Caddies Make?
Professional golf caddies are caddies that have a few years of experience on the golf course. They are expected to have a good level of knowledge of the sport. They even help the player strategize.
Much unlike amateur or teenage golf caddies, they work full time and invest about 8 hours in a day. They do not have other jobs or schools, limiting their availability as a caddie.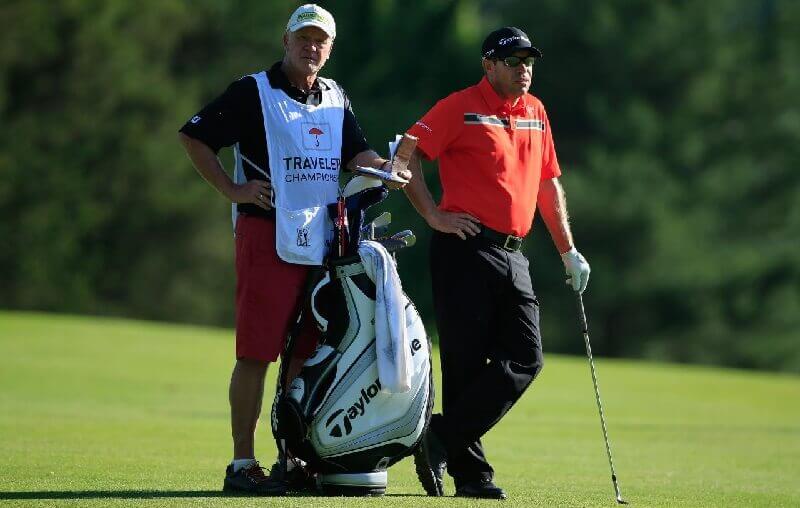 A lot of times, professional caddies are associated with professional golf players. They follow the players around and help them with different tournaments. Other times, professional caddies may also be associated with a golf course instead of a golf player.
The pay for a professional caddie is usually around $45 to $50 per hour. Given that they work for 8 hours a day, their income comes to about $360 to $400 per day. This translates to $1800 to $2000 per week.
How Much Do Caddies Make At Country Clubs?
At most country clubs, caddies usually work by the loop. The loop is a round of 18 holes. It stretches for a duration of roughly 4 hours.
Country clubs have their own rules regarding the payment of caddies. Some country clubs may take their cut from the caddie's earnings, while others may not interfere and let the caddy keep all of their earnings.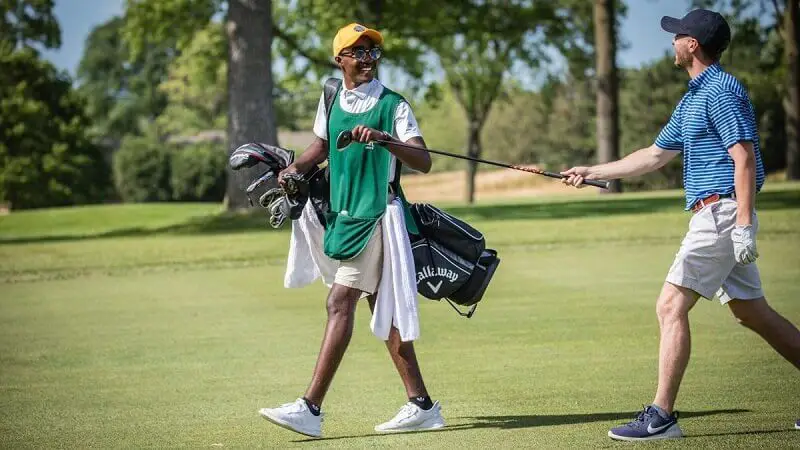 Usually, country club caddies are paid close to $125 for carrying a bag for a loop. Caddying at a country club is a full-time job, so these caddies try to take as many loops as they possibly can within the span of a day.
Country club caddies strive to ensure all the golfers in a group are satisfied with their experience for that day. Satisfied golf players are more likely to leave a hefty tip for the caddie.
How Much Do TopGolf Caddies Make?
TopGolf is pretty different from traditional golf games. In simple terms, it is golf for people who want to play and win but do not have golfing abilities. Anyone can play TopGolf.
The player is supposed to score by hitting microchipped golf balls at giant targets on an outfield. These targets are much like a dartboard. Points are awarded on the basis of how close the player hits the ball to the target's center and how far the ball has gone.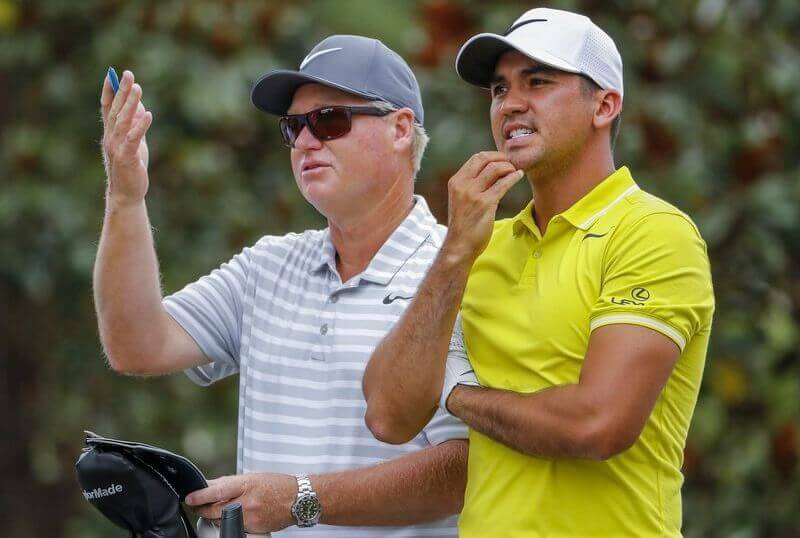 TopGolf is unique, as it offers food and drinks while you play. It is the perfect spot for you to play a round of golf while chilling with your buddies.
The pay for TopGolf caddies is different in different regions. In the Las Vegas branch, caddies earn around $2000 within a week's time. Meanwhile, caddies in the Atlanta branch make close to $8 in an hour.
How Much Do Caddies Make On PGA Tour?
The PGA Tour is the most powerful platform for touring professional golf games. It was formed in 1968 and had been going on since then. As of 2020-21, there are 94 active members globally from 29 countries outside the United States of America.
The caddie is expected to take up a lot of responsibilities on PGA tours. A typical PGA tournament is supposed to run from Thursday to Sunday. The caddie's work starts on the money before the tournament.
The caddie walks the golf course to chart the greens. They are responsible for ensuring the yardages are correct. They are also tasked with fighting out where the golf player should be landing his balls.
Then, on Tuesday, the caddie and the golf player hit the golf course for a practice round. Based on the information collected by the caddie on the previous day, the duo brainstorms a game plan for the tournament.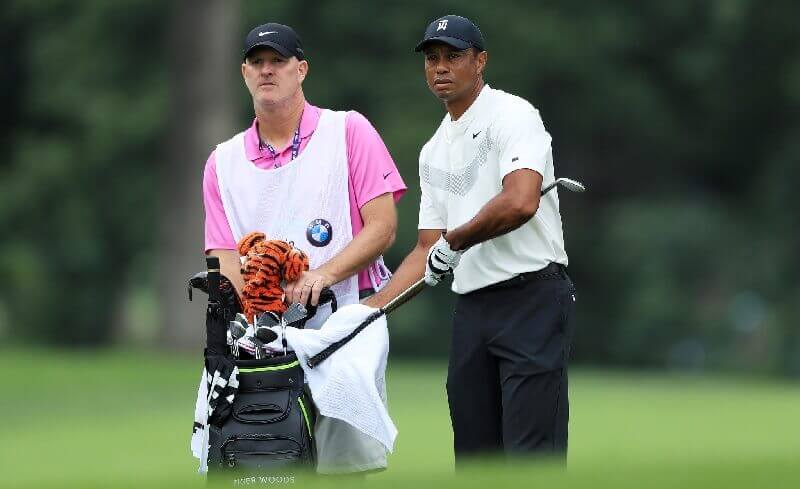 On the day of the tournament, the caddie joins the golf player an hour before tee time for warming up. The caddie is expected to get to the golf course at least 4 to 5 hours before the golf player inspects the course.
If anything about the course has changed since their previous inspection, the caddie can inform the player of the same before the player tees off.
PGA Tour caddies earn exponentially more than other caddies. Besides their base salary, they even earn a percentage of the golf player's winnings.
The base salary of a caddie of the PGA Tour is usually around $1000 to $2000 for a week. They are paid in such high amounts to cover their travel expenses.
Aside from that, the caddie gets 5% of the golf player's winnings if the player finishes outside of the top 10. If the player finishes within the top 10, the caddie gets 7% of the winnings. If the golf player wins the tournament, the caddie receives 10% of the winnings.
Additionally, the golf player may choose to give their caddie a bonus. The caddies can also make money from sponsorships and other deals.
Caddies of high-level golf players end up pocketing up to $200000 a year via endorsements. Other caddies, too, can make somewhere between $30000 to $50000 from brand deals.
How Much Do Caddies Make On LPGA Tour?
The LPGA, or the Ladies Professional Golf Association, is one of the oldest women's professional sports associations across the globe. It was founded in 1950 and has grown into the backbone of premier women's professional sports.
They, too, earn a base salary, along with a percentage of the golf player's winnings, much like PGA tournament caddies.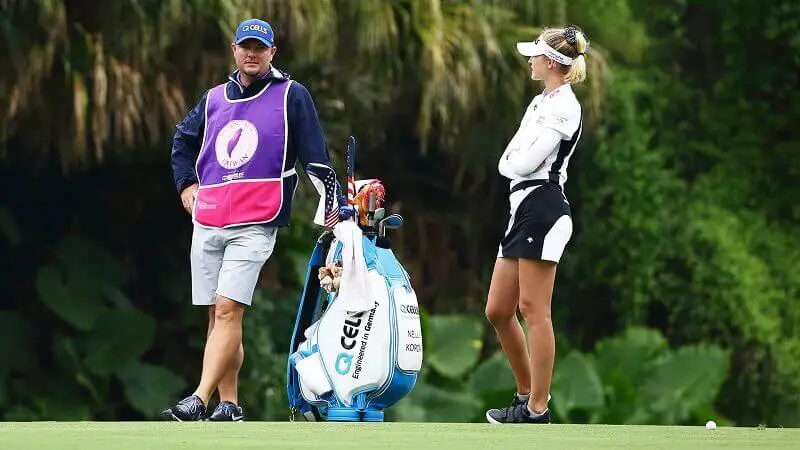 Reportedly, the base salary of LPGA caddies is around $1200 for each week. The only issue that arises is that this money is used to cover their travel and accommodation expenses. If the golf player is not successful in the tournament, the caddie does not earn any extra income.
On average, an LPGA player's caddie is supposed to earn 7-8% of the golf player's winnings. This is not as high as compared to caddies in the PGA tournament.
If an LPGA player wins $300000, her caddy will be taking home an amount somewhere between $21000 and $24000. Winning is hence not just crucial for the golf player but also for the caddie to earn some financial rewards.
How Much Does A Caddy Make For Winning The Masters?
The Masters tournament is one of the most prestigious golf tournaments. It is held in Georgia on an annual basis.
The tournament has witnessed some of the greatest golf moments since 1934. It is played over 72 holes across a duration of 4 days.
The caddies at the Masters Tournament earn in a similar manner to PGA and LPGA tour caddies. They have high pay, owing to the high rewards of the tournament.
In 2020, the club declared the overall prize money at $11.5 million. The winner alone gets to take home $2,070,000. This was the same prize money as 2019.
Consequently, the caddies also take home a small percentage of these earnings. Even if their pay is at 5% of the prize money, the caddie is entitled to $103,500.
Professional Golf Caddie Salary
Professional golf players require well-experienced golf caddies. These professional caddies associate themselves with the players for long durations and even accompany them on their tours.
Professional caddies receive a base salary which is generally spent in covering their travel and accommodation expenses. On top of that, they earn about 5% to 10% of the player's winnings.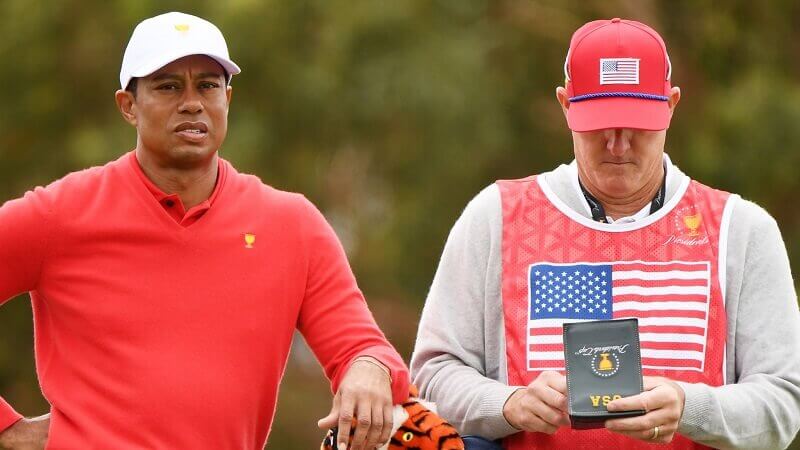 The base salary for professional caddies is somewhere between $1000 to $2000.
Let us have a look at a few cases. J.P. Fitzgerald has been a caddie to Rory Mcllroy for a long time. He earned around $1.65 million caddying at the annual Players' Championship Tournament, where Mcllroy won the tour and over $10 million financial rewards.  
How Much Do Golf Caddies Make An Hour?
In general, the hourly pay for a golf caddie ranges between $15 to $50 per hour. The final amount depends on a lot of factors.
For amateur caddies, beginners in the profession, the pay is $15 to $20 an hour. This amount goes up with experience.
After one year of experience, caddies usually receive $25 to $30 for an hour.
A caddie with a considerable amount of experience and some golfing knowledge attracts higher pay, close to $35 to $40 per hour. 
Members of clubs prefer caddies with significant experience and a good level of golfing knowledge. The hourly pay for such caddies goes as high as $45 to $50.
Satisfied golf players leave their caddies with a generous tip. This tip is entirely dependent on the caddie's skills and attitude. Tips fall somewhere in the $5 to $50 range.
How Much Does A Golf Caddie Make A Year?
The base salary for a golf caddie can be anywhere between $50000 to $100000 per year. Besides the salary they receive, they are also entitled to an additional cut from the golfers' winnings at different tournaments. 
Depending on the golf player a caddie is associated with, they may earn extremely high amounts. For example, in 2006, Steve Williams, Tiger Woods caddie, was reported to have earnings of $1.27 million!
As of standard pay scale arrangements in 2017, a golf caddy is entitled to 10% of the player's winnings if the golfer wins the tournament. If the player secures any rank among the top 10, then the caddie should receive 7% of the winnings. The caddie gets only 5% if the golf player secures the 11th position or below.
If the golf player does not win any cash rewards during the tournament, their caddy will not be getting a fixed percentage from them.
Other than the base salary and the percentage of winnings, caddies earn well in tips. Depending on how satisfied the golf player is, a caddie may make a generous amount in tips.
What Is The Percentage Of Winnings For Caddies?
Over the decades, the standard cut paid to golf caddies from their player's LPGA of PGA tournament has remained fixed.
If the golf player ends up winning the tournament, their caddie gets to go home with 10% of the golfer's winnings. If the golfer manages to finish within the top 10, the caddie bags 7 percent of the player's winnings.
For landing any other positions, the caddie is only entitled to 5% of the golf player's prize money. If the golf player does not win any rewards, the caddie shall not expect anything over their agreed-upon pay.
Often, there is scope for negotiation. Caddies can make their way up to higher percentages upon discussing with the golf players.
How Much Do Golf Caddies Make: FAQs
The pay scale of caddies might lure in a lot of potential candidates. However, career choosing decisions are not easy to make. Let us look at some of the common questions that pop up when understanding a golf caddy's earning.
✅ Do Golf Caddies Make Good Money?
Yes, golf caddies make good money. No, it is not as simple as that.
Only a small percentage of caddies get to work with professionals and go to premier tournaments. These caddies receive a good salary, a percentage of the golf player's winning, additional tips, as well as money from endorsements.
The road to being a professional caddie is not that simple. You have to start working at lower pay scales. It is only with experience that a caddie's salary increases.
Another essential quality of professional caddies is that they are well versed in the sport. They have the required knowledge and can be resourceful to the golf player.
Hence, in order to make good money by caddying, the caddy will have to garner a significant amount of experience and establish proper knowledge of the sport. It will require a lot of patience and effort on behalf of the caddie.
✅ How Much Does Tiger Woods Caddie Make?
They make almost as much as a brain surgeon. Yes, you read that right.
Professional golf players don't just need caddies to carry around their bags. They strategize for their games along with their caddies.
For a dozen years, between 1999 to 2011, Steve Williams was a caddie to the legendary golf player Tiger Woods. He was by Tiger Woods' side for 13 out of his 15 major title wins. During their time together, the duo won 72 games worldwide.
Steve Williams earned 15% of Tiger Woods' tournament rewards. This amount would sometimes be higher than the money professional tournament players made. He also earned well through endorsements.
Reportedly, Steve Williams earned a minimum of $12 million in salary and bonuses. He was also given ten vehicles by Tiger Woods that the player had won during tournaments.
In 2007, Steve Williams had earned $1.4 million, placing him on the list of the 75 top PGA earnings for the year. This truly blows the mind, as Williams had not played a single round of golf, yet he ended up making more money than some of the players.
More recently, Joe LaCava, Tiger Woods' caddie on his tour in 2018, earned $5.4 million. This amount is very close to the median income for a brain surgeon.
✅ Do Pro Golfers Pay Their Caddies Travel Expenses?
No, they do not. Caddies are expected to pay for their own travel and accommodation.
However, this is why their base pay is already high. Professional caddies receive a good salary for their services. More often than not, this pay is utilized towards their travel and accommodation expenses.
This does not leave caddies with much extra cash. However, there are still a few avenues for them to make some money.
Pro golf players pay a small percentage of their earnings to their caddies. The caddies also receive brand endorsements and tips.
In a few cases, golf players do cover their caddie's expenses. This is generally when the player decides to travel in a private jet and accommodate the caddie at a rented location. It is not a common practice.
However, even in such cases, the caddie will have to pay for their insurance and health care expenses on their own. These expenses cost caddies a good chunk of their salaries.
Conclusion
Caddying may come across as a lucrative career prospect. While that is partly true, you should be aware of the fact that only a tiny proportion of caddies actually make big bucks.
These are the caddies that work with professional golf players. They earn a sound base salary along with a percentage of the golf player's winnings. With the addition of tips and sponsored endorsements, these caddies end up pocketing a good amount of money.
If you are a student looking for a part-time gig to make money in your free time, or a working professional aiming to spend their weekends making money at a golf course, caddying will be an excellent prospect for you.
---
Related Posts