Golf clubs can make or break your game?
People may think that it's the player and the skill that matters, but that's only partly true – no player can succeed with subpar clubs. The equipment is important because it complements your abilities and makes you a better player.
The right golf clubs can make all the difference in the world in how you move, the distance of your shot, and how you progress to the next level.
With the numerous options to sort through, it's understandable that customers get frustrated and confused. We want to make this easier for you by curating this list of the best ladies golf clubs for intermediate players. No matter your price range, there is an option for you. Check out our top 5 picks below:
Quick Overview – Top 3 Ladies Golf Clubs Set
Aspire XD1 Women's Golf Clubs Set – Some features of this affordable set include a large 460cc titanium driver, 3 fairway wood, hybrid, 6-PW irons, putter, and a stand bag with a rain hood. The set also includes 3 headcovers.
STRATA Women's Golf Packaged Sets – Known as one of the best bases sets available, it includes a 460cc titanium head driver, 5 wood fairway, 5 hybrid, 7, and 9 irons, a sand wedge, mallet putter, and 3 headcovers.
It also comes with an impressive and stylish stand bag, which has 5 spacious pockets, a rain hood, and convenient backpack straps!
Nitro Golf Blaster 13 Piece Complete Set – This set includes an oversized driver, 3-wood fairway, a hybrid, 6 through 9 irons, a pitching wedge, putter, 3 headcovers, and a bag with a rain hood. It is definitely a set that provides value for money.
Best Ladies Golf Clubs for Intermediate Players 2021
Memorizing specifications and comparing various sets can be taxing, so we've decided to do the work for you. Below, we have outlined our picks for the best women's intermediate level golf clubs. We hope that this list makes the selection process easier for you!
1. Aspire XD1 Womens Complete Golf Clubs Set
This is an affordable 13-piece set with 5 irons and a large titanium driver. The value provided within a budget makes this set an attractive one.
The set includes:
A 460cc titanium driver
3 Fairway wood
21 Hybrid
6 through Pitching Wedge (PW) irons
Putter
Stand bag with rain hood
3 headcovers
This set by Aspire caught our attention for the quality and variety it provides within a relatively low budget. The main draws for this set are the ultra-lightweight graphite shafts and the stainless steel woods and irons.
Another attractive feature is the premium carry bag with backpack straps. Also available in petite and tall sizing, this set is very inclusive of all sizes.
The Good
For the price, there are definitely a lot of pros of this set. The 460cc titanium driver is not only lightweight, but also has a large face allowing for more forgiveness, an easier hit, and more distance. The large faced fairway also allows for easier shots.
One great feature is the graphite shafts on the driver, the woods, and the irons. Not only are they lightweight and high-quality, but they are also flexible which is great for beginners and intermediate players alike.
The set also offers a variety of irons – 6 through pitting wedge. With 5 irons, the set is well-rounded and suitable for beginners and intermediate players.
Not to mention, the Aspire XD1 Ladies Set comes in different sizes, which include tall, standard, and petite. The stand bag is also spacious and comfortable, with a rain hood, and backpack straps for convenience.
The Bad
Unfortunately, there are no left-hand options in this set. A sand wedge is also not included.
Additionally, although both beginners and intermediate players can benefit from this set, it is aimed more towards beginners. Intermediate players may use it, but if they're on the higher side of intermediate, this set might not be enough for them.
Pros
Lightweight
Affordable
Large titanium driver
Attractive stand bag with rain hood
Petite option available
Cons
No left-hand options
No sand wedge
This is a great set, especially for the price. It is more suitable for those intermediate players who have just advanced to this level. For those further along the scale, this may need supplemental clubs.
---
2. Cobra Golf Women's XL Speed Golf Clubs Set
The Cobra Golf Women's XL Complete Set is expensive but contains all the essentials needed for a good golf game and more.
The set includes:
5 titanium driver
3-wood, 5-wood, and 7-wood fairways
5-hybrid
6-PW, SW Irons, 6-9 irons with a pitching wedge and sand wedge
Mallet putter
Cart bag
Cobra Golf's XL Speed Set claims to be the complete set for beginners with extremely lightweight and easy to hit clubs. The set boasts iron clubs with perimeter weighting, an oversized driver, and back/heel weighting in both the hybrid and the woods.
Another highlight is the luxury cart bag which includes a velour-lined valuables pocket, a number of spacious pockets for storage, and an insulated beverage cooler!
The Good
The oversized titanium driver is lightweight, easy to hit, and offers plenty of forgiveness. It is also weighted so it does not compromise on distance. Three different fairways are included (3-,5-, and 7-wood) for a good variety.
These are also weighted for higher shots. The 5-Hybrid is included to bridge the gap between the fairway woods and irons and also has heel weighting for a higher launch.
The irons have a cavity-back to improve stability while still not compromising on forgiveness on off-shots. Additionally, with graphite shafts, the set is extremely lightweight and remains flexible without giving up control. A mallet putter is included for accuracy and control.
It also comes with a cart bag with seven spacious compartments. We are especially impressed with the valuables pocket lined with velour for a luxurious feel and the insulted beverage cooler that can hold up to 14 cans.
The Bad
This set, although equipped with all the essentials required, is an extremely expensive option. Thus, it may not be suitable for those with lower budgets.
Additionally, it does not have any left-hand options so it excludes that demographic.
Pros
Petite option available
Oversized titanium driver
Sand wedge and pitching wedge included
Forgiveness
Accuracy and distance
Weighted clubs
Lightweight
Luxurious cart bag
Cons
No left-hand options
Expensive
While this is an expensive option, it is one that could last players a long time. In addition to 6-9 irons, it also includes wedges, 3 different fairway woods, and a hybrid. This is a set that would surely benefit an intermediate player if they invested in it.
---
3. Callaway STRATA Women's Golf Packaged Sets
Callaway's Strata 11-Piece Set claims to give you maximum performance through its lightweight forged driver as well as clubs that account for forgiveness, distance, and control.
The set includes:
460cc titanium head driver
5-wood fairway
5-hybrid
7-iron and 9-iron
SW (sand wedge)
Mallet putter
Stand bag
3 headcovers
The set boasts great performance "right out of the box" and claims to be a full set without any need for supplementation. It prides itself on its large, lightweight, titanium head driver with a large sweet spot and a matching headcover.
The included fairway is made with a special aerodynamic shape. Forgiveness and control are also guaranteed with the stainless steel irons and wedges.
To top it all, it comes with a luxurious stand bag that is designed to be lightweight and durable. It has 5 pockets, backpack straps, a rain hood, and a deluxe cooler pocket.
The Good
The titanium head driver is large at 460cc which ensures forgiveness. It is also lightweight, has a large sweet spot, and comes with a headcover. The fairway wood is also oversized for forgiveness with an aerodynamic head shape. Hybrids provide beginners with an alternative to long irons.
The irons and wedges are stainless steel which makes them strong and durable. They allow for forgiveness without forgoing control. The shafts are made of graphite, allowing the clubs to be ultra-lightweight while still maintaining flexibility. A mallet putter is also available for accuracy.
Not to mention, the stand bag is lightweight, strong, and efficient with five pockets, a cooler pocket, a rain hood, and backpack straps for convenience.
The Bad
This is more of a beginner's set and may not suit intermediate players as well. It only has 7 and 9-irons and will need supplemental purchases if bought by an intermediate player.
Pros
Both right and left-hand options
Petite size available
Affordable
Lightweight
Forgiveness
Large titanium head driver
Great distance and accuracy
Stand bag with cooler pocket and rain hood
Cons
Beginner's set
No pitching wedge
A great set for beginners, this may not be the answer for intermediate players. However, it does contain high-quality basics with the lightweight driver, strong irons, etc, and can be supplemented with other products since it is so affordable.
---
4. Callaway Women's Solaire Complete Golf Set
The Solaire 11-Piece Set has a premium design but also a premium price tag. It boasts forgiveness, ideal distance coverage, and female-centered design.
The set includes:
Driver
3-wood fairway
5 and 6-hybrids
7 through 9 irons
PW and SW (pitching wedge and sand wedge)
Mallet putter
Cart bag
4 headcovers
One of the main attractions of Callaway's Solaire Set is the claim that it is designed specifically for women with technology to improve hits. Callaway has specially developed the configurations keeping women in mind, making it an attractive choice for female golfers.
The special Callaway Technology has been advertised to result in straight shots, without compromising distance and forgiveness. It also attracts attention because of its aesthetically pleasing design.
The Good
First and foremost, the driver has a titanium head and is forgiving. It is also weighted, ensuring good distance despite the quality of the shot. The 3-wood is stainless steel, and thus very durable.
The set includes 7 through 9 irons, covering a variety of ranges. These are also stainless steel and have been weighted for forgiveness without forgoing control. Regardless of the use of stainless steel, the shafts of all the clubs are made from graphite, so the set overall remains lightweight and easy to handle. The graphite also makes the shafts flexible.
Both a pitching wedge and a sanding wedge are included in the set. As such, players don't have to buy individual pieces to supplement their set. These are also lightweight and designed especially for women, maximizing forgiveness, and distance. A mallet putter is included along with a cart bag. However, the bag does not include a stand.
The set caters for both right and left-handed players and offers petite sizing as well.
The Bad
The price is staggeringly high so this set is reserved for those who can afford it. It also does not come with a stand for the bag.
Pros
Both right and left-hand options
Forgiving
Aesthetically pleasing and available in a wide range of colors
Designed with women's needs in mind
Petite size available
Includes pitching wedge and sand wedge
Perimeter weight technology
Accurate and cover long distances
Cons
Expensive
No stand for the bag
This is an excellent set for those who can afford it. Intermediate players will find everything they need, including the different wedges, a variety of irons, and hybrids. It might be expensive, but the price is justified by the quality.
---
5. Nitro Golf- Blaster 15 Piece Complete Set
The Nitro Golf Ladies Blaster 15-Piece Set gets you a lot for the price that you pay for it. A mix of graphite and steel, it provides you with all the essentials you need for your game.
The set includes:
Driver
3-wood fairway
Hybrid
6-PW irons, 6 through 9-irons, and pitching wedge
Putter
Bag with rain hood
3 headcovers
This product has PGA certified quality steel and graphite which sets it apart from its competitors. It also boasts a uniflex shaft and oversized head. The best part is, it caters to all players with high to low handicaps. The irons are designed with a special wide sole, and the putter has perimeter weighting as well as a scoring line.
One of the most comprehensive sets out there, it provides users with 10 unique clubs.
The Good
The Nitro Golf Ladies Set really deserves a place on our top 5. It combines stainless steel and graphite shafts for durability, strength, and flexibility. Furthermore, it is lightweight and can work for a variety of skill levels.
With a uniflex shaft, the oversized driver is easy to hit and very forgiving. Although it is oversized, it does not disregard distance and accuracy, both of which are maintained.
The fairway wood considers loft and ensures consistency through all shots. The hybrid combines all of these features to help with harder shots while promising accuracy, control, and balance.
With 6 through 9 irons available, there is plenty of choice for the player. A putter is included for accuracy and also helps with control and alignment. A pitching wedge and a bag with a rain hood are also part of the set.
The Bad
The bag does not have a stand, but users have said that this was not a problem since the bag stands up on its own easily. However, it should be noted that there are no left-hand options, and no sand wedge included.
Pros
Oversized driver
Forgiveness
Accuracy and distance
Consistency in shots
Pitching wedge included
Bag with a rain hood included
Works for many skill levels
Cons
No left-handed option
No sand wedge
This is an incredible value for the price – the set is affordable but comes with a variety of club options. However, there is no sand wedge. This can be supplemented since the set is so affordable.
---
Best Ladies Golf Club for Intermediate: Buyer's Guide
A good set of clubs can enhance a player's game and take them from being a novice to an intermediate player, or from an intermediate to an advanced player.
Since choosing a set of clubs is so important, you need to know what to look for. In a market full of buzz words, you need to look past these and focus on the specifications and the quality you're getting within the budget that you have.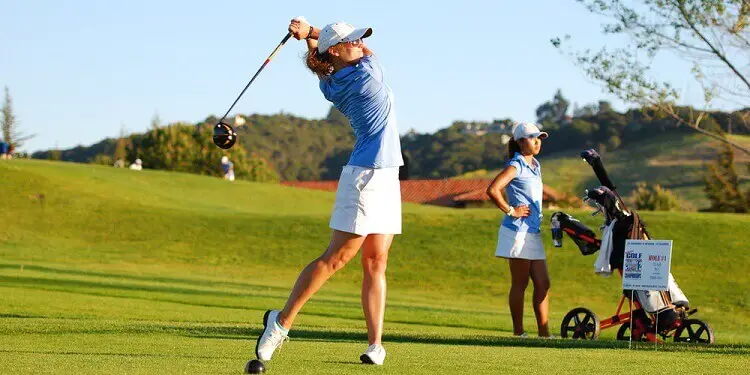 To assist you in this, we have prepared a guide focused on the different kinds of clubs, what they're used for, what to look out for, and what to choose based on your needs and handicap.
Women's clubs, although similar to men's clubs, have different design features that complement different body types, swing styles, etc. Here are some differences that can be found:
Grips
Grips in women's clubs are thinner since their hands are, on average, smaller. However, those who need more control should use thicker grips even if they have smaller hands.
Club Length
Men's clubs are usually longer than those of their female counterparts. However, tall women would likely prefer men's clubs.
Clubheads
These come in different flexes with women labeled "L" (ladies). This is closely related to swing speed, and those with a speed of less than 70 m/hr will benefit from using an L-flex. Women's clubheads are also usually lighter than those designed for men. Large heads are also easier to hit which is a benefit, especially for beginners.
The loft is something that differs greatly in this category – while men's drivers are between 9 and 11 degrees, women's are 12 degrees. The loft helps those with slower swings get the balls in the air, thus maximizing distance.
Another major difference is the replacement of long irons with hybrids and woods. The clubs suggested are 9, 11, and 13-woods. Some women don't go any higher than a 7-iron because of this. These are also much easier to hit compared to irons, providing a marked advantage.
Shafts
Since the flex in the shafts needs to line up with the swing, men's clubs usually consist of stiff shafts. Women's equipment usually has a more flexible shafts. Graphite is a popular material for shafts since it is not only flexible but also lightweight.
Putters
Putters designed for women are usually shorter than those designed for men. However, although women are shorter than men on average, these discounts tall women. Tall women (heights more than 5'6) will not be comfortable using such a short putter. The putters used by females also have larger heads for a bigger sweet spot.
Therefore, it is important to note that while some women's features are important, they don't apply to all women. Each individual's considerations must be taken into account.
Typical women's clubs, for example, are not ideal for taller women, and they would prefer those traditionally designed for men. This is yet another reason why understanding specifications are important – to know what works for you, not for women as a whole.
Conclusion
Keeping the guide and the specifications in mind, our recommendation for the best ladies golf clubs for intermediate players would have to be the Callaway REVA Complete Golf Set. Although it is expensive, it includes all the necessary equipment, provides high quality, and is designed with women in mind. Not to mention, it has options for right-handed, left-handed, and petite golfers.
However, that is a lot of money to invest, so we have a budget option. Even when investing a smaller amount, you can be sure that our pick for your budget is of excellent quality. The Nitro Golf Blaster 13 Piece Complete Set provides excellent value for money.
Not only is it affordable, but it also has both stainless steel and graphite shafts. It also has a variety of irons (6 through 9) available and includes an excellent driver and pitching wedge. The only supplemental purchase would be a sand wedge.
This concludes our picks for the best ladies golf clubs for intermediate golfers. Now that you know exactly what to look for, what suits your style, and our breakdown of the top 5 sets, you are ready to make your choice. Happy golfing!
---
Related Posts
Last update on 2022-04-03 at 13:20 / Affiliate links / Images from Amazon Product Advertising API