For some, golf can be perceived as a hobby while for others it can be a passion. The feeling you get when you smell freshly cut grass, or taking a perfect divot and having the ball trickle down to the hole is inexplainable.
If you have been playing golf for the most part of your life, you would know how important it is to have a good quality club, however, this article is all about the best golf club sets for beginners who is just starting to gain interest in golf.
Choosing a suitable golf club set can be a daunting experience, especially, if you are a beginner and do not know a thing or two about what makes a club set worth it.
We are listing down our top 5 best golf club sets for beginners in 2021 for you to understand the differences and pick the one that may suit your requirement.
Quick Overview – Top 5 Beginners Golf Clubs Set
5 Best Golf Club Sets for Beginners in 2021
While there are hundreds and thousands of golf club sets out there for different skill levels for every player out there. It can surely be difficult to choose the best one out of the numerous available in the market.
We recommend you keep your requirements into consideration, but before that consider our Top 5 best club sets that might make it easier for you to choose the one that suits you best. With complex characteristics to basic golfing techniques, this article includes all the information that can help you learn better.
1. Callaway Men's Strata Ultimate Complete Set
For all the newly boarded golfing players, the Callaway Strata Ultimate Golf Set will not let you down. As suggested by the name itself, this set is designed to cover ultimate distance and deliver ultimate performance.
It comes with 3 wood, 4-5 hybrid, 6-9 iron PW and SW, putter, stand bag, and 4 headcovers. A 16-piece set that gives uni-flex and is made of aluminum for the right-handed newly inducted golf players.
The 16-piece Callaway Strata takes you from the start of your shot, straight to the hole with precision with its 460cc driver which is super lightweight with a titanium head that allows you to strike the ball with ease to a good stretch of distance.
Beginners and amateurs looking for a budget-friendly golf club set can make the most of the Callaway Strata Golf Set as it offers you everything you need to get you started and going with your golf games.
The clubs are made of high-quality aluminum steel and a great to practice with on different terrains, as described in the name, it really is the ultimate golf club set for fresh entrants. Check the current price of Amazon by clicking here.
Although it is a great set for newbies, once you have practiced and learned enough you may grow out of it and want to upgrade a better, more professional club set.
Moreover, the clubhead can be slightly fragile which means you have to be careful not to be rough with it when striking the ball as it may wear off easily if put under extra pressure.
Pros
High flight tech irons
Great precision and distance control
Two hybrids in case you want to replace lower iron
Cons
Fragile clubhead
The bag is not comfortable to carry on the shoulders
All in all, we believe the Callaway Strata 16-piece Golf Set can prove to be a great choice for beginners especially at a pocket-friendly price and the ultimate features it is offering.
For those who are keen enough to gradually learn and get into the golfing situation, this club set can be very useful and may last you long enough until you move on over to buying a professional club set.
2. Precise Golf Co. 18-Piece Golf Club Set
While the 18-Piece golf club set by Precise Co. is reasonably priced and is specifically designed for beginners who prefer lightweight clubs, it offers all the necessary attachments and more to enhance your golfing experience.
Although, the brand itself is not as recognizable the golf sets it manufactures are of top-tier quality and can be a great choice in terms of cheat golf sets for new entrants of golf.
For a cheap golf set, the titanium driver is one of the most impressive things about this club, along with that it lightweight and exceptional construction proves to be a great aspect that can allow you to thoroughly enjoy learning golf.
Moreover, it has a large enough sweet spot so users can expect a sufficient level of forgiveness especially since they are beginners just starting to learn.
The Good
This golf club set is equipped with a lightweight blade putter which decreases the need to put a lot of strength on your hand when swinging for the perfect shot.
Also, it gives great precision and control on the shaft due to the dual-compound grip which allows you to conveniently wrap your hand around it, making the grip ergonomic and providing comfort. You can grab one of these on Amazon.
While the 18-pieces can be of great use for those who have full knowledge of how to make use of them, however, beginners may find it slightly complex and confusing to get around to understanding how to work with all of them right away which may put them off is they are not very serious about learning the sport as easy-to-use golf clubs allow more convenience.
Pros
Large sweet spot
Affordable price
Lightweight
Cons
The driver may dent if used roughly
Durability may be an issue
In our opinion, this Precise Golf Co. 18-Piece Golf Club Set is pretty reasonably priced and comes with more than enough attachments that may allow you to use this set for more than just the beginner phase considering its precisions and proprietary grips.
Although it can get slightly confusing to work around with all the 18-pieces considering this a beginner set, nonetheless, it is a pretty decent choice once you understand it.
3. Cobra F-MAX Airspeed Complete Golf Set
The all-new Cobra F-Max Airspeed is being raved about in the market for its unique features and how exceptionally amazing it is. The greatest benefit this club set offer is the weight, and how light it is.
For beginners looking for a forgiving club with comparatively slower swing speeds, this is the perfect investment. More than that, the design of this set is quite interesting, it comes in two variations of colors that are black and blue with stainless steel.
As drivers are important components of every club, this one is featured with an all-new carbon brown that delivers a great combination between speed and accuracy.
Moreover, it is equipped with a premium blade putter that has a machined face, giving an exceptional look and feel that makes it not only attractive but also gives control over long and short putts.
More than being just the latest edition of Cobra Club Set, this is the kind of club that delivers great trajectories and allows you to cover a great distance without putting in a lot of effort and taking your game to the next level even as a beginner.
It is one of the club sets to be featured as the 'hottest' set for being well designed and offering more than required support for those who are keen on learning. You can grab one of these from Amazon.
Although the Cobra F-MAX Airspeed Complete Golf Set offers amazing durability and promises a great experience for learners, it can be a little out of the budget if you are looking for something cheaper, especially if you just want to practice as starters and are looking for a golf club set that fulfills your requirements.
Pros
Lightweight and forgiving
Premium quality clubs
Highly responsive
Cons
If you are looking for the best set of golf clubs for beginners, this versatile set can easily pass as one for the exceptional features it offers and for how promising it seems in terms of delivering precision and accuracy while taking away the extra effort you may need to put in with a low-quality club.
4. Callaway Women's Strata Golf Packaged Sets
If you have been a golf lover, you would know Callaway is a renowned brand when it comes to golf club sets. This one is especially for the women golfers out there, looking for a set that suits their requirements and is available in a variety of fun colors like Pink, Purple, Gold, and Teal.
To cater to the requirements of golfers who may need more pieces, this set comes in 11-16 pieces that you can choose according to your preference. The Callaway Strata Women's Golf Set is featured with plenty of specifications and is designed to bring out your maximum performance.
It comes with a Driver, 5 Wood, 5 Hybrid, 7 and 9 Iron, SW, Putter, a stand bag to store your set safely, and 3 headcovers for the club. With a sweet combination of forgiveness and control, this lightweight club set helps you work on accuracy and enhances your experience.
With the 460cc clubhead driver, you can swing your shot faster with this club as compared to other sets. Moreover, the putter is incredibly accurate and you can strike your balls straight to the hole without any extra effort.
The distance and forgiveness technologies are an add-on that helps you learn golf easily and level up faster. Grab Women's Strata Golf Clubs Sets from Amazon.
While this club set has great features for beginner women who have just started, the users who are taller than the average height may not find it suitable for their requirements, which is one of the only drawbacks of this golf set.
Also, while the clubs are lightweight, they cannot support high-speed swings and may wear out of use roughly.
Pros
Adjustable padded strap in the bag
Lightweight and simple to use clubs
Comfortable hand grips
Cons
Not for women taller than 6 feet
Can be pricey for some
For the passionate golfer women out there, the Callaway Strata Women's Golf Packaged Set can prove to be a great choice in terms of the feature and the pricing if they do not have too tight a budget. We recommend this set fully as it serves most of your requirements.
5. Wilson Juniors Complete Golf Set
When it comes to choosing to right kind of golf clubs set for children, it can surely get really difficult especially if they have just been introduced to this sport.
However, with the Wilson Golf Profile Junior Set, you can now easily help them learn golf with the technically advanced clubs that are the perfect combination of quality and technological sophistication. It comes with a high-quality wedge and trains your child to approach the green conveniently.
The Wilson Junior set comes in a variety of colors including Blue, Green, Pink, Purple, and many more. Moreover, it comes in different sizes for children of different ages ranging between 8 years to 17 years. It has a uni-flex club that allows effortless swinging without putting too much pressure on your hand and has alignment markers which help in easy striking.
For beginner juniors, there is plenty of room for forgiveness on the driver as well as the wood which allows kids to practice with ease. Moreover, the provided clubs are labeled with their real names instead of wood numbers for a better understanding of how to use them.
For anyone looking for a junior golf set, this can be a great choice as it can make children love this sport from a young age. Grab Wilson Juniors Golf Set from Amazon here.
While the Wilson Golf Profile Junior can be claimed as the best golf club sets for beginners, especially children. It has a few drawbacks that can hinder the development phase, pertaining to the fact the manufacturer has tried to push a specific style of play as opposed to giving the opportunity to learn various styles.
Pros
Great forgiveness
Shafts have a good amount of flex
Available in both, right- and left-hand orientation
Cons
Thin grips
Limited range of clubs
Since there is a niche market of golf club sets for juniors, Wilson has targeted the right market by manufacturing an easy-to-use and learn club set. Not only is it lightweight but also benefits your child if they are seriously into golf.
Best Golf Club Sets for Beginners: Buyer's Guide
Choosing the best golf club sets for beginners can be confusing without complete knowledge of important specifications and features that can help you enhance your golfing experience.
This buyer's guide will allow you to walk through some common features that all golf clubs must-have, regardless of their price.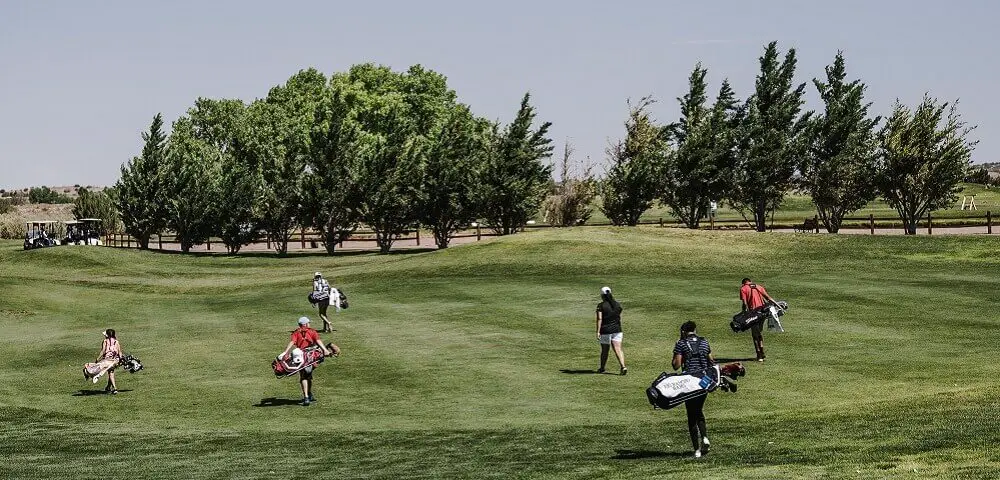 Golf club sets are more likely to be considered as an investment, even for beginners. Before you make this investment, it is important to educate yourself regarding this sport if you want to buy the perfect golf club set and avoid making any mistake.
For beginners, golf can surely be an intimidating experience without the right guidance and information. This is why, we have listed down some key features that can help you understand the importance of why every feature listed is important and how it can make your experience better, especially if you are a beginner, this guide is for you!
Grip
The most important part of your club is the grip, a rubber casing that covers the last eight or more inches of the shaft and determines your control over it.
There are various sizes when it comes to grips, ranging from standard to midsize and oversized or jumbo grips according to how you prefer it.
You can also find them in plenty of colors and textures. While the purpose of the grip remains the same, that is to allow you to have a firm hold around the club.
Shaft
The part that is covered by your grip is called the shaft, which is another of the major components of the club. The shape of this part is cylindrical and can be either graphite or metal, while the length is solely dependent on the club it is installed in.
The stiffness of your club is determined by the club's shaft, the more flex there is in the shaft, the more flexibility you get. If you want sufficient swing speed, the flex of your shaft is the most important aspect to help you work on it.
Clubhead
This is the part that hits your ball as you swing your club to take a shot. Not only does it control the height of how high your ball can go, but also the distance that your ball will travel. It is one of the main features of any club and is one of the first things to decide upon when buying a club set.
Each clubhead comes with its own set of design and specifications that help you according to your skill level, however, all of them are used for the same job, striking the ball.
Hosel
In a golf club, this is the part that connects the shaft with the clubhead and controls the angle of the head. As players need their angles according to their height, swing style, and arm length, the hosel can work to your advantage if you need to bend the shaft to increase your angle dimensions according to your preference.
Putter
One of the most important golf club components is the Putter. There are two types of putter heads, Blade and Mallet. Typically, it is fitted with a steel shaft with a grip where you rest your thumbs.
This kind of clubhead is used on the greens when you just want to roll the ball in the hole. While blade putters have a smaller head style, mallet putters are comparatively much larger.
Wedges
Control is a given aspect when it comes to golf clubs, especially when considering swinging as you do not want to have less control over the shot you are going to take.
For beginners, it is common to be using wedges frequently particularly in situations where there is a chance to get stuck in the sand or the area is rugged.
Wood
Another type of clubs includes wood, as compared to other clubs this kind has longer shafts and the heads are rounder. This kind of club help if you want to cover a long distance and is made of titanium that has been hollowed out.
Keep in mind, wood has the lowest loft in comparison with other clubs, expecting the same response from wood would leave you disappointed.
Hybrids
Out of the other golf club, this one is a combination of wood and iron. Their shape may be similar to the traditional or typical clubs, however, they carry the benefit of easy striking and have the loft and length of iron which in turn allows for the ball to travel a significantly long distance as compared to other golf clubs.
Irons
Whether you want to cover a short distance or long, iron golf clubs are sworn, by golfers. This kind of club generally comes in sets which include 6 to 8 individual irons. Whereas a typical iron golf club set comes with 3-9- irons.
Iron clubs allow spinning the ball and enhance your control over the club itself. They are comparatively thinner in size as opposed to woods and hybrids and have increased accuracy.
Conclusion
Out of our Top 5 that include golf club sets for men, women as well as children we are further choosing the ones that we believe you would personally like for yourself. The first one on our list is the Cobra 2020 F-MAX Airspeed Complete Golf Set. You can grab Cobra F-MAX Airspeed Golf Set on Amazon.
Not only does it offer great features and specifications for new entrants, but it also comes at a fairly budget-friendly price that makes it worth being invested in. The next one is the Precise Golf Co. 18-Piece Golf Club Set. Grab Precise Golf Co. Golf Club from Amazon.
Although, it is an infamous brand the features are quite notable and can make it a great set for newbies as well as a golfer that have a certain level of skill in this sport. The last one we have chosen is the Wilson Golf Profile Junior Set, as there have been claims about people other than children being able to use them, given they are not too tall. It is a fair choice, that can later be passed on to your younger ones later on. Grab Wilson Golf Profile Junior from Amazon.
Now that we have discussed different golf club sets and how you can identify the best golf club sets for beginners and the different types of clubs with their features and how they can enhance your experience as newbies to golf.
We hope we have cleared your queries and given you a clear explanation of how you can choose the right kind of golf club set that suits your requirements the best which can include your passion, your preferred location, and the kind of game you would like to play.
We always recommend, before you opt for a particular golf club set and make the mistake of spending money on it, educate yourself regarding the features that can enhance your experience and make learning easy for you.
With every hobby, you decide to take on comes complexities that may put you off if the first try does not go as planned, however, with the right guidance and important tips you can become a professional player from a beginner within no time.
---
Related Posts
Last update on 2022-04-03 at 13:20 / Affiliate links / Images from Amazon Product Advertising API