While men might dominate the golf course regarding the demographic, women have certainly started to show their potential and participation. Are you one of these women who just step onto a golf course as a player for the first time?
Well, one of the questions wandering your mind might be: what is the casual golf attire for ladies?
Even if you have been a long-time golf player, settling on the right kind of clothing could get confusing.  Regardless of all the options, you must remember that you need to follow certain rules.
Sure, rules are not as conservative as they used to be, but they still exist in most places. So, please look at the best attire options for you that will suit the general line of norms.
Know all about what you should wear and why, so you can feel good and play even better!
Why Does Golf Have a Dress Code?
Golf has had a particular etiquette for dress code ever since the beginning of times. Therefore, players, too, have had no other option than to adhere to it.
We commonly believe that these norms exist to keep the young golfers and veterans alongside the age-old traditions.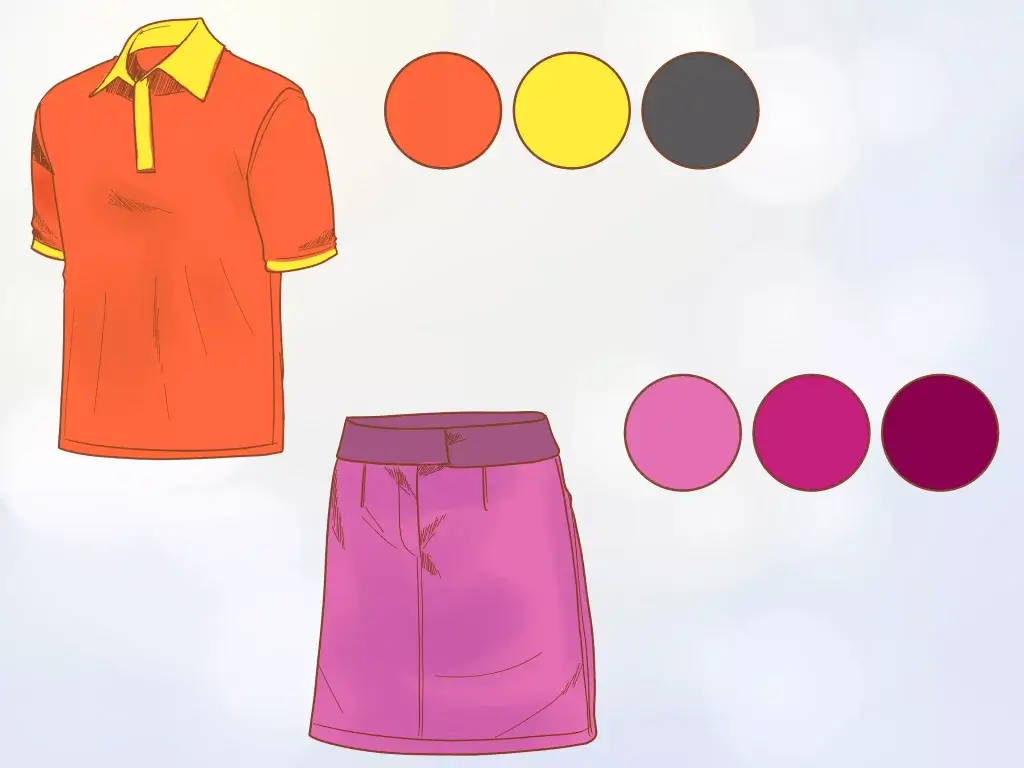 While each golf course or competition has its particular set of rules and regulations, the dress code tends to root back to these traditions.
To elaborate more on this tradition, 18th century Scotland was the first to play the sport. At the time, certain golfing societies came together to compile all the rules and regulations as the firsts.
In fact, the Scottish City Archives prove how strictly the upcoming golfing generations have followed these norms.
Now, it is no secret that these Scottish societies largely consisted of the elitist class. Naturally, golf became an elitist sport as well.
And so, the rigidly conventional societies that gave rise to these traditions made it imperative to follow the dress code — even to date!
Casual Golf Attire for Ladies
Are you one of those ladies who are just stepping into the game and do not know if golf is your deal yet? 
If yes, there is no point in buying the latest and most expensive clothing. Take on the following casual golf attire for ladies, and you will be all set.
Shirts and tops
Find a stretchy and flexible top, t-shirt, sweater, or shirt for this purpose. The point is not to let it restrict your movement. Since you would be putting on casual attire, sleeve length does not matter.  
To play it safe, it would be better if your top had a collar or at least a turtleneck-like thing going on.
Bottoms
Put on a comfortable pair of shorts, long pants, skirt, capris, or skorts. The more pockets on them, the better. If you want to stick to jeans, go for the ones that are non-blue-denim. 
The length of your bottoms can vary and should not be a problem on most public golf courses.
Dresses
If you think that a dress might suit you more comfortably, go for it. Be sure to pick a type with knitting. The other styling options here could be casual.
If it is too short, pair it up with leggings. You can do the same if you think the weather is too cold for a dress.
Layers (optional)
If the weather is too chilly or your top is a little out of rules, simply cover it up with a layer. Any sweater or pullover should work, given that it is woolen. 
Such fabrics keep you warm without letting the sweat bother you. 
Choice of undergarments
The outer clothing is hardly the only issue with comfort for women's clothing. It would be best to find a bra that is supportive around the bust and yet does not make you feel like you are suffocating.
Ladies with a bigger bust have always recommended going for a sports bra. Meanwhile, those with a smaller chest find other non-wired bras comfortable too. So, select accordingly.  
The panties, on the other hand, should be simple and without an inclination. Else, adjusting it might take half of your attention from the game.
Eye and head protection
Having a hat, caps, and a pair of sunglasses in your bag can never hurt you. It keeps you from over exhorting yourself on a hot day.
In fact, this addition is all the more important if you want to avoid serious skin burns and tans.
Footwear
Unlike the rest of your attire, people are hardly going to notice your shoes. So, feel free to exercise maximum flexibility here. From your favorite Sketchers to walking shoes, all options are fine.
Remember to pair it up with some socks that offer you grip and support.
What is Proper Golf Attire for Ladies?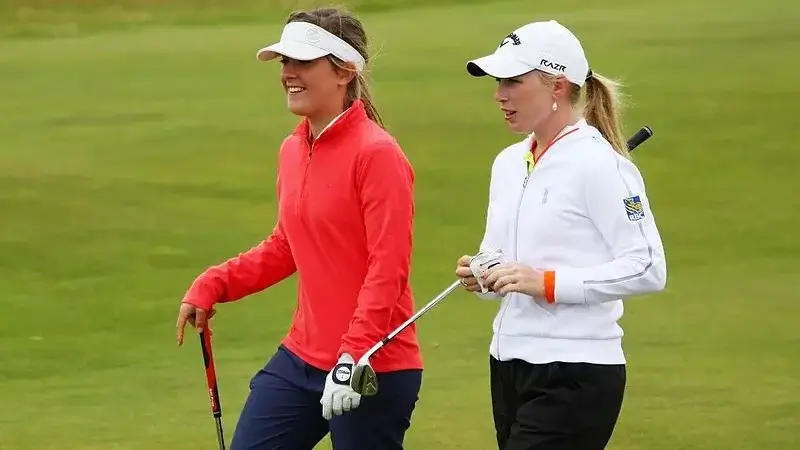 Tops
Starting off with tops, most golfing traditions require women to wear blouses that have sleeves. In other cases, the blouse must have a collar. 
Over the years, the comfort of these tops has also become a priority with style. So, while sticking to the norms, the varieties exist in zip-tops, long or short sleeves T's, V-necks, and such. 
Layer dressing
Layer dressing is also a fairly common part of casual golf attire for ladies. It includes wearing a sweater and vests over your regular polo shirt. You could also pair it up with a turtleneck.
The pair makes for stylish golf attire for cold weather and one that is extremely comfortable. 
You could also opt for a wind-cheater shirt or alternate it with a collared button-down shirt. That said, make sure to avoid types of denim, be it for jackets or bottoms. The same is the case with sweatshirts; this type of clothing is strictly prohibited.
Bottoms
Speaking of bottoms, most women golfers tend to side with slacks, especially during the early spring or fall season. However, if you find yourself on the course on a hot summer's day, shorter slacks, crops, and shorts also work just fine.
The style has seen an evolution in this regard as well; other popular choices are golf skorts, dresses, and knee-length pants. 
Regardless of what you choose from the above set of options, never go for the informal style. Clothing such as jeans, sweats, or athletic wear is unacceptable as per the standards of the golf dress code.
Shoes and footwear
Like in any other sport, having ideal and comfortable shoes is crucial when golfing too. Most of the golf courses expect you to wear shoes that do not have metal spikes. Instead, go for soft spikes.
And before you forget, you need to pair these shoes with the ideal set of socks. You have the choice of going for low socks or high, whatever you are comfortable with. Or, just pick according to whatever complements your outfit the best!
Head Covers
For protecting your head, you have the option of picking out caps or visors. After all, golf courses have an open sky, so your exposure to the sun is constant.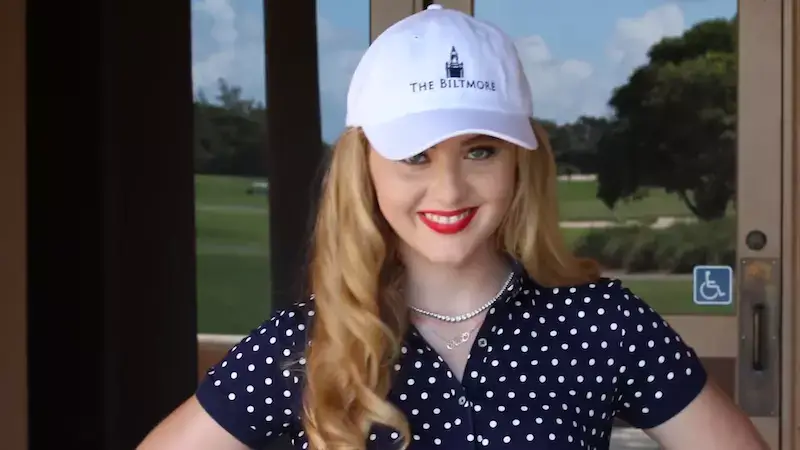 It is ideal to avoid such extreme exposure, for tanning and sunburns could pose severe problems. 
You also have several options in hats, crocheted or designer caps to keep you from these problems. So, you can always jazz your style up if you want. 
What to Wear to a Golf Outing Woman?
Are you preparing for a golf outing and have no idea what to wear? Well, as long as you pick out the following four things from your closet, nothing like it.
Collared Top or Shirt
Most golf courses, public or private, require women to wear a top with a collar. It is as per the traditional and conventional norms set all over. The sleeve length, on the other hand, would not make much of a difference.
So, depending on the weather, pick whatever is comfortable for you.
Bottoms
Again, keeping the weather in mind, decide what length of bottoms suits you the best. Accordingly, settle for pants, capris, shorts, a skirt, or a skort would be appropriate. 
Avoid jeans or any type of denim at all costs. Meanwhile, athletic skirts especially fashioned for golf work just fine. 
Layering
If you think your top might not fit the criteria best, put on a fitting layer to cover up. That said, check if layering would be ideal for the weather. Wind-cheating pullovers in case of chilly weather. 
Tennis Shoes
Regardless of how crazy you are about your shoe collection, tennis shoes make it into everyone's lives. Luckily, the rigid norms of golf do not say anything against such footwear. 
So, you are all good as long as they are comfortable and do not have metal spikes.
What to Wear Golfing for the First Time Ladies?
Are you a newbie to golf and do not know if it is your kind of sport yet? If yes, investing in expensive gear and golfing outfits is unnecessary. Your best choice would be to go for something casual but appropriate.
This definition of appropriate usually differs between public and private golf courses. To generalize, here is what to wear golfing for the first time ladies: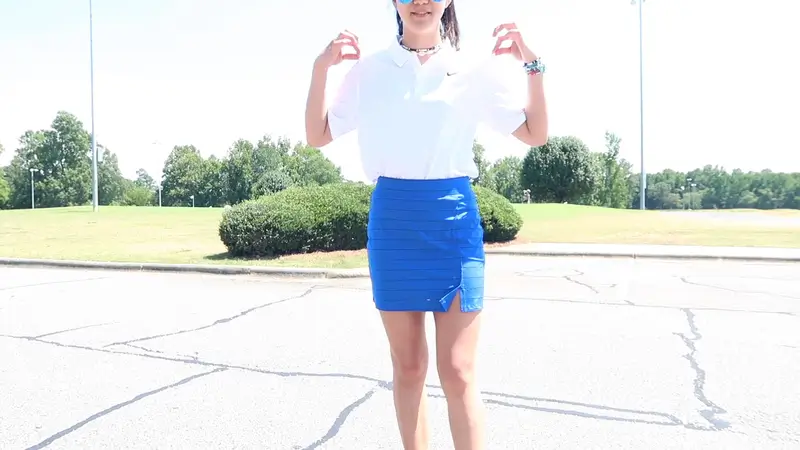 Polo shirt with a collar
You must have a set of polo shirts and tops if you are serious about golf, even as a beginner. Check for how cool or warm the weather is, and then settle on the shirt's material.
Wool and cotton are best for cooler areas to keep you from freezing. Meanwhile, dry-fit material for summery regions would be the ideal choice.
Pants
The length of the bottoms does not matter as much as the material it is made of. Be sure to avoid all types of denim. Instead, go for shorts, capris, or any other kind of pants with a belt.
Footwear
The rules concerning what kind of shoes you wear golfing are not as rigid. So, as first-time golfers, you could start with a simple pair of tennis shoes. Else, cross-trainers, Sketchers, or walking shoes count too. 
You could go for the shoes specifically fashioned for professional and avid golfers as you progress.
What to Wear Golfing If You Don't Have Golf Clothes?
To best get an idea of what to wear golfing if you don't have golf clothes, ask yourself what you'd wear to work. Now, immediately discard all the things that came to your mind.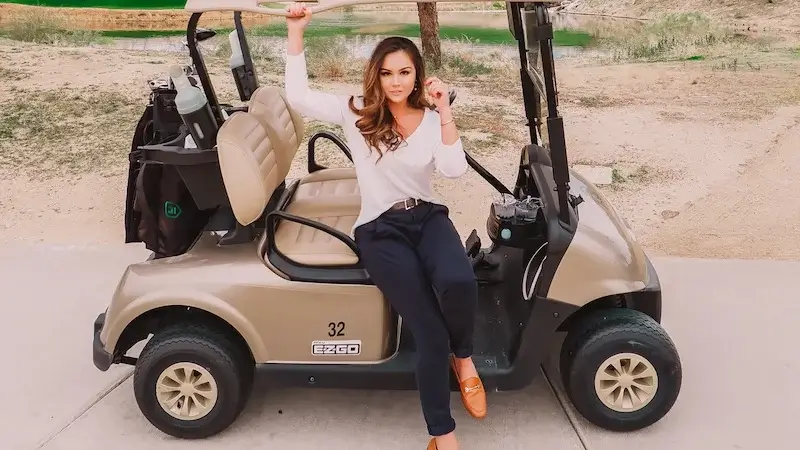 From jeans to boots, these things make for an extremely inappropriate style that violates the dress code. Instead, try picking out the following things from your closet:
For the bottoms
Settle on a comfortable pair of long pants, skirt, shorts, skirts, or capris – you can never go wrong. It is even better if they come with pockets. 
Most of the public golf courses allow you to play in jeans styles that are not non-blue-denim. The same is the case with shorts, skirts, or skorts that could be of any length. 
However, private golf courses often have stricter rules. So, you might want to drop the short-length bottoms and jean styles. As long as the bottoms fit you comfortably and are washable, you are all set.
Shirts and tops
The main criteria to keep in mind is picking something that allows free movement for you. So, any top or shirt that is stretchy and does not restrict you should be good.
Preferably go for those tops that have either a collar or something resembling a turtleneck. To play it safe, it is better if it has a short or long sleeve. However, depending on the weather, sleeveless tops work too. 
Golf dresses
If you are not comfortable with either of the above, just pick a suitable golf dress. Make sure that it is a knit dress that is stretchy and comfortable for movement. 
If you think that the dress is too short or if the weather is too cool, no reason to cancel this plan. All you need to do is pair it up with leggings.
Choice of undergarments
Regardless of what shows, your undergarments and other clothing needs to be just as comfortable. One of the most common problems is finding the right supportive bra that is not too suffocating. 
So, it would be best if you went for a sports bra or one without the wiring. Panties that are without a ride or incline are best. 
Layers (optional)
If you find yourself on the golf course in chilly weather, just layer up with a sweater or pullover. The best way of keeping yourself warm is with woolen layers. It also helps you keep dry in case you start sweating. 
Jackets are a good choice, too, as long as they are not denim style. Make sure to discard anything you might wear on the run, to the gym, or while biking. 
Shoes and footwear
Unlike the strict rules on clothing, your footwear offers you the most flexibility in choices. Regardless of whether you go for tennis or walking or sports shoes, all are fine.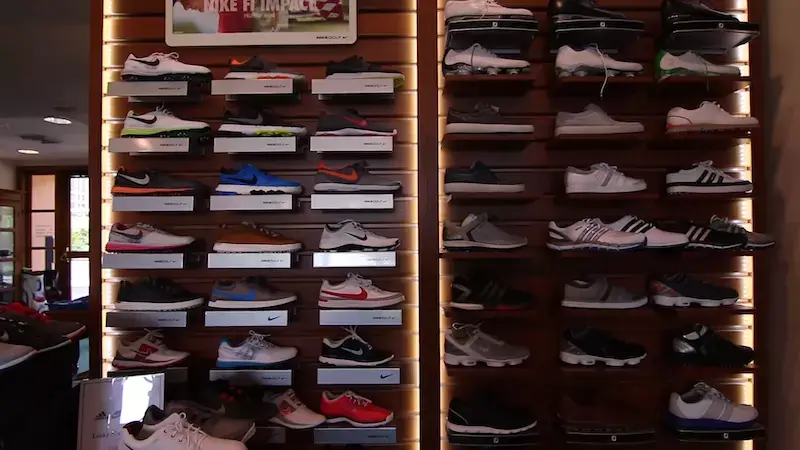 People hardly notice it, so you could even put on your favorite pair of cross-trainers. If you are comfortable with Skechers, go for it. However, you might want to tread lightly initially until you go for the ultimate golf shoes.
Socks
Although no rule requires you to put on a specific type of pair of socks, you should consider it. You would definitely be grateful during your first few shots at the sport.
Eye and head protection
Remember to always keep hats, caps, and sunglasses by your side. These things will help protect your face and head. Baseball caps are best for such purposes because they also allow a secure tie for your hair.
Women's Golf Attire for Cold Weather
The basic attire outline is the same regardless of what weather persists in your region. So, stick to the brief, including a polo shirt with a collar, skirt, shorts or pants, and basic shoes. 
As an additional and protective covering, you can layer yourself suitably. You can never go wrong with a sweater or a pullover. Wind-cheaters also help keep you warm. If you are going for jackets and vests, make sure they do not follow the denim style. 
To keep your legs warm, pair your outfit up with long socks or leggings. And as far as your head is concerned, protect it with a hat or cap. Sunglasses can also serve helpfully, even if the weather is cold. If not the sun, it will protect your eyes from the chilly wind.
---
---
Can You Wear Leggings to Golf?
The rules and regulations around golfing traditions have seen evolution since the sport first started. And just like the sport modernizes, so does the dress code.
So, as per the current athleisure trend, leggings and slacks have started rising in popularity amongst most golf courses.
That said, remember that the more conservative private golf courses might not be very accepting of leggings. However, the casualness increases as you move towards freer public courses.
Especially if you are out playing on a chilly day, leggings can be of great help. So depending on the kind, of course, you are entering, leggings get a green signal to go.
What Do Girls Wear Golfing?
Have you been wondering, "what do girls wear golfing" or if it is similar to the proper golf attire for ladies? Well, to answer the question in short, yes. The proper goal attire for both girls and women is pretty much the same.
Both share common ground includes a polo shirt with a collar, suitable pants, and shoes. 
Regardless of what color or style you pick, make sure it is not flimsy and too casual. So, anything that you might wear to school, college, an outing, or a party should go to the No-list.
Although girls do not have to be very formal in their clothing, the extreme opposite is not ideal either. Tuck in your shirt, and avoid types of denim in jackets and bottoms. Skirts and shorts should not be too short and tight. And shoes should not have metal spikes.
From leggings to sketchers, the rest of the choices remain in your hand.
You can also accessorize according to the weather. Please feel free to put on your favorite pair of sunglasses, a hat, or a cap if necessary.
What to Wear to a Female Golf Tournament?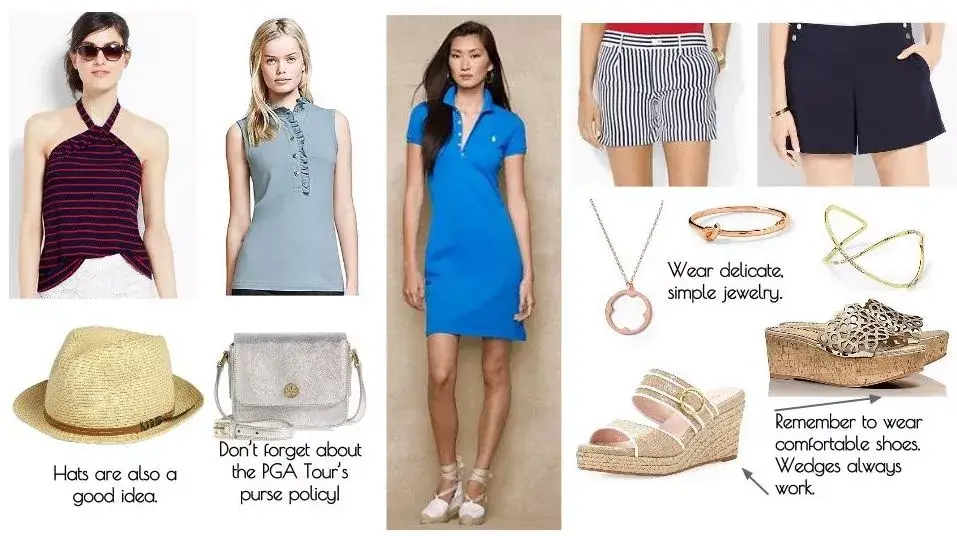 You can always go for a bit of a casual look on any random day at the golf course. However, please note that you must adhere strictly to the dress code if you are going to a tournament.
So, do you want to participate in a competitive tournament and experience the complete setting of the sport? If yes, then you must follow the given dress code.
The student or participant is required to stick to the recommended collared polo shirt. They must pair it up with appropriate bottoms, including pants, capris, shorts, or shirts. None of these options should be in the denim style.
The length and fitting should not be flimsy and inappropriate either.  The point is to be neat and clean presentation-wise at all times.
If you must wear spiked shoes, make sure that they are non-metal only. Other professional golfing shoes are most welcome, and so are regular tennis shoes.
What Should You Not Wear to a Golf Tournament?
Dressing rightly, as per the code, has a plethora of options for you. So, instead, take a look at what the proper golf attire for females would not entail. Make sure to avoid all of the following, especially when at a tournament.
In Shirts: An ill-fitting shirt is a big no. The same goes with an untucked loose shirt. Try avoiding halters necks, tank tops, bodysuits, tube tops at all costs. It would be best if you did not show any cleavage either.
For Bottoms: The biggest mistake you can make with the golf dress code is wearing denim. No part of proper golf attire for women should involve cargo shorts and jeans or sweats and yoga pants. Avoid all athletic pants, for that matter.
To avoid looking ignorant and sloppy, do away with pants that are too long or short. Along similar lines, discard bottoms with cuffs and pleats. Your shorts should not be too tight either. So, skip the booty shorts and mini skirts.
For layering: Be sure to avoid denim-style Jackets or layering with sweatshirts and hoodies. In fact, drop anything that tends to style as an article of oversized clothing. If the weather calls for outerwear or rainwear, make sure to wear it trim. This way, your clothing will not obstruct your game.
Footwear: The proper golf attire for beginners offers much more flexibility in shoes. As long as you put away any shoes with metal spikes, you are all set. Such shoes tend to tear and ruin the golf course.
Secondly, avoid boots and street shoes such as sandals.
Can You Wear Jeans Golfing?
As per the conventional norms of the golf dress code, denim and jeans are probably the biggest no. You cannot wear jeans golfing as it does not fit the proper golf attire for women.
If you are new and wondering what to wear golfing if you don't have golf clothes, the first thing to discard is jeans.
Public golf courses offer fair flexibility in other terms otherwise, but that does not apply to jeans and denim. Both its style and material are considered out of standard.
The reason behind it is that the sport still follows the conventional norms of an elitist sport to an extent. As an alternative to jeans, you can opt for pants, leggings, shorts, or capris. 
If you are looking for a stylized look, you could even pick outskirts, skorts, or dresses for the day.
Summing Up
As you can probably notice, the basic etiquette around the dress code for golf is pretty much the same throughout. Whether you are looking for casual golf attire for ladies or golf attire for cold weather  — the options are plenty but along similar lines. 
The above comprehensive guide offered you solutions to your question. Luckily for you, the number of female golfing enthusiasts has started to see a hike. So, with that change in demographic, golf has seen a change in its dress codes too.
Regardless of what you end up choosing, your ultimate goal is comfort and appropriateness. The extent of appropriateness will vary from a public golf course to a private one, depending on their strictness. 
The best is first to discard all the clothing that you just cannot wear. Then depending on the weather, you can make your selections on sleeve lengths, fabric, layering, socks, other bottoms, and such.